'This one is for the fans'
SINGAPORE — The stakes are high for the final round of group matches in the 2014 ASEAN Football Federation Suzuki Cup.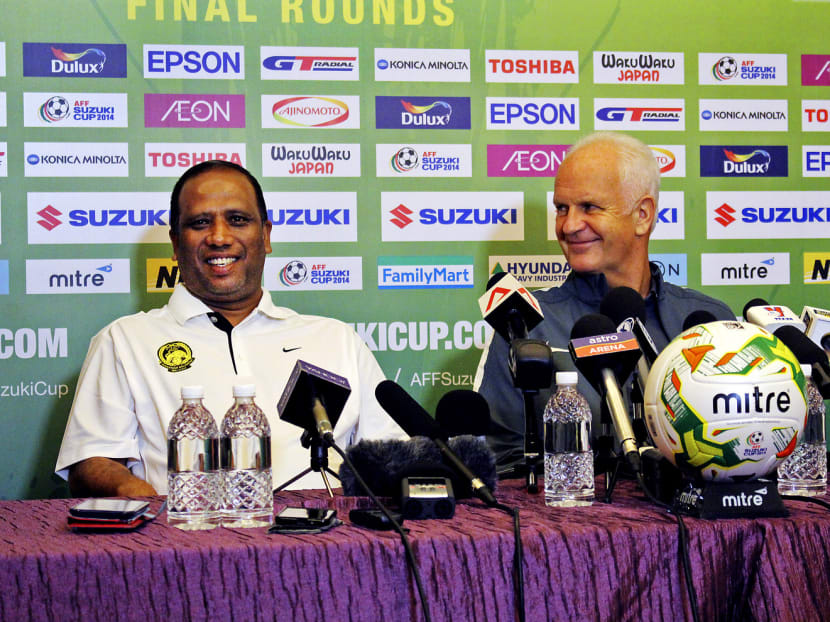 SINGAPORE — The stakes are high for the final round of group matches in the 2014 ASEAN Football Federation Suzuki Cup.
While Singapore are in the driving seat for a berth in the semi-finals, a loss to Malaysia would end the Lions' dream of defending their crown. And while a draw may well be enough for the tournament co-hosts due to their superior goal difference, Myanmar could still sneak in should they beat Thailand at Jalan Besar Stadium by a healthy margin.
Casting mathematical permutations aside, both Bernd Stange and Dollah Salleh are determined tonight's final Group B match between Singapore and Malaysia at the National Stadium will deliver all the thrills and spills that befit a Causeway Derby.
As German-born Stange and his Malaysian counterpart Dollah sat side by side yesterday for the pre-match conference, both admit the rising excitement is hard to ignore.
"I am looking forward to a great match on Saturday," said 66-year-old Stange. "I have a set of committed players who are ready. And I expect a full-house crowd at the stadium and there is a derby match to look forward to. It also represents an opportunity for us to win over the hearts of the Singapore football fans.
"These are things a football match needs and frankly I am quite excited about it."
For Dollah, keeping Malaysia's championship campaign alive is the focus. "Now it's time for us give something back to the Malaysian football fans in this championship, and it's obvious we need a win tomorrow night," he said.
"But I know it's not going to be easy for us. There will be a tremendous crowd support for the Singapore team, something that is always nice to have in such an important match. A draw may be enough for Singapore, but we must get all three points. We will be ready and you can expect something new from the Malaysian team."
For Stange, playing for a draw is not an option, even in the absence of suspended central defender Baihakki Khaizan and injured midfielder Shahdan Sulaiman.
"The question now is who will come in for the two positions left vacant by the injury and the suspension to our two key players," said Stange.
"But we always have the self-belief and I also know I can trust the team to do well. What we are doing now to the team, which is in the process of rebuilding, is the way forward for Singapore football.
"And whatever happens on Saturday night, we can live with it."
Stange is set to bring Zulfahmi Arifin into the starting line-up to replace Shahdan, while Shakir Hamzah or Afiq Yunos will slot in for Baihakki to partner Safuwan Baharudin in the heart of the back four.
This will leave Hariss Harun to patrol the midfield rather than in defence, a job the Johor Darul Ta'zim player was tasked with when Baihakki was withdrawn at half-time in the opening match against Thailand.
"It doesn't matter where coach Stange wants me to be," said Hariss. "For me I will be ready to play my role and get the job done in whatever position I play. Now is the time to stay focussed. Be firm and aggressive, and at the same time stay calm and composed. We are at home and we have to show who is boss."
Certainly the Lions will need to keep their heads better than they did when Myanmar mounted their second-half fight-back on Wednesday. Malaysia, as evidenced by how they played Thailand, are getting into their stride.
The battle lines are drawn, and the prize for victory is a meeting with Vietnam in the final four.