Sundram gets one-year deal to coach Lions
SINGAPORE — The Football Association of Singapore (FAS) has entrusted an all-local coaching line-up to take the Singapore national football team to greater heights.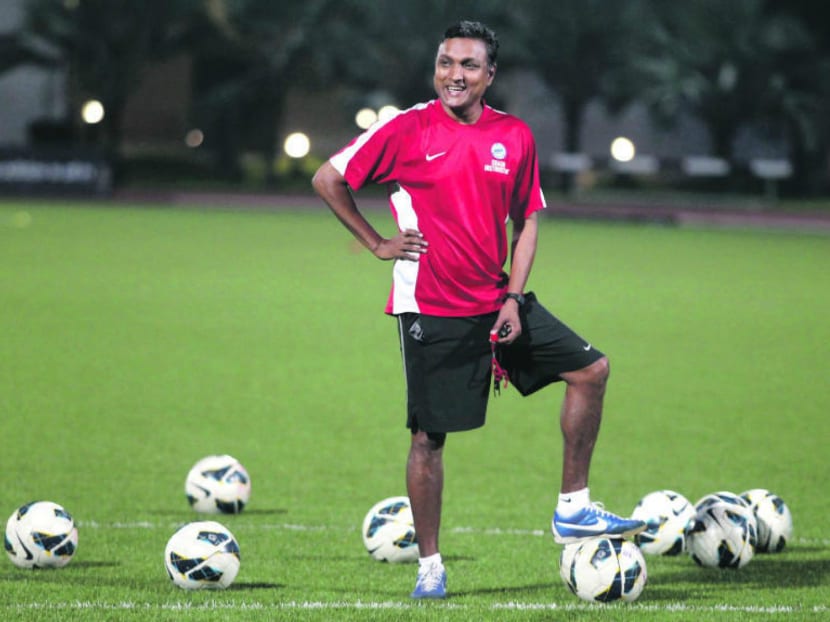 SINGAPORE — The Football Association of Singapore (FAS) has entrusted an all-local coaching line-up to take the Singapore national football team to greater heights.
TODAY understands that Tampines Rovers head coach V Sundramoorthy will be appointed the new Singapore national coach on a one-year contract starting from June. His first assignment with the Lions will be next month's friendly quadrangular in Myanmar. His big test will be the Asean Football Federation (AFF) Suzuki Cup in November.
The 50-year-old will the first local national coach since Vincent Subramaniam, who led the Lions from 1998 to 2000.
Sundram is expected to be joined by Home United head coach Philippe Aw, who has emerged as a clear favourite to be appointed his assistant.
An official announcement will be made at the end of the month.
The position of national coach has been vacant since German Bernd Stange left last month after three years at the helm.
TODAY first reported in March that Sundram could be appointed on a caretaker basis for an international quadrangular next month.
The friendly tournament, which will see Singapore playing against regional rivals Myanmar and Vietnam, is part of the Lions' preparations for the Suzuki Cup.
It is believed the FAS had initially shortlisted three European coaches for the national coach post, only to decide to give Sundram the chance to lead Singapore on a permanent basis.
TODAY understands that the new-look local coaching line-up is part of FAS' plan to create a pathway for a new generation of elite local coaches.
When contacted, Sundram was coy and declined to comment on this latest development.
But in an interview with TODAY last month, the former Singapore international admitted it would be "a dream" come true to be appointed as national coach and he would grab the opportunity if the FAS are willing to hand him the reins.
Tampines chairman Krishna Ramachandra is happy for Sundram, even though it means the club will have to scramble and look for a new coach.
"This is very good news for him and I would like to congratulate him," Ramachandra, 44, told TODAY. "It is great for the club to have produced the next national coach and I personally feel he is very familiar with the players and will do a great job.
"A local coach has been finally given the chance and I feel this is great because the football culture and philosophy in Singapore needs to be shepherded by a set of local coaches, rather than a foreign one."
Ramachandra said he will sit down with Sundram to discuss the coaching situation at Tampines in the coming days.
"We will put our heads together and try to work out the possibilities moving forward," he said. "I value his views on our current coaching set up and I want a continuity of the current style of play and system."
Meanwhile, Aw is expected to shake off competition from the likes of Garena Young Lions assistant coach V.Selvaraj, and former Singapore internationals S.Subramani and Nazri Nasir to become Sundram's assistant.
Aw, 39, led the Singapore Selection to victory in the recent Sultan of Selangor's Cup, raising possibilities that the FAS may draft him into the national set-up.
When contacted by TODAY, he declined to comment on that possibility.
"I'm fully focused on my project on hand with the Protectors," said Aw, who is expected to remain Home's head coach, but only joining the national set--up when the Lions have international assignments.
"I am however very pleased for Sundram and even more delighted that a local coach has been given the opportunity to lead the Lions.
"This will hopefully open the door for all local coaches who wish to be in charge of the national team one day."
Hougang United coach K.Balagumaran expressed his delight at local coaches finally being given a chance to lead the national team.
"For any local coach to be appointed national coach is truly a dream come true," he said. "This is a stepping stone for all of us and we can aspire for greater things."
Former Lions winger Steven Tan stressed that the FAS must offer the same support to Sundram like they did to its foreign coaches in the past.
"When our foreign coaches wanted to go overseas for training camps etc, the FAS always obliged," he said. "Now, the same support must be given to a local coach so that his plans and philosophy can function effectively."
For national winger Faris Ramli, who plays for Home, the possibility of having two coaches he is familiar with is a big boost.
"It is great to hear that our local coaches are finally getting a chance," the 23-year-old, who worked with Sundram while playing for the LionsXII, told TODAY. "They both deserve their respective jobs and they will get the team's full support."