Unhappy Ronaldo blasts sale of Ozil
LONDON — An upset Cristiano Ronaldo has reportedly expressed his fury at Mesut Ozil's sale to Arsenal.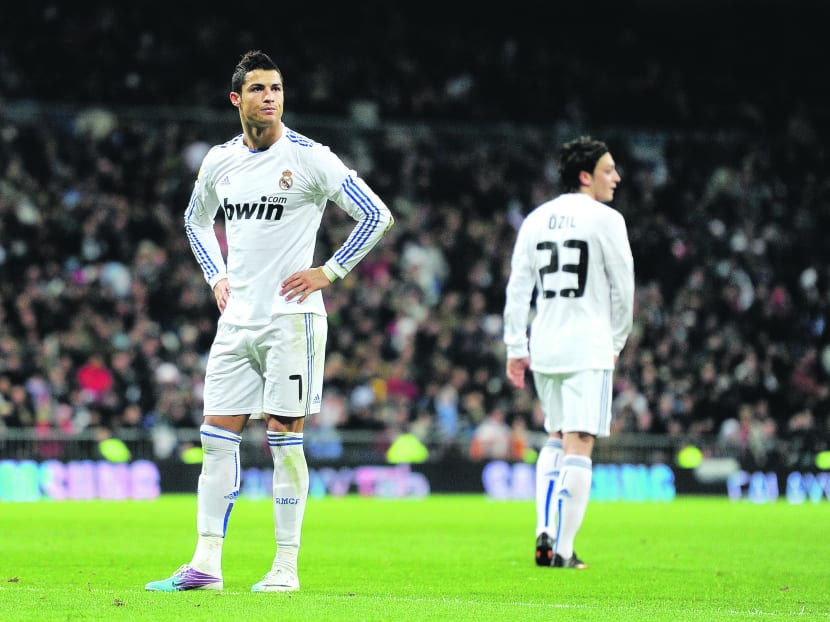 LONDON — An upset Cristiano Ronaldo has reportedly expressed his fury at Mesut Ozil's sale to Arsenal.
According to Spanish newspaper Diario AS, the Real Madrid and Portugal star, who is with his national team preparing for today's World Cup qualifier against Northern Ireland in Belfast, has told his team-mates that he is unhappy that Ozil was allowed to leave for £42.5 million (S$84.3 million) on transfer deadline day on Monday.
The sale took place hours after confirmation of Real's world-record £86 million signing of Tottenham's Gareth Bale.
German playmaker Ozil had claimed that he decided to leave the Bernabeu after realising that he "did not have the confidence" of coach Carlo Ancelotti. However, many observers also believe that he was sold to generate funds for Bale's signing.
According to Diario AS, Ronaldo said: "The sale of Ozil is bad news for me. He is the player who knows best my movements in front of goal ... I am very unhappy about the sale."
Ozil provided 27 assists for Ronaldo at Real — the most in his career. The next best are Karim Benzema (17) and Ryan Giggs (16).
If Ronaldo had indeed made those remarks, it means that he is the latest Real player to publicly speak out about Ozil's sale.
Prior to that, Real players Sergio Ramos and Alvaro Arbeloa had also expressed surprise and unhappiness at the German playmaker's move to the English Premier League.
"It's obvious that he is a special team-mate and friend," said Ramos. "I've always had a real 'feeling' with him, and it's a shame. Everyone is free to choose the best for themselves, but if I were to decide what was happening at Madrid, he would be one of the last who would be going."
Arbeloa has also been reported as describing Ozil's sale as "a big loss to the dressing room".
He said in AS: "I'm a little bit surprised. It's a big loss to the dressing room, on a footballing level and on a personal level, too. He's very different, there's no player like him in the world. He makes the difference on the pitch. I understand it's tough for the fans, they loved him. He is a phenomenon and got on well with everyone. It's a real loss."
Furthermore, Barcelona midfielder Cesc Fabregas has poured salt on the wounds of the unhappy Real players by saying that the Spanish champions have lost their second-best player. He told Spanish radio station Cadena Cope: "I was really surprised by Ozil's departure. He seemed to me the second-best player at Madrid, after Cristiano (Ronaldo). He'll be great for Arsenal."
Meanwhile, former Real President Ramon Calderon, who brought Ronaldo to the Bernabeu, believes that Gareth Bale will be crucial in Real's bid to land a 10th Champions League title.
"Nowadays, there is not another player in Europe or the world like him," Calderon said of Bale.
"He is strong, fast and scores a lot of goals. He can help the team reach their aims of winning the Champions League, the Spanish League and any other titles."
When asked if Bale was worth his world-record transfer fee, Calderon said: "We need to have a crystal ball to answer that. People said I was mad to pay £80 million for Cristiano Ronaldo. But now everyone is happy. He has scored a lot of goals and helped us become much better. We have to wait for the results." AGENCIES