Schooling creates S'pore swimming history by winning gold in 100m butterfly final
RIO DE JANEIRO – Joseph Schooling has created Singapore sporting history by winning Singapore's first ever Olympic medal in swimming.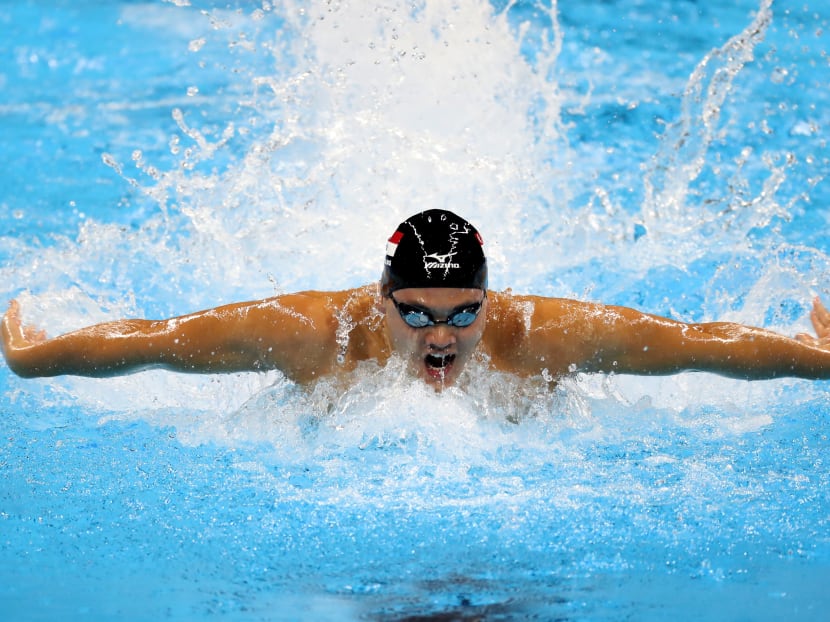 RIO DE JANEIRO – Joseph Schooling has created Singapore sporting history by winning Singapore's first ever Olympic gold medal in swimming and sport. 
The 21-year-old clinched the gold medal in the men's 100m butterfly final in a sensational new Olympic record time of 50.39sec at the Rio Olympics, beating out American great Michael Phelps, South Africa's Chad le Clos and Hungary's Laszlo Cseh who all finished joint second in 51.14sec.
Swimming in Lane 4, Schooling had entered the final – his first at the Olympics – in brilliant form. He was the fastest qualifier in the semi-finals, clocking a new Asian and national record of 50.83sec, which was, until this morning, also the world's fastest time this year.
Schooling had also declared his determination to win a gold medal in only his second Olympics, and the way he easily reached the semi-finals and final, suggested that he was the one to beat in the final eight shootout.
However, it was clear that his opponents, especially Phelps still had some in his tank to take the fight to the young man today.
The 31-year-old had done just enough to qualify for the final in fifth overall yesterday, and that was just minutes after he had won the 200m individual medley gold, which was his 22nd career Olympic gold, and this morning, it was clear from the snarl on his face as he waited for the race to begin that he was about to go full throttle.
But Schooling was having nothing of it. And he showed it from the moment he powerfully dived into the pool.
The University of Texas sophomore took the lead from the start and never relinquished it. Phelps, Le Clos and Cseh tried their best to claw their way back in the final stretch but Schooling always kept them half a body length away.
It was a nerve-wracking final stretch for Singaporeans who were glued to their screens all over the world and screaming their lungs out in a bid to help the young man touch the wall first.
And with a final super-human effort, Schooling did, finishing just ahead of Phelps and company, to eclipse the standing Olympic record of 50.58sec. The moment it occured to him that he had won, Schooling roared and bashed the water with his fists in joy.
Back in Singapore, Colin Schooling, Joseph's father, was in tears in the living room of his friend's house in Jalan Chengam as he watched his son create Singapore sporting history. He had not been able to make the trip to Rio because of health reasons, sending May Schooling, Joseph's mother, there instead.
In the stands of the Olympic Aquatic Centre, May Schooling was seen on television dancing and rejoicing alongside the smattering of Team Singapore officials and supporters.
Schooling's feat will go down as Singapore's greatest sporting feat to date.
Prior to this, the highest achievement by a Singaporean at the Olympics remains Tan Howe Liang's weightlifting silver at the 1960 Rome Olympics and the women's table tennis team's silver at the 2008 Olympics in Beijing.
But now the former Anglo-Chinese School (Independent) student, who grew up in the swimming pools of Singapore Island Country Club, and made the huge decision of moving to the US in 2009, when he was 13, to train at the Bolles School in Florida, so that he can win an Olympic medal one day, has finally cracked that ceiling, and has written his name forever in the annals of Singapore sporting history.