Joseph Schooling calls for better support for local athletes
SINGAPORE — Mixed martial artist Conor McGregor is loud, brash and a beast in the fighting cage. The Irish lightweight champion is also worshipped by many for his trash talking and no holds barred fighting style.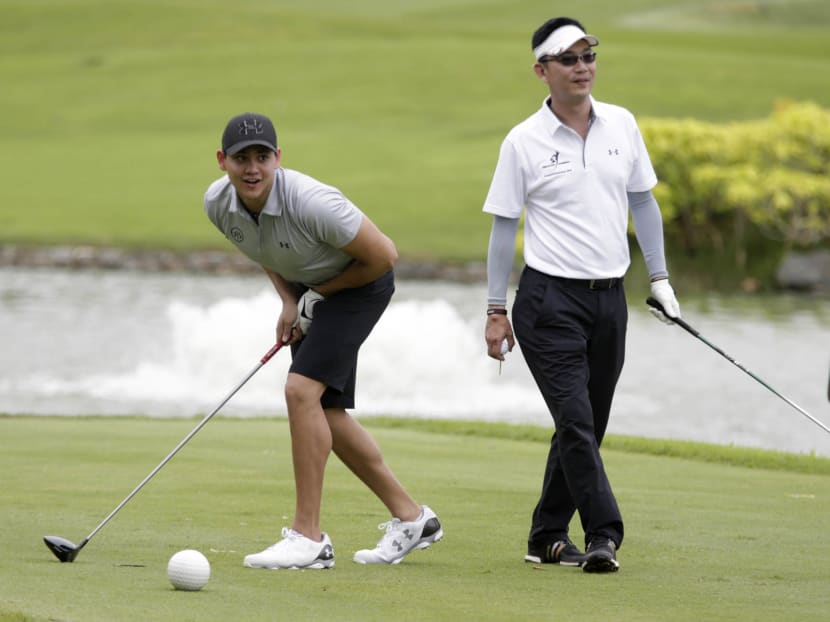 SINGAPORE — Mixed martial artist Conor McGregor is loud, brash and a beast in the fighting cage. The Irish lightweight champion is also worshipped by many for his trash talking and no holds barred fighting style.
And perhaps talk of his favourite fighter had rubbed off on Joseph Schooling, as the Olympic swimming champion came out swinging at Singapore's athlete support system in a candid interview with local media at the Tanah Merah Country Club on Tuesday (Nov 22).
It is a well-documented fact that Schooling's parents Colin and May had to fork out over US$1 million (S$1.42 million) from their own pockets to fund his studies and training in the United States, years before the swimmer was awarded the SpexScholarship by the Government.
Schooling clearly found Singapore's support system wanting, as he said: "Absolutely not (enough financial support). Which parent should have to pay over US$1 million out of their own pocket to help their kid succeed?
"When I race, what's on my chest? It's not my name, it's the Singapore flag. Do you think it's fair my parents pay all this money and suffer for me to represent my country? That's their decision to support me, there should be better support if a person is serious and competitive enough to change their lifestyle drastically to try to bring glory and honour to our country. 
"MAP (Multi-million dollar Awards Programme) is really nice if you hit the target, but without support and funding how do you hit those goals?"
Schooling also called on national sports associations (NSAs) to do more for youth development, particularly with the S$200,000 that he will be contributing to the Singapore Swimming Association (SSA). It is mandatory for local athletes to give back a percentage of the prize money to their associations. 
Aside from financial support, the University of Texas undergraduate also called for local sports institutions and NSAs to step up in areas such as sports science and athlete support, pointing to top-notch systems such as the United States and University of Texas swim team as examples to learn from. 
From drinking beet juice for better oxygen flow, following an hour-by-hour nutrition plan on flights, to detailed knowledge of his rivals' race strategies, Schooling said his work with former Singapore Sports Institute (SSI) nutritionist Kirsty Fairbairn and SSI biomechanist Ryan Hodierne were key to his success in Rio, where he beat 23-time Olympic gold medallist Michael Phelps and South African star Chad le Clos to the men's 100m fly gold.
"There's been a huge increase in support for sports for the last few years, but if you compare to other countries, we're still relatively far behind," he added. 
"That's understandable considering our sporting background and history. Ryan was one of the best I've seen and before the (100m fly final) race, he was telling me where different people might catch me. I don't think we've thought of those things to that detail and those things will take us to the next level."
After a busy week of fundraising activities, book signings and public appearances in Singapore, Schooling will return to Texas on Friday to resume his training with coach Eddie Reese. 
He is looking forward to the hard work ahead in his hunt for his next goal: Breaking Phelps' 100m fly world record time of 49.82sec at the world championships in Budapest next year. 
He has also scheduled three main meets for the 2017 season: The National Collegiate Athletic Association (NCAA) championships, FINA World Championships, and the SEA Games in Malaysia. 
The butterfly specialist could also compete in more events — the 100m and 200m freestyle, 200m individual medley.
The prospect of facing his archrival le Clos in the pool also has Schooling all fired up, as he said: "I love having Chad as a rival because he's not afraid to say what's on his mind. I hate people playing the politically right game, if you want to beat me say you're gonna beat me. 
"I love that fire, and that's what every sport needs — that competitive rivalry and trash talking is great and that's why Conor McGregor is my favourite fighter. He doesn't care what anyone says, he just goes out there and beats the crap out of people."
Lightening up as he talks about the text message Reese sent him on Tuesday telling him "don't get fat", Schooling said: "This year, I'm doing rowing (for dryland exercises). It's a new thing. It's hard, but it's one of the key things that will take me to the next level. 
"It's crunch time, holiday's over and I've got to get back to the pool. I'm ready motivated and fired up to start making progress."
At Tuesday's SSA inaugural golf and dinner fundraiser attended by guest-of-honour, President of Singapore and SSA's Patron-in-Chief Tony Tan, over S$500,000 was raised, with some lucky donors getting the chance to play a round of golf with Joseph and Colin Schooling at the Tanah Merah Country Club.
Proceeds from the fundraiser will be used to help achieve the association's Vision 2020 goals through three areas: long term athlete development pathways, supporting the post sport careers of elite athletes, and professional staff development. 
"I'm extremely happy with the very enthusiastic support, as there are many supporters who are not from the swimming fraternity," said SSA president Lee Kok Choy. "We will plan fundraisers on an annual or bi-annual basis, and we want to build on the momentum (from Schooling's win)."