Largest Team Singapore contingent for Asean Para Games target record medal haul
SINGAPORE — Two months have passed since Suhairi Suhani was informed that he would be Team Singapore's flag-bearer for the 9th Asean Para Games (APG), but his face still lights up when asked about it.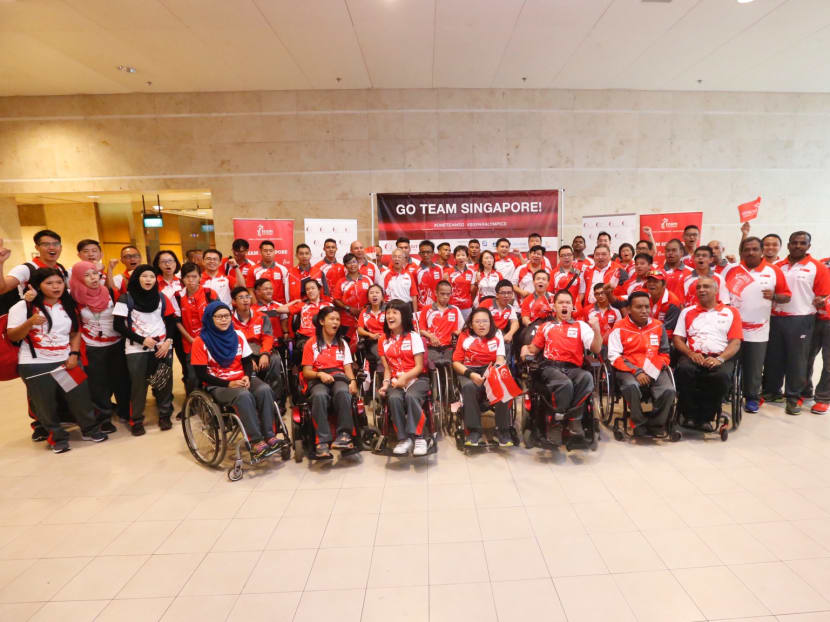 SINGAPORE — Two months have passed since Suhairi Suhani was informed that he would be Team Singapore's flag-bearer for the 9th Asean Para Games (APG), but his face still lights up when asked about it.
The 20-year-old recalls, clear as day, the call in his hotel room in London, where he was participating at the World Para Athletics Championships, his surprise thereafter, and his coach's congratulations.
"I am so excited as this Sunday will be the first time I'm holding the Singapore flag and leading the contingent behind me," he told TODAY on Wednesday morning (Sept 13) at Changi Airport, his voice bubbling with delight and enthusiasm. 
"It's wonderful to be in front (of my fellow athletes) and to hold my nation's flag – I'm so grateful for it." 
The sprinter and long jumper will be part of history in Kuala Lumpur, as Team Singapore will be sending a record away contingent of 90 athletes – including 21 debutants – to compete in 11 of the 16 sports on offer. This is almost double the previous largest number of 57 athletes at the 2008 APG in Thailand.
The increased participation is heartening for Singapore National Paralympic Council president Kevin Wong, who believes it is the "fruits of the legacy" of the 2015 APG on home soil, where 151 athletes took part and won a record 24 golds, 17 silvers and 22 bronzes.
"It's encouraging… because of the Games that more individuals with disabilities are coming forward to participate in sports," he told TODAY on the sidelines of the send-off for the Singapore contingent, which was done in two batches - at 7.35am and 10.05am.
"All these athletes have come through a vigorous selection policy, so they actually have been coming into their sports and attaining the required skill level to compete, so I'm quite excited that there will be more athletes participating across more sports and in greater depth, which means more events."
Swimmer Theresa Goh, who, remarkably, has been to all eight previous editions of the Games, is glad to be involved with such a big contingent, which also includes 84 officials.
"We always want to give as many opportunities as we can to younger athletes to do their best and I think this is a good one," the 27-time APG gold medallist told TODAY. 
"It's definitely not always about the medals and it's the first Games for a lot of them… this will be a stepping stone and hopefully they'll get the support they need and we'll continue to send as many, or more, to the next few games." 
Wong is optimistic that the Singapore contingent will better their previous best away haul of 16 golds, 10 silvers and 11 bronzes from the first APG in 2001 and is looking forward especially to see how the debutants fare.
"I think we will do better," he said. "But mostly, I'm focusing on the debutant sports like cycling… If they medal, it'll be a real inspiration to people that if you come forward and train hard, there's a chance for you to do well. 
"I think that will really show the potential and the depth of our athletes and most importantly our training programmes."
Chef de mission Shirley Low hopes to see every athlete doing their best and seizing their chance to shine on an international platform, while helping to raise even more awareness of para sport.
"It goes beyond the medal haul and I think for many of them, they hope to better their personal bests," she said. 
"At the end of the day, this is also (about improving) the spirit and camaraderie amongst everyone in this team."
Culture, Community and Youth Minister Grace Fu, who was present to mingle with the first batch of athletes at around 7.30am, assured them that they had the support of all Singaporeans.
"Do your very best, don't give up and show what you are made of, the steel in you, so that we can all be very, very proud of you out there," she rallied. 
"We are all there to support and cheer you on, we'll be very excited for you, we want you to be enjoying the best experience of your life… so take good care of yourself, be safe and look out for one another, and be the best ambassador for Singapore."
The 9th Asean Para Games will be held from Sept 17 to 23 in Kuala Lumpur.