Michael Phelps grabs 19th Olympic gold on magical night of broken world records
RIO DE JANEIRO - US swimming legend Michael Phelps extended his record gold medal tally on Sunday (Monday morning, Aug 8, Singapore time), crowning a record-breaking day of drama at the Olympic Games.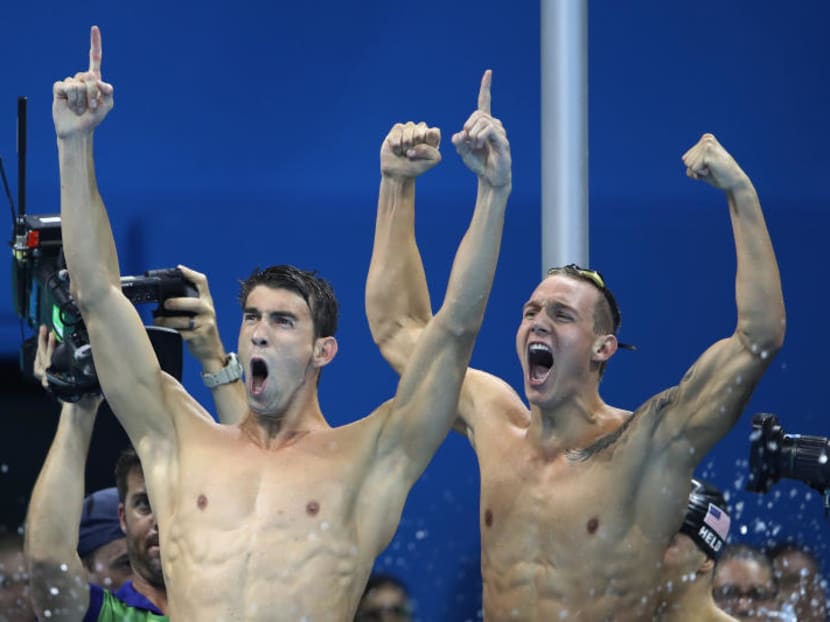 RIO DE JANEIRO - US swimming legend Michael Phelps extended his record gold medal tally on Sunday (Monday morning, Aug 8, Singapore time), crowning a record-breaking day of drama at the Olympic Games.
Phelps, the most decorated Olympian of all time, produced a stunning second leg to inspire the United States to victory in the 4x100m freestyle relay.
The 31-year-old -- who has now won 19 gold medals, 23 overall -- roared with delight and hugged his team-mates after they came home ahead of defending champions France in silver, with Australia third.
It was a fairytale moment for Phelps (above. Photo: Getty Images), who came out of retirement for one last crack at the Olympics after battling his personal demons during a stint in rehab.
The American quartet's display capped a superb night at the Maria Lenk Olympic Aquatics Centre which saw three world records broken.
Cheered on by fiancee Nicole and toddler Boomer in the stands, the peerless Phelps again provided the spark, producing a blistering 47.12-second leg to overtake France's Fabien Gilot and set up victory in the 4x100m free.
Nathan Adrian anchored the Americans to a time of 3:09.92 to end French dominance of the event stretching over the past two world championships and the London Olympics four years ago.
"It was crazy," said Phelps, competing in his fifth and final Games. "I was standing on the block while Caeleb (Dressel) was coming in and I honestly thought my heart was going to explode out of my chest.
"We wanted that race back so badly," added Phelps, who hugged team mate Ryan Held on the podium as he sobbed tears of joy.
Phelps's fellow prodigy Katie Ledecky (above. Photo: Getty Images) was among the biggest winners, obliterating her own world best in the in the 400m freestyle on her way to gold.
The 19-year-old touched the wall in 3min 56.46sec, taking nearly two seconds off her previous record.
Ledecky is bidding to become the first Olympian since Debbie Meyer in 1968 to win the 200m, 400m and 800m free in the same games. The teenage talent, who has gone from strength to strength since her surprise win in the 800m free as a 15-year-old in London, has now broken 12 world records since then.
"A goal I set after Barcelona in 2013 was 3:56 or better so to see 3:56 feels really good," said Ledecky, who beamed when she saw the time.
Jazz Carlin of Great Britain won silver -- her 4:01.23 leaving her 4.77 seconds adrift. American Leah Smith took bronze in 4:01.92.
Britain's Adam Peaty (above. Photo: Getty Images) set a new global best with a win in the men's 100m breaststroke after Sweden's Sarah Sjostrom had also broken the record in the women's race.
World champion Peaty clocked 57.13 seconds, slicing almost half a second off the mark he set in Saturday's heats to emulate Adrian Moorhouse's victory in the same event at the 1988 Seoul Games -- the last time a British male swimmer won gold.
Title holder Cameron van der Burgh of South Africa took silver in 58.69 and American Cody Miller bronze in 58.87.
"It's surreal. It was crazy. It's amazing and I probably won't be able to sleep tonight," Peaty said.
"I saw those (British) flags and each one represented what I'm actually here for -- to represent one of the best countries on earth," said Peaty. "Even though we're a small country, we can still pack a punch... Each day, day in day out, I just gave it absolutely everything."
Meanwhile, Sjostrom (above. Photo: Getty) became the first Swedish woman to win Olympic swimming gold on Sunday and she did it in style, setting a world record in the 100m butterfly.
Sjostrom touched in 55.48sec, lowering the mark of 55.64 she set at the World Championships last August in Kazan, Russia -- where she broke the record twice.
"I knew that when I had a good turn -- I came in with my hands perfect in the turn -- I knew it would be hard for the others to swim faster," said Sjostrom who was overcome with emotion when she realised she had broken the world record on top of winning gold.
Silver medallist Penny Oleksiak of Canada and American bronze medallist Dana Vollmer were a study in contrasts -- Oleksiak a 16-year-old Canadian and Vollmer the 28-year-old London gold medallist.
Neither had an answer for Sjostrom on Sunday, Oleksiak clocking 56.46sec and Vollmer -- who took time off after her London triumph to start a family and has a 17-month-old son, Arlen -- finished in 56.63.
Sjostrom, who was fifth in the 100m fly in London, has dominated the event since 2013. But she admitted that even with European titles, long- and short-course world titles and world records in both long- and short-course, she sometimes doubted she would snag that elusive Olympic gold.
But she didn't let the doubts weaken her resolve. "I knew before the Olympic games that was something missing, and I knew no other girls (from Sweden) had won an Olympic medal before and I thought maybe it's time now."
In contrast to the Brazilian crowd's love-in with a fist-pumping Phelps, however, there was genuine animosity when Russian Yulia Efimova, who escaped a drugs ban to compete in Rio, was introduced before the 100m breaststroke semi-finals.
That paled compared to the boos that greeted the Russian men's 4x100m freestyle relay team, however, as fans and athletes supporting team mates vented their irritation after months of doping scandals. AFP