Othman Wok: The man who built the National Stadium
SINGAPORE — Those were the days when bread-and-butter issues mattered most to a newly independent Singapore, where growing the economy, and the building of schools, hospitals and roads meant there was little attention and money for sports during the Republic's nation-building years.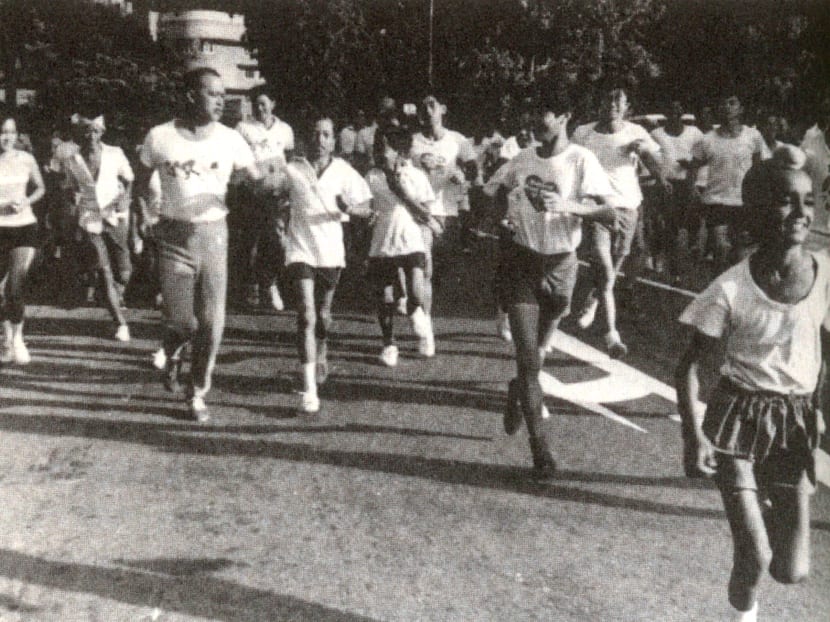 SINGAPORE — Those were the days when bread-and-butter issues mattered most to a newly independent Singapore, where growing the economy, and the building of schools, hospitals and roads meant there was little attention and money for sports during the Republic's nation-building years.
But Mr Othman Wok believed that sports had a crucial role to play in Singapore society, as he took on the task of championing local sports during his time as Social Affairs Minister from 1963 to 1977. He was also known as the man who built the iconic National Stadium, the predecessor of the S$1.33 billion Sports Hub at Kallang.
Explaining his rationale in his biography, Mr Othman said: "I was very keen on sports and wanted to develop it in Singapore. One of my key concerns was to make sport accessible to everyone, and so we started the 'Sport for All' campaign. 
"We tried to reach out to the young and old alike, and tried to drive home the need for a healthy lifestyle. The more healthy the people are, the less money is spent on the sick."
Mr S S Dhillon, who served as Secretary-General of the Singapore National Olympic Council (SNOC) from 1972 to 1996, recalled Mr Othman's dedication to the sports cause. 
"His first contribution as Minister in charge of sports was to promote sports and to have sufficient facilities for sports in Singapore," he said. 
"His second contribution, which was very notable, was how he set up Toto, and how money was earned to promote sports further."
A keen sportsman himself, Mr Othman had argued during a Budget debate in Parliament in December 1965 for the building of an Olympic-standard stadium, convincing his colleagues that the 55,000-seater National Stadium "will give a tremendous boost to the promotion of sport in Singapore, and will help to put Singapore on the forefront in the field of international sport".
Mr Othman toured Europe, and  in Bulgaria, picked up the idea of using Toto — a legalised form of lottery — to channel funds to help build the stadium. Two years after he drove the first pile into the ground at Kallang, state-owned lottery company Singapore Pools was set up in 1968.
It eventually contributed S$14.5 million towards the project, and helped the stadium repay a Government loan of S$7.8 million in start-up money for the stadium management corporation. The company continues to be a supporter of local sports today, with the Tote Board and Singapore Pools the primary supporters of the SNOC's Multi-Million Dollar Awards Programme for athletes.
Dubbed the "Grand Old Dame", the 55,000-seater National Stadium was the pride of Singapore sports for over three decades, hosting three editions of the South-east Asian Games in 1973, 1983, and 1993.
It welcomed sporting greats like Muhammad Ali in a five-round exhibition bout in 1973, as well as English Premier League giants Manchester United, Liverpool and Arsenal.
Home of the national football team, the National Stadium gave birth to the famous "Kallang Roar", that deafening and intimidating wall of sound made by the 60,000-strong crowds that would turn up to cheer on the Lions when Malaysia Cup fever gripped the nation during the 1970s, 1980s and up to the mid-1990s.
Along with then-fellow Minister and SNOC president EW Barker, Mr Othman also worked on getting companies and foundations to donate money to fund sports programmes.
Under his watch at the Ministry, Mr Othman also oversaw a number of successful sports projects, including the Singapore Grand Prix and Pesta Sukan, the Festival of Sports that was started in 1964 to provide an opportunity for sportsmen and women from around the region to compete in friendly sports competitions.
The former journalist was also chairman of the National Sports Promotion Board, which was established in 1971 to administer national sports programmes and promote sports to the public via its "Sports for All" programme.
SNOC vice-president Tan Eng Liang recalled meeting Mr Othman during his tenure as Member of Parliament for Pasir Panjang as Mr Tan's father had served on the constituency's committee. Their encounters became more frequent when Mr Tan was appointed chairman of the Singapore Sports Council (now known as Sport Singapore) in 1975.
"As a person, he was first class, always approachable and helpful," said the 79-year-old, who represented Singapore in water polo at the 1956 Olympic Games in Melbourne.
"He supported sports enthusiastically. In those days, sports, like culture, was on the lower rung of priority compared to economics and housing. But we had his support, along with (then-Law Minister) EW Barker. 
"He was very humble and pleasant. For me, whenever I saw him, we were like good friends. I addressed him as Minister but our conversations were extremely friendly and good," Mr Tan added.
Local football legend Quah Kim Song, who led the Lions to a memorable Malaysia Cup win in 1977, also remembered Mr Othman going down to the National Stadium to support the team during his time as Social Affairs Minister.
"He supported sports many years ago, so of course a person who likes sports will always be in my heart," said Mr Quah, 65.
"His biggest contribution was that he walked the talk, and that he came to support us during matches. At that time, the country was still developing, and he was the only Minister who was genuinely interested in sports. He was the people's Minister, and he mixed around with the people."
The former Social Affairs Minister also ensured that most of the sports facilities were available to national athletes free-of-charge, including Farrer Park — home to many of the Republic's track and field athletes.
Former national sprinter C Kunalan was one of the beneficiaries, and the 74-year-old remembered Mr Othman as an official who was a keen champion of Singapore sports.
"All along, he was very supportive, even though at the Government level, sports was maybe not the priority," said the athletics legend, who won five medals at the 1966, 1970 and 1974 Asian Games. 
"He made sure that sports got its share all the time, and that was a unique feature of his. He knew then that something could be achieved through sports. He also had a major role in the National Stadium and he helped build the track. I had already stopped running by the time the stadium was up and running but in 1973, I made a comeback and ran in the 4x400m relay at the SEA Games."