Plazibat's in red-hot form because he feels at Home
SINGAPORE - You can't blame Home United fans for feeling giddy with excitement these days, especially when their star striker has the ball at his feet.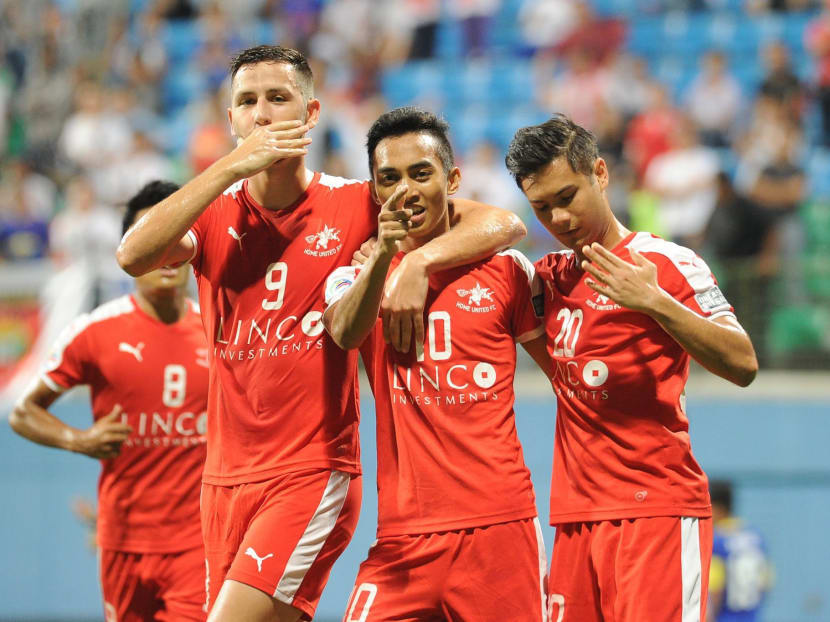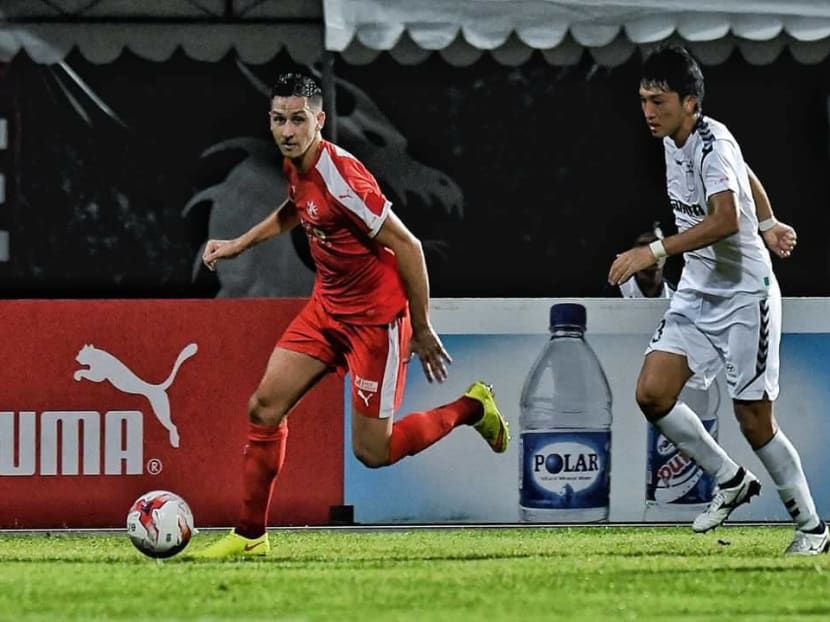 SINGAPORE - You can't blame Home United fans for feeling giddy with excitement these days, especially when their star striker has the ball at his feet.
Because it seems that every time Stipe Plazibat has had a go at goal this season, the ball ends up zipping past opposing goalkeepers and bulging the back of the net.
Including his brace against Warriors FC in the 2-2 draw on Saturday night (April 22), the sharpshooter has now scored 16 times in 11 games in all competitions this season. It means he has already equalled his final tally with with Hougang United last season.
The Croat first came to Asia in 2013 and played for FC Gifu in the second division of the J.League 2.
There, his mission was to save the struggling side from relegation and he duly delivered – by netting five times in 13 appearances to help the club finish second from bottom and avoid relegation.
Here in Singapore however, his mission and ambitions have altered a fair bit. It is now to help Home United, one of Singapore's most successful S.League clubs return to winning ways.
Plazibat told TODAY that his current form has much to do with the fact that he has already adapted to the S.League after spending a year here.
"When I signed from Hougang, I just came back from an injury and that took some time for me to adapt into the S.League" said the 27-year-old.
"Now, I feel my body is fitter from last year.
"When you are fit, you will feel powerful. When you are confident enough, you feel everything is easier to do."
However, it looks like the change in clubs and coaches have also helped.
"When I was at Hougang, under coach Bala (then coach K. Balagumaran), we did more tactical work and yoga sessions," said Plazibat.
"At Home, coach Aidil (Sharin) spends a lot of time spotting and analysing our opponents' weak spots, and preparing us for each team's different style. The training here is also more intensive."
On paper, this is starting to look to be a promising season for the Protectors with players performing up to their potentials and the handful of Singapore Internationals they have in the squad. As such, it is understandable that Plazibat is thinking of winning things, both individually and with the team.
"The Golden Boot, if you don't look for that as a striker, you are not ambitious," he said matter-of-factly.
"Cristiano (Ronaldo) is the best player in the world along with (Lionel) Messi because they are ambitious.
"I have an eye on (the Golden Boot) because last season I didn't get it … I came with a lot of hunger and I hope to prove something this season and hope to win it."
And when asked if it is easy to score goals in the S.League, he answered: "No, it is not easy to score anywhere in the world. You can even find it hard scoring on a night of social football!"
The 27-year-old Plazibat spent his formative years in famous Croatian club Hajduk Split's academy. One of his closest friends there was Ivan Perisic, the Croatian international who plays for Inter in the Italian Serie A.
He spent seven years in the Split academy, before playing for a number of clubs in Croatia and Macedonia. Then he went to Japan where he played for Gifu and then V-Varen Nagasaki
Plazibat told TODAY that his time in Eastern Europe and Japan have made him what he is today.
"In Croatia (with Split) and then in Macedonia (with FK Rabotnicki), the football is more physical and tactically demanding. In Japan, I learnt how to play and think fast and that is where I learnt so much."
Applying all those experiences here in Singapore last year, he had a decent first season with Hougang, scoring 16 goals in 28 games.
Even then, there were questions marks over whether Plazibat would be an adequate replacement for Danish striker Ken Ilso when he signed for Home this season.
Ilso, now with Malaysian side Kedah FA, scored 23 goals in 27 games.
Plazibat feels that he has done enough so far to silence the critics.
"After 10 games, I've scored 14 goals," he said (this was before Saturday's game against Warriors).
"That is more than enough to stop comparing (between him and IIso). At the end of the day, Stipe is Stipe and Ken is Ken. We are both different types of players."
With his strike rate of 0.72 goals per game, Plazibat has definitely become a pivotal part of Home's chase for honours this season.
He reckons the Protectors need to be tigher defensively if the club is to land trophies.
For example, Home threw away a two-goal lead last month against Albirex and although they put five past Vietnam's Than Quang Ninh in AFC Cup group stage win, they let in four for an eventual 5-4 result.
"There is still room for improvement and everyone feels the same way," said Plazibat who scored four goals against Than Quang Ninh.
"This team is a new team. There has been improvement in our goal-scoring but we need to be defending together. Games like Albirex and Than Quang Ninh can't keep happening.
"If we improve our defence we can go far. Honestly, confidence in this team is very high because we have the results to help us give this confidence. We have played 10 games, won eight, lost one and drew one. This gives us right to be confident."
When asked if Home were even capable of going a season unbeaten: "I don't know because the season is very long but we can go really far.
"I can't tell you how far, be it in the league or AFC Cup but we just have to stay grounded and take one game at time. Only like that you can achieve something."
One man who has been absolutely delighted with Plazibat's form is Home coach Aidil.
"He has been doing very well and playing hard for me this season. He has been fantastic and clinical." said the former Home United defender.
"At the end of day for me, I'll be very happy if he scores more and continues to be consistent."