Powerlifting aims to go from strength to strength in Singapore
SINGAPORE - A hurried glimpse here, a hushed whisper there.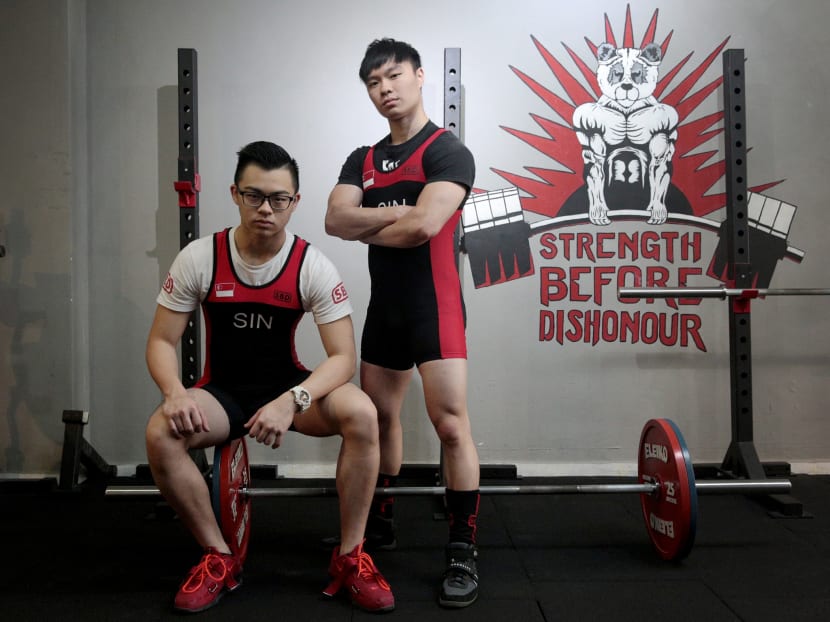 SINGAPORE - A hurried glimpse here, a hushed whisper there. Be it in school or at the gym, Matthew Yap is aware of the extra attention he is now getting after a remarkable showing at last month's World Classic Powerlifting Championships in Belarus.
Coached by his elder brother Marcus, the 18-year-old set a new world mark in the squat en route to claiming overall silver in the men's Under-66kg sub-junior (14 to 18-year-olds) division.
"Yes, from not getting stares to now getting weird stares!" the Republic Polytechnic student chuckled when asked by TODAY whether things have changed since his return from Minsk.
Daphne Loo, Powerlifting Singapore's (PS) media officer who is also a strength coach at the Strength Avenue gym where this interview took place, recalled her students' inquisitiveness at one of the brothers' training sessions.
"After they left, I was asked 'is that Matthew, the world champion?' and I told them, 'yes, you are breathing the same air as two world champions!'" she jested to laughter from the duo.
Marcus, 23, won the squat category in the 2015 edition in Finland in the Under-59kg junior (19-23 years) division and has coached his younger brother since the latter took up powerlifting three and a half years ago.
The increased attention is a reflection of the heightened awareness of powerlifting in Singapore, which has stemmed from an intense media blitz surrounding Matthew's feat. He has fielded at least 10 media interviews since arriving home.
"At least people know it is a sport now," Matthew said.
It wasn't always that way.
ROOTS
PS vice-president Tan Say Yong told TODAY that while Singaporeans have been competing as individuals overseas as part of other countries or associations for a "couple of decades", it wasn't until 2014 that the Republic was recognised by the International Powerlifting Federation (IPF).
The roots of PS were sown about six years ago, when Tan met Singapore Weightlifting Federation chairman Tom Liaw, who was interested in growing powerlifting locally. A few "small" events were started and from there, PS eventually became a registered society in 2014.
A former competitive powerlifter during his time in the United States, the 35-year-old civil servant cited establishing structure and funding as early struggles.
"Let's just say you could probably buy a very decent car with it," he chuckled when asked how much he invested at the start.
"Because it was something I felt was worthwhile, I came up with the resources personally. After that, it was a struggle to build structure and systems that could let the sport be sustainable and thrive."
PS now holds two to three local competitions annually, where Singaporeans are encouraged to come and try out the sport.
Those who post good results will be ranked locally and the best invited to represent Singapore at international meets. At least 50 to 60 individuals have donned Singapore's colours to date.
"The growth was explosive and I guess there was a pent-up demand for the sport, but nobody had sort of done that (establish an association) yet," Tan said.
"In 2014, we sent our first team to international competitions officially under the IPF. That was a great moment for us."
PS now has a "couple of hundred" members and Tan believes Matthew's journey is symbolic of PS' growth from humble beginnings.
"His world record wasn't a flash in the pan," he said. "He has been working and training quietly for many years, and made many personal sacrifices to get to his dreams, much like the organisation."
The aim now is to raise the profile of powerlifting. Hosting the Oceania championships in December will help, as well as more good results at the Asian championships in the same month.
"We will continue to organise local events, we are looking to do more as we know the demand is there," Tan said. "We are also looking to increase efforts to tie up with organisations who have resources to contribute to our mission."
MONEY WOES
Funding remains an obstacle. As PS is not a recognised National Sports Association (NSA), athletes are self-funded.
Matthew recalled his elder brother "saving every single cent he had" in order to compete at the 2015 World Championships in Finland.
"I had to pack strawberries from home and bring a lunchbox everywhere," Marcus laughed. "Every week, I spent less than S$10. That was insane. I was lucky because there was leftover food at home (to pack)."
Flights are expensive, as the world championships tend to be held in cities off the beaten track, such as Salo (Finland, 2015) and Killeen (USA, 2016). The traveling expenses alone for Minsk came up to S$5,500 and Matthew had to work part-time for three months to pay his way, while Marcus, a full-time national serviceman, used his savings. The latter believes he has spent close to S$20,000 since 2014 on the sport.
"Every Chinese New Year, I will squirrel money from the red packets," Matthew said. "We have (gym) memberships to pay for, meals, equipment, supplements…My dream is to get paid to be in the sport.
"When training days are bad, you question whether it's all worth it. Am I really doing something that is best for me?"
Marcus summed it up: "What we have to care about is whether we have enough money to eat, go for massages, have enough sleep. If I spend the money (on a massage), what will I do if my shoe spoils?"
They regard competing as the "easy" part of powerlifting.
"We have to watch our food (intake), sleep schedule, not get injured, go for massages (to recover), do mobility work, make sure our finances are enough (in the lead up to competitions)," Marcus said. "We are not full-time athletes, everything is not laid out for us."
But when it's showtime, they relish the opportunity to shine.
"The most fun part is when you finally get to perform on stage," Matthew said. Marcus added: "You get to showcase all the hard work (after) all the negativity, all the messed-up things (that) you've finally pulled through."
The Chiam See Tong Foundation has since reached out to Matthew to offer assistance, while TODAY understands that a few private individuals have also expressed interest in helping the Yaps financially.
POWERING ON
For PS, operating expenses are funded by members' registration fees for the local competitions.
PS is also allied with Anti-Doping Singapore to ensure the sport is clean, which adds another element of cost. Annually, expenses can come up to around S$100,000 and while there are some sponsors, these contribute less than 10 per cent.
"As we grow, our structures become a bit more resilient and stable, and our confidence to increase our scale of operations grows, but the resource limitations are existent," Tan said.
"Sport Singapore recognises us as a reliable partner (but) whether NSA status is granted is something (best left) for them to answer."
There are around 10 committee members who help out at PS and Tan is immensely grateful, saying: "These are people who see the value of the sport and want to give back, I can't thank them enough as the effort they've put in is a lot to ask from anyone on a volunteer basis."
Still, the Yaps strive on. Their energy is infectious, and they do not begrudge their predicaments throughout the hour-long chat.
They even hope that their third brother Matthias, who helped to spread the word about Matthew's exploits in Minsk to local media, will join them in their powerlifting journey. The trio, who live with their mother, have also grown closer as a result of the sport.
They praise the positive nature of the powerlifting community, which played a major role in convincing Matthew to embark on his journey.
"Imagine when you are someone else's opponent, yet they still cheer for you," Marcus explained. "It's very encouraging and everybody wants everybody to make the lift."
Marcus's perspective on the sport has also evolved over the years. While he used to fixate on winning, he has also come to realise the little things also matter – the friendships forged and memories made. Like how they were stuck at Minsk's airport due to an immigration mix-up upon departure and had to rely on a successful last-ditch crowdfunding effort to get home.
"Of course I'd like to be the best, I've always wanted to be, but what I also enjoy now is such stuff," he said. "They are still equally important, but I've found something else I like about powerlifting."
They hope to ride on the current momentum to push the progress of powerlifting even further in Singapore. While Matthew hopes PS can become an NSA, Marcus dreams of the sport helping to "shape" the fitness industry by sharing their experience and knowledge.
On his part, Tan hopes that the brothers' tale encourages others to dream big.
"I'd love to see (us as) an organisation that is sustainably building people of character," he said. "I hope that's our little contribution to the nation, to get young people to have a dream…and just find a way to achieve it."
After all, they are not special individuals, Marcus reiterated. "People are like, 'should we approach them?' when they see us, and they act like they are looking at their watches (instead)," he laughed.
"We are ordinary people!"
To find out more about the sport, visit http://www.powerliftingsg.com.