Scandals, infighting, money woes put NSAs in spotlight
SINGAPORE — What a topsy-turvy year it has been for some of Singapore's sports associations.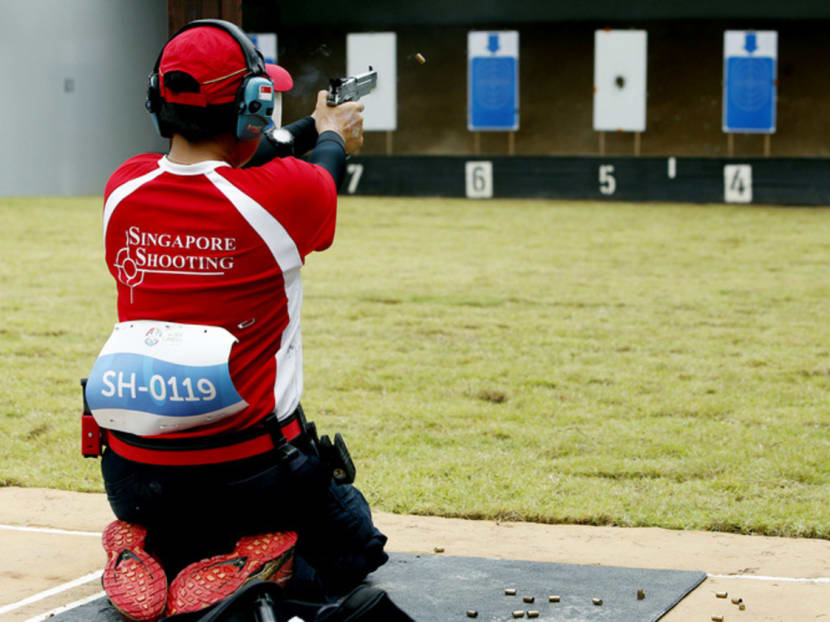 SINGAPORE — What a topsy-turvy year it has been for some of Singapore's sports associations.
While the Republic celebrated the historic achievements of Team Singapore's athletes at the Olympic and Paralympic Games, a number of scandal-hit national sports associations (NSAs) found themselves in the spotlight after running into a litany of issues that ranged from internal squabbles to alleged funds misappropriation.
SPORTS HIT BY CONTROVERSIES
The biggest shocker came in October, when the Singapore Table Tennis Association (STTA) axed three-time Olympic medallist and world No 6 Feng Tianwei from the national team, citing the need for rejuvenation.
Reports later emerged that the paddler had been embroiled in disagreements with the association over prize money, reimbursements for food claims, and disrespect of authority.
Out on her own, Feng has since vowed to continue competing for Singapore as she targets a fourth medal at the Tokyo Olympic Games in 2020, and she is putting together her own team which includes a coach, sparring partners and physical trainer.
The floorball fraternity was also hit by scandal, with long-serving Singapore Floorball Association (SFA) president Sani Mohamed Salim put under investigation in May for alleged misappropriation of funds.
The SFA had also run into financial problems after failing to submit its audited accounts to Sport Singapore (SportSG) which resulted in a loss of annual funding. It also owed an outstanding debt of 23,000 Swiss francs (S$32,437) to the International Floorball Federation.
Infighting also erupted in a number of sports, most ostensibly in shooting, with the Singapore Shooting Association (SSA) and its constituent ordinary member, the Singapore Rifle Association, engaged in legal tussles over the National Shooting Centre's armoury and other matters.
The quarrel came to a head this month when the SSA expelled the SRA from the national sports association (NSA), stating that "the SRA no longer has the best interest of the shooting fraternity at heart" and that it is "not in good standing with SSA".
Disagreements and strife among the Singapore Athletics' management committee also saw its president Tang Weng Fei choosing not to stand for re-election at its annual general meeting in June.
There were other hurdles as well — an 11th-hour about-turn on Singapore Athletics' selection policy for its Rio Olympics wildcard selection drew the ire of athletes, while TODAY also reported recently that the NSA risked losing funding after its general manager failed to consult with SportSG on the hire.
In karate, the Singapore Karate-Do Federation's (SKF) attempt to offer an olive branch to several "rebel" clubs, which had been expelled in 2010 for forming a rival governing body, and organise a town hall meeting for them to air their grievances, was rebuffed as the clubs chose to skip the meeting.
Last year, the sport's infighting had caused karate to be dropped from the SEA Games roster as the Singapore National Olympic Council (SNOC) felt that the SKF did not have the support of the whole fraternity.
Even Singapore's most popular sport, football, did not escape unscathed. The S.League saw a fall in fan turnout after an initial spike sparked off by English superstar Jermaine Pennant, while the national football team came under fire after the four-time champions crashed out of the group stage of the AFF Suzuki Cup. The Lions scored one goal in three matches (two defeats and a draw) to finish last in their four-team group, in what was their worst-ever performance at the competition.
The Football Association of Singapore (FAS) also drew brickbats from fans and the fraternity, with critics blaming the NSA for a number of issues: A lack of development at the grassroots and youth level, and neglect of the S.League and amateur leagues.
The FAS' decision to limit their resources to the elite teams in their national set-up also backfired as its age-group teams fared poorly in the international competitions that they participated in.
WHAT PROBLEMS DO NSAs FACE?
Those in the fraternity whom TODAY spoke to highlighted a number of challenges that NSAs usually face:
• Difficulty in attracting and retaining good leaders, staff and volunteers
• Internal politics and bickering
• Lack of funding and sponsorship
• Diminishing interest in the sport due to competition from other more sedentary activities
It is a struggle that former national rugby player Ridzal Saat is familiar with.
Ridzal had spent 15 years with the Singapore Rugby Union (SRU) in various roles as a rugby development officer, general manager, and head of rugby, before a stint at the FAS in marketing competitions, development and planning from 2011 to 2014.
Ridzal was also at the SRU when it went through its darkest days in 2005, when its then-finance executive Sean Lee allegedly forged cheques that saw the association losing over S$1 million. Now the rugby services manager at World Rugby, the sport's global governing body, Ridzal observed that rugby in Singapore, and the SRU, have made huge progress since.
"We had to start from scratch (when I first joined the SRU) — sell the game, and dispel the perception of how dangerous the sport was. When (Lee) ran away with the money, we had issues and those were challenging.
"Back then, it was hit and miss and we tried everything. Now you have people who are more qualified (who are running the sport). Singapore rugby is better placed with a lot of young, enthusiastic people intent on making the sport better."
Singapore Sailing Federation president Ben Tan also echoed the sentiment that corporate governance in NSAs has improved in general, with associations now following the best practices of international corporations. However, he also acknowledged that some NSAs are lagging behind others because improvements and enhancements can take time to implement and bear fruit.
The issue of funding is also a perennial one for NSAs, and while bigger sports like sailing and football receive over S$2 million annually from the Government, some of the smaller ones do not receive as much financial support.
SNOC vice-president Annabel Pennefather, a former president of the Singapore Hockey Federation (SHF) and former vice-president of the International Hockey Federation, said team sports often find it tough to secure enough funds for their athletes to compete overseas.
Attracting sponsorships is a challenge, as Pennefather said: "The few NSAs who had sponsors ride with them over the years are very fortunate because many others are struggling. But you can't blame the companies because they have targets to meet. It is a chicken and egg issue — if you want to be somewhere, you need money, but if you have no money, how do you get there?"
HOW TO FIX THE PROBLEMS?
Solving one of the NSAs biggest woes — money — requires creativity and innovation, particularly with e-sports muscling in on their turf, said Ridzal. "A lot of the rugby unions say the threat to sport is e-sport ... You have got to sell your sport, not only to sponsors, but parents and schools in an (increasingly) crowded market," he said. "The associations have got to treat their sport like a product, and look into how to differentiate it from others in the market.
"For World Rugby, we are talking about the region as Japan will be hosting the Rugby World Cup in 2019, so a lot of our focus is on growing the game in Asia. We also need to get into social media to make the sport easily accessible to people."
On the issue of government funding, Tan said NSAs just have to bite the bullet, and source for funding on their own in order to deliver results, which will in turn help secure funding for their elite athletes.
Said the former Olympian who now heads the Changi Sports Medicine Centre: "Nobody owes you a living. You have to deliver results before you get money. Singapore is a meritocracy. Unfortunately, (the money) has to come from within the fraternity."
Low Teo Ping, president of the SRU, has a unique idea to alleviate NSAs' manpower woes.
"It could sound radical, but we could put all the racket sports under one NSA, or put some of other sports that are alike under one NSA, and use whatever limited resources we have and really position them and do something," said the veteran sports administrator. "We should relook at the whole landscape."
Pointing to ex-football administrators who have left Singapore to work in higher-profile positions overseas, such as former FAS deputy director for development and planning Benjamin Tan, now the deputy chief executive of Premier League Thailand, and his successor Yazeen Buhari, who subsequently left to join the Asian Football Confederation, Ridzal said there are a lot of talented individuals who can help develop NSAs and make them more professional.
The key is in finding the right people who have the best interests of the sports at heart, he said. "For Singapore sport to be better, whoever is in management has got to think of the athletes first, and then the fans ... then you can build your product around it," he noted.
A former FAS official agreed. When asked what the FAS needs to improve on, the official, who declined to be named, said: "I think associations must be honest, accountable and make decisions for the development and betterment of football in their countries. Officials or administrators should carry out their duties and responsibilities in good faith.
"They must also work at providing developmental pathways for those involved in the sport, such as footballers, referees and coaches, to achieve their sporting potential and realise their ambitions."
According to SSF president Ben Tan, the sailing body has put in place a succession plan to ensure that the sport will have capable leaders to bring it forward. Former national sailors like Terence Koh, Tracey Tan and Chung Pei Ming were also recruited to join the NSA after their sailing careers had ended.
Politics and infighting should also play no part in sports, said Pennefather who described this as the "biggest challenge faced by NSAs".
"What is the biggest challenge for many sports administrators is to put the interest of sport and the NSA at the forefront of everything instead of personal interest, rather than agendas that can only divide," she said.
"Globally (in sports), there is politics too. But it's not what sports should be about. The impact on the athletes is negative and that's never good for the sport."
THERE IS HOPE, YET
Despite the many problems plaguing NSAs this year, SportSG chief executive officer Lim Teck Yin is keeping faith with the sports associations.
"It is difficult to generalise across some incidents to suggest that NSAs as a group are poorly organised. That's not a fair generalisation," he told TODAY. "When you have NSAs that are well-run, that are functional and are producing good results, people laud the results of the athlete without recognising that behind the athlete is a village.
"Some of the public spats, and news around the NSAs facing difficulties should give everyone the impetus to resolve it quickly and decisively, and also recognise the important role they play as the sole representative of the sport in the country and of the people that play it."
The key to making any sport work, said Lim, was to ensure that the NSA has a clear goal and direction, and for the NSA to work for the benefit of the sport. "Whether it is a small or large NSA, they have to have a clear sense of their goal, a clear aspiration that is well articulated, and exercise leadership that would rally stakeholders to work together.
"The capacity to inspire, encourage people to work together is the hallmark of a successful NSA.
"My own experience is that when corporates see an NSA that represents their best value and which they can associate with the corporate brand, they are ready to step up and say 'I would like to help you'.
"Success begets success, success attracts good people to step up, serve and contribute."