Schooling strikes gold for Singapore
INCHEON — Having made his mark against the Commonwealth's best two months ago, Joseph Schooling can now call himself Asia's best.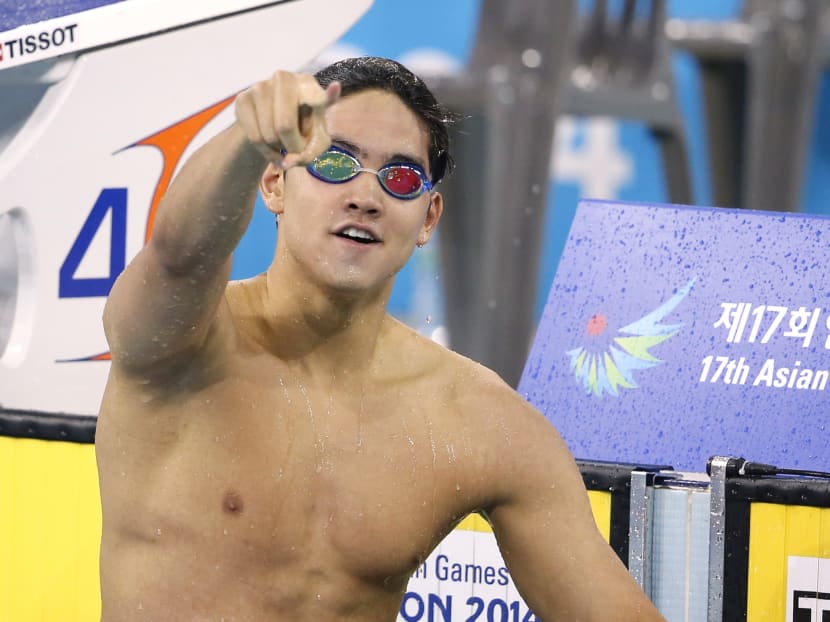 INCHEON — Having made his mark against the Commonwealth's best two months ago, Joseph Schooling can now call himself Asia's best.
Even though he finished behind South African Olympic champion Chad le Clos in the 100m butterfly in Glasgow, Schooling has now stared down his leading Asian rivals in the same event and emerged tops.
Last night at Incheon's Munhak Park Tae-Hwan Aquatic Centre, 19-year-old Schooling broke a 32-year gold medal drought by becoming the first male Singapore swimmer to win an individual gold at the Asian Games since Ang Peng Siong's 100m freestyle win at the 1982 New Delhi Games.
Touching home first in the 100m fly in a Games record of 51.76 secs to secure Singapore's first gold of the Incheon Games, Schooling consigned China's Youth Olympic gold medallist Li Zhuhao (51.91) and Japan's Hirofumi Ikebata (52.08) to silver and bronze, respectively.
"I was really confident going into the race, I believed that I could win," he said. "I was kind of tightening up at the end, but if someone wanted to run me down, they would have to die trying."
His father Colin, who with wife May were cheering their son on from the stands, added: "This is no flash in the pan. When he was a young boy, we (followed) every single meet he took part in and saw a pattern, and the enthusiasm kept burning.
"This journey is right up to the Rio Olympics and after, if possible. It's all happening in stages. So long as he's focused, we'll get there."
Schooling, who holds the national record of 51.69 set at this year's Commonwealth Games, knows the journey is only starting to get exciting.
"I'm glad I went to the Commonwealth Games because it allowed me to race those guys from that side of the world and coming to the Asian Games allows me to race guys in our continent," he said. "These two meets have given me a lot of confidence. As a kid, I've always wanted to be up there, on top of the world ... and this is a very positive step forward. Hopefully, I can keep progressing."
Now at the University of Texas in Austin, Schooling is part of the Longhorns, one of the top collegiate swim programmes under two-time United States Olympic men's head coach Eddie Reese.
Sergio Lopez, who has overseen Schooling's development at Florida's Bolles School since 2010, said preparations for Incheon had not been ideal as he had spent the past few weeks adjusting to life and a new team in Texas, which affected his training.
Schooling's training had been limited to 3,000 to 4,000 yards daily during this period, fewer than the ideal 5,000 to 6,000 yards.
But Lopez, a bronze medallist at the 1988 Seoul Olympics, said: "He didn't mention it because he didn't want people to think it was an excuse. Honestly, Eddie Reese and the team there have done an amazing job to embrace and help him practise.
The Spaniard added: "He wanted to be the world's best when he was 13 or 14, when he moved all the way to be with us. The hard part now is to be consistent. He's going to have the next six, seven, eight years of very hard work to maintain himself there and get better."
Schooling's best bet for glory in 2016 is in the 100m fly and 200m fly.
Ang, who felt the 32-year wait for Singapore's next male Asian Games champion swimmer was way overdue, stressed the onus lay with Schooling. "The Olympics are a totally different level altogether, and Eddie can provide that fine-tuning for Olympic success," he said. "But it all boils down to how hungry Joseph is. He needs to stay hungry."