Singapore's sporting greats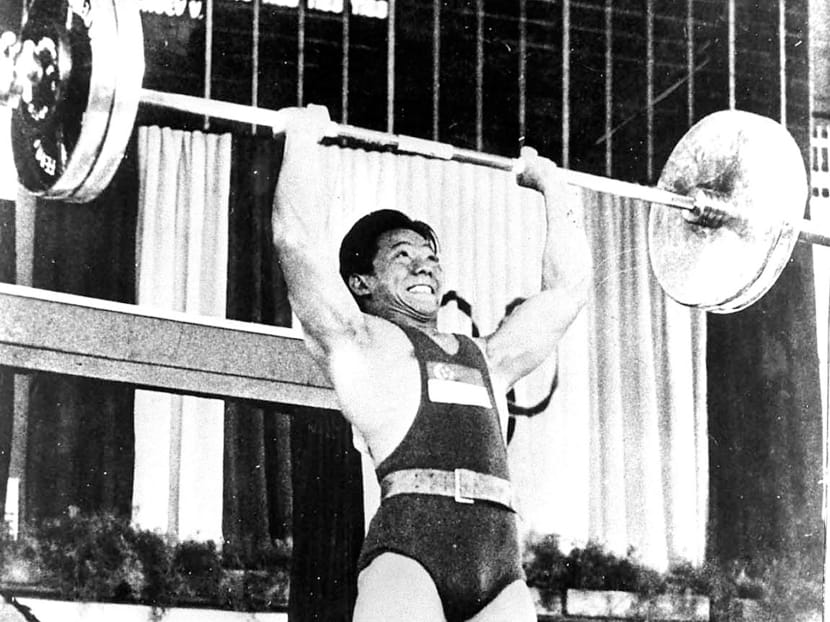 SINGAPORE — Greying sports fans remember fondly many of Singapore's past sporting heroes. Names such as Tan Howe Liang, Fandi Ahmad, Quah Kim Song, Patricia Chan and Ang Peng Siong roll off their tongues with a familiarity that stems from watching the Republic's brightest and best on telly, as well as "live" at stadiums and sporting halls.
In an era before the Internet, cable television and the reality TV world of Kim Kardashian, Singaporeans were kept entertained and delighted by the silky skills of football's favourite sons Fandi and Quah, who hailed from the Quah family of footballers that also included Kim Beng, Kim Siak, Kim Lye, and Kim Swee.
As the nation celebrates its 49th birthday, we remember the national sports heroes who helped build the foundation for Singapore sports since gaining independence in 1965.
Tan Howe Liang (weightlifting)
Age: 81
How he got started: A stroll past Gay World Amusement Park in 1952 saw Tan intrigued by the loud noise coming from a weightlifting competition, and his journey in the sport began from there
What we remember him for: Winning Singapore's first Olympic medal, at the 1960 Games in Rome, where he lifted a total of 380kg in the lightweight category to clinch a silver. The weightlifter's illustrious career included gold at the 1959 South-east Asian Peninsular Games, gold medals at the Commonwealth Games in Cardiff in 1958 and Perth (1962), and placing first at the Tokyo Asian Games in 1958. It would be 40 years before any Singaporean athlete would match his Olympian feat – when the national women's table tennis team won silver at the Olympics in 2008.
Quah Kim Song (football)
Age: 62
Also known as: "Mercurial Speed Demon" for his speed and agility in his role as a striker
His best moments: Scoring two goals in Singapore's 3-2 win over Penang in the 1977 Malaysia Cup final in Kuala Lumpur under the leadership of Singapore's iconic football coach, the late Choo Seng Quee, and captain Samad Allapitchay
What he won: Quah was named Footballer of the Year in 1974 and Player of the Year in 1976
We also remember: Kim Song was the youngest of a footballing family that included four older brothers, Kim Beng, Kim Siak, Kim Lye and Kim Swee. Another brother, Kim Tiong, did the triple jump
Fandi Ahmad (football)
Age: 52
Why we remember him: Fandi is arguably Singapore's most famous and loved footballer, and he was the country's first millionaire sportsman and the first footballer to play in Europe with Groningen in the Netherlands. He played for Malaysia Cup state teams Singapore FA, Kuala Lumpur FA and Pahang FA, winning titles with all the teams, and the Golden Boot in 1988. In 1994, he captained the "Dream Team" to the coveted double – the Malaysia Cup and Malaysia League title – scoring 26 goals in 39 appearances and he was voted Player of the Season. He was also awarded a state medal, the Pingat Bakti Masyarakat (Public Service Medal).
Where he is now: After a stint as coach of Indonesian football club Pelita Raya, he is head coach of the LionsXII, who ply their trade in the Malaysian Super League
Canagasabai Kunalan (athletics)
Age: 71
What we know him for: The sprint king won two medals at the 1966 Asian Games, a silver in the men's 100m and bronze in the 4x400m relay. His 100m final in Bangkok was a race to remember after he was beaten by Malaysia's "Flying Doctor", Mani Jegathesan, by 0.01sec in a photo-finish
Other victories: At the 1968 Mexico Olympics, Kunalan set a national record of 10.38sec in the second round of the 100m, which remained unbroken for 33 years until UK Shyam clocked 10.37 at the World University Games in 2001. His trophy cabinet includes four gold medals at the South-east Asian Peninsular Games in 1969 and 1975, and two bronze medals in the 4x100m and 4x400m relays at the 1974 Asian Games in Tehran
What he's up to now: Kunalan – known affectionately as Mr K in the fraternity – was recently voted in as the Singapore Athletic Association's vice-president (training and selection), where he continues to work with local track and field
Patricia Chan (swimming)
Age: 60
Best known as: Singapore swimming's Golden Girl, for her amazing feat of 39 gold medals over five South-east Asian Peninsular Games from 1965 to 1973. She won the 100m freestyle gold at each of the Games, breaking the record each time she competed in the regional event. Outside South-east Asia, she won three silver and five bronze medals at the 1966 and 1970 Asian Games in Bangkok, and her sole appearance in the Olympics in Munich in 1972 saw her finishing eighth in both heats in the 100m and 200m backstroke
Her awards: Chan was named Sportswoman of the Year five times, in 1967, 1968, 1969, 1970 and 1971
Ang Peng Siong
Age: 51
How he started: Son of 1964 judo Olympian Ang Teck Bee, Ang was talent spotted by coach Phil Hansel at the Hawaii International Invitational Meet in 1980 at the age of 18 while he was an undergraduate of Houston University on a sports scholarship.
His defining career moment: Blazing the trail for Singaporean swimmers after winning the "B" final of the 100m freestyle at the 1984 Olympic Games in a national record time of 51.09sec
Other victories: Eight gold medals at the SEA Games from 1983 to 1993, and gold at the Asian Games in the 100m freestyle in New Delhi in 1982. Awarded Sportsman of the Year in 1982, 1983, 1984
What "Uncle Siong" went on to do: He also attained success at the Masters level, winning gold in the 50m freestyle at the World Masters (+35) in 2000, and the 50m butterfly and freestyle gold in 2002
Wong Peng Soon
Age: Died in 1996
How he was remembered: Wong was the top shuttler in Malaya from the 1930s to the '50s, winning the singles title seven times in Singapore and on eight occasions in Malaysia over the two decades. Known for his powerful strokes and graceful footwork on court, he also won the Danish Open, Indian Open and Philippines Open
His best moments: In 1950, he became the first Asian player to win the prestigious All-England Championships, before repeating the feat in 1951, 1952 and 1955. Together with fellow badminton great Ong Poh Lim, Wong forged a trailblazing path for Singaporean and Malayan badminton, winning the Thomas Cup with the Malayan team in 1949 and 1952, before captaining the team to win his third and last title in 1955.
How he was honoured: Wong was made a Member of the Order of the British Empire (MBE) in 1956 – the first Singaporean athlete to be conferred the honour. Six years later, he became the first and only sportsperson to be awarded the Sijil Kemuliaan (Certificate of Honour) by the Singapore Government.
Those were the days
Kopi-o was all weightlifting legend Tan had to keep him going in the mornings, as the store clerk struggled to train and make ends meet to keep his Olympic dreams going.
The road to the 1960 Rome Olympics was a tough one for Tan, who struggled financially as he had to pay for his living and training expenses, equipment and gear, as well as participation fees for competitions. But he persevered, finding his way to Italy, where he lifted himself into the history books by winning the Republic's first Olympic medal — a silver — in the lightweight category.
Sprint legend Canagasabai Kunalan recalls what training was like when he started training at Farrer Park in the '60s, as he told TODAY: "We would have to run cross-country in the morning at MacRitchie Reservoir, either the long route or the short route. In the afternoon at about 3pm, we would gather at a house at Dorset Road near Farrer Park because our coach had a friend who had weights and everything. At the time there were no gyms, aside from the YMCA, so we did weight training at this house.
"We didn't have vitamins and supplements at that time. I ate my wife's cooking and ensured that she cooked Chinese herbal tonic soup with either fish or chicken or mutton along with vegetables. For vitamins, we would hope someone would give us some as free samples; a month before major games, people would usually donate a small scale to the team. My wife found it pathetic. For competitions, someone would give us free eggs, and we each had a dozen eggs for two weeks during the competitions."
What it is now
Today's national athletes get the best in nutrition and supplements, and have access to the latest technology and scientific research to shave hundredths of a second off their competition times, with the Singapore Sports Institute (SSI) now housed in its new world-class facility at the S$1.33 billion Sports Hub in Kallang.
More money is also being pumped into elite sports, as the Government unveiled the Sports Excellence Scholarship for national athletes last year. Boasting a war chest of S$40 million, the four-tier scheme disburses stipends ranging from S$24,000 to S$90,000 to athletes and also provides additional support that includes training and competition costs, coaching fees, equipment, sports medicine and sports science.
The return of the South-east Asian Games after 22 years has also sparked off a one-year support scheme, called The Final Push, by Sport Singapore that will provide allowances and financial support to more than 200 national athletes training full-time for the 2015 Games.
Added Kunalan: "There was no such thing as sports medicine at that time, so if anyone ever got injured, we would go to a Chinese temple in Geylang because our coach knew the Chinese doctor who would give us massages. The SSI has a huge amount of sports medicine and sports science. There is even a chamber for altitude training and we have rooms for the athletes to stay in for the 10 days or more when they undergo the training. It is necessary for athletes if they want to compete globally."
Shared experience
Age, and several more strands of grey hair, may divide the pioneer generation from the young ones, but the joy of hearing the Kallang Roar "live" at the National Stadium — both old and new — is an experience Singapore's athletes will share as they don the national colours of red and white.
Sprint queen Chee Swee Lee, who won Singapore's first women's gold medal (400m) at the 1974 Asian Games, remembers the thrill of competing at the National Stadium at the South-east Asian Peninsular Games in 1973.
Chee, 59, got a special preview of the 55,000-seater stadium before its opening last month and she told TODAY then: "I wish I was able to compete here again. At the 1973 SEAP Games, I could hear the crowd roar and I loved that feeling. It motivated me and kept me going. Running those two events in the National Stadium was the most memorable for me during my career."
Read more stories in our National Day Special: