The toughest and most gruelling race of their lives
SINGAPORE – Two Saturdays ago, in the wee hours of the morning, a group of five runners, sporting heavy backpacks and trekking poles, gathered in front of the main road leading to the summit of Bukit Timah Hill and waited patiently for the nature reserve to open for the day.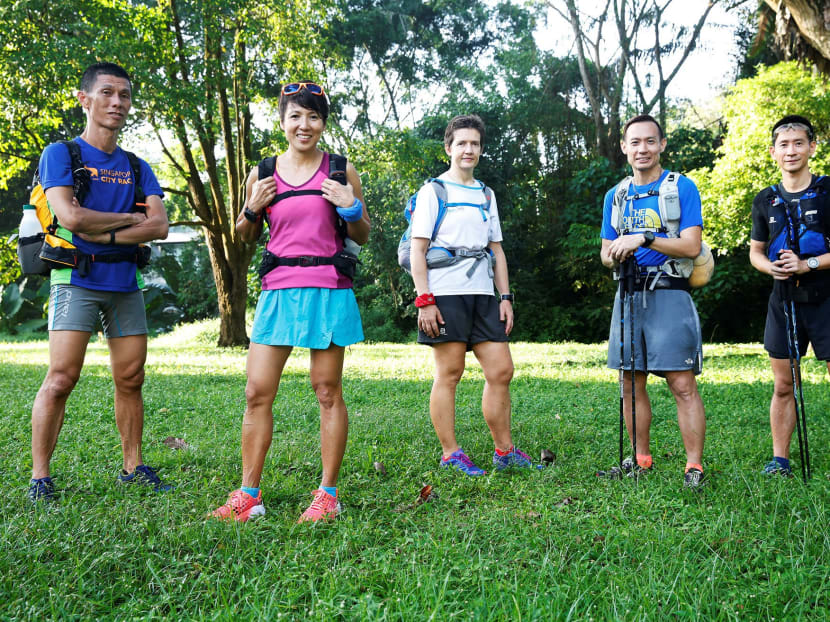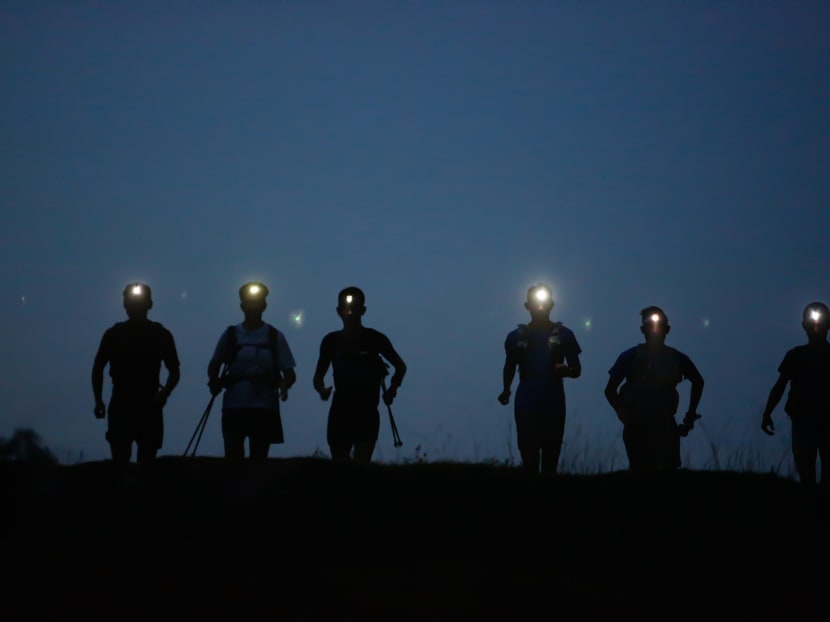 SINGAPORE – Two Saturdays ago, in the wee hours of the morning, a group of five runners, sporting heavy backpacks and trekking poles, gathered in front of the main road leading to the summit of Bukit Timah Hill and waited patiently for the nature reserve to open for the day.
When the gates finally open at 7am, they are among the first to walk through it as they immediately begin trekking up the steep incline at a surprisingly quick speed.
Their footsteps are light, their pace steady. In almost no time at all, they reach the summit of the hill, which stands at a height of 163.63m.
But those who frequent Bukit Timah Hill on weekend mornings will not be surprised at the speed in which these five runners reached the summit. After all, they are familiar faces within Singapore's ultra-running community, and running up the Bukit Timah Hill in full trekking gear is just par for the course in their usual training regime.
In recent months however, Singaporeans Chris Yeo, Ong Kai Wei, Jeri Chua and Wee Teck Hian, and Katja Fink, a Swiss national who is a Permanent Resident here, have been increasing the intensity of their sessions at Bukit Timah Hill.
This is because they will be taking on their toughest and longest distance race to date, when they compete in this week's inaugural 866km Transpyrenea ultramarathon.
Participants are only given 400 hours to complete the entire route in the Pyrenees, a mountain range dividing Spain and France, while there will also be cut-off times for runners to reach the various checkpoints.
BIGGEST CHALLENGE SO FAR
These tough requirements are why Yeo has set modest expectations for himself for the race - despite having close to 14 years of experience of running ultramarathons.
"This is definitely my biggest challenge so far," Yeo told TODAY. "The distance itself is the furthest that I'll be attempting and there'll be lots of obstacles to overcome.
"Among some of the difficulties we will face are the unpredictable weather, the cold, the unforgiving terrain, as well as the high altitudes. So my only expectation for this upcoming race is to finish it, hopefully in one piece."
Runners will also have to contend with the high elevation gain of the Transpyrenea ultramarathon, which can reach up to 55,000m.
In contrast, the Ultra Trail Mont Blanc – regarded as the most prestigious trail race in the world – has an elevation gain of about 10,000m.
However, one of the most taxing aspects of this particular ultramarathon comes in the form of the amount of nutrition they will have to bring along with them.
According to race regulations, every runner must have at least 6,000 calories worth of food in their backpack before leaving the starting line. They will be allowed to restock their supplies at each of the three campsites interspersed along the route, where they will have to ensure the 6,000 calories are replenished before being allowed to leave.
This is on top of a slew of other mandatory items – such as a poncho, a jacket, two headlamps, a first-aid box and a sleeping bag – they will have to bring along.
HEAVY BACKPACKS
As a result, the five runners - who flew off last Wednesday and Thursday - will be carrying backpacks weighing eight to 10kg for the race, which is on average about four kilogrammes heavier than what they are accustomed to.
"The increased weight of the backpacks will have a huge impact on how we run the race," said 40-year-old Ong, a research engineer. "When your bag is this heavy, you can't really run fast, so I expect us to be going at a walking pace for most of the route.
"This is especially so because the terrain that we're expecting to run on will be extremely tricky, with lots of wet, slippery rocks and mud to contend with. And with the cut-off times that we have to observe for each checkpoint, we will have to pace ourselves well."
Yeo expects the food component to make up at least "40 per cent" of the entire load of his backpack.
"This does not even include the water that we'll be bringing, which can add another one to two kilograms," he said.
"The heavier our bags, the faster our strength is depleted, so I'll try to keep mine as light as possible.
"But there are only three drop-bag stations, about 200km apart, for us to do our resupply, so it's a necessity for us to carry sufficient provisions.
"Along the way, we'll have to source for our own water too, although if I happen to come across an eatery in a town or village, I'll definitely go in for a proper meal."
To keep their bag as light as possible while still fulfilling the 6,000 calories obligation, the runners will be bringing food that are calorie dense. These include items like nuts, freeze dried meals and Tailwind, a nutritional powdered drink mix.
To prepare for the race, the runners have been doing more strength exercises and elevation training, such as climbing up flights of stairs and trekking up Bukit Timah Hill multiple times.
MENTAL STRENGTH
Apart from the physical training however, former national triathlete Chua believes it is also important to prep herself mentally for the demands of the ultramarathon.
"The mental aspect of things will probably make up at least 80 per cent of the race itself," explained Chua, 42.
"In this sort of event, you don't have to go extremely fast, you just need to concentrate on finishing the race, and I think your body has the capability to take you the whole way.
"But mentally, it's very easy to succumb to different things, such as the cold, the wetness or minor injuries. Little problems can appear much more severe when you're tired. So mental strategy and mental strength is very important.
"That's why I've been spending a lot of time on my feet so that I'm used to being tired, while also visualising myself in various difficult situations, and imagining how I can push myself through those low points."
Agreeing, Yeo added: "I see it more as a mental challenge for this race.
"Of course, the physical aspect is there, but to finish the 866km in such difficult circumstances, it calls for another level of mental toughness. So that will be my foremost concentration - to build up a strong mental state going into the race."
Despite the impending difficulties they will face on the race, Chua hopes to be able to come away with this once-in-a-lifetime experience full of happy memories.
"I think it's key that we don't just focus on overcoming whatever problems we face, but also to consciously make a decision to enjoy this race," said Chua.
"It's important that we take a look around us and appreciate the scenery around us because it's a beautiful place as well.
"One day, when I look back on this ultramarathon, I want to have a collection of good memories and a sense of pride at having run this race."