Sporting pick S'pore freestyle football pioneers to lead its academy here
SINGAPORE — When they were first approached last September to become head coaches of Sporting Clube de Portugal's Singapore football academy, football freestylers Terry Lee and Terence Ong were sceptical.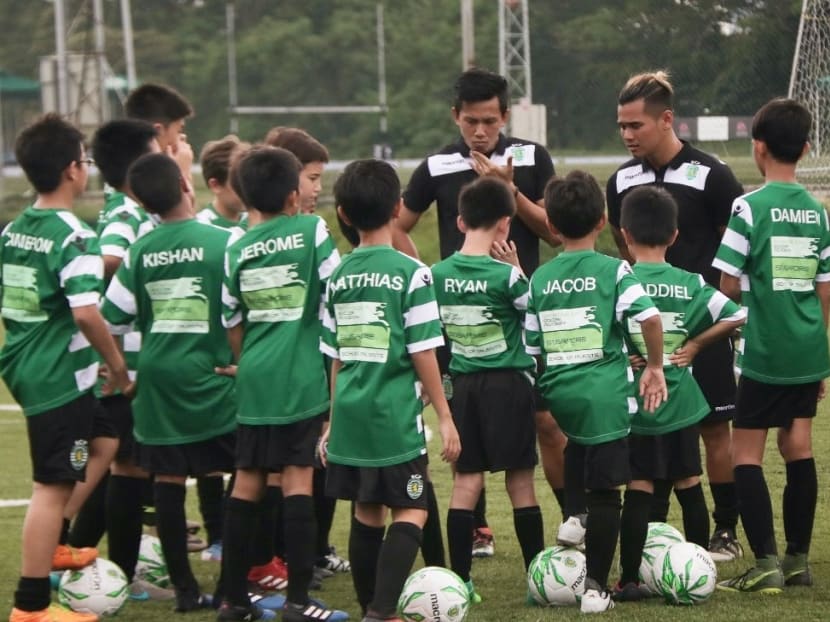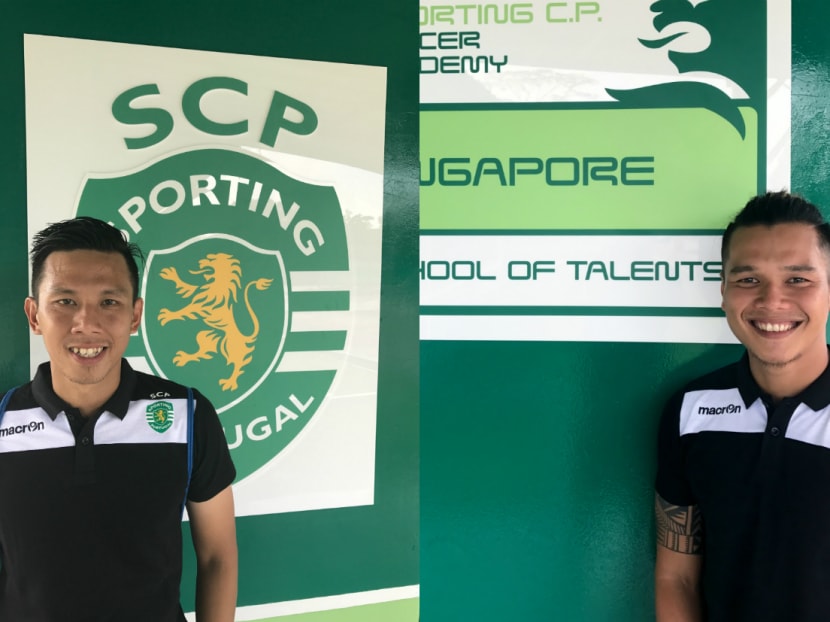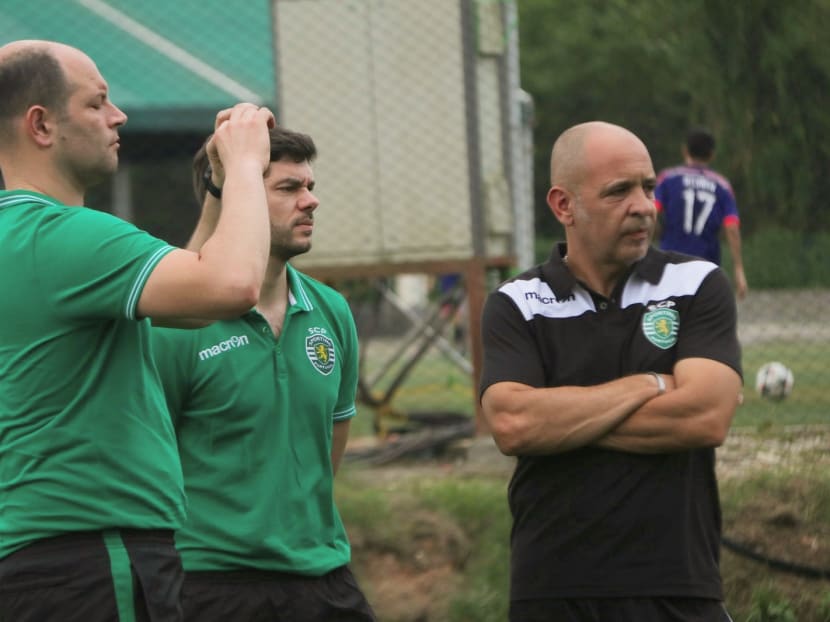 SINGAPORE — When they were first approached last September to become head coaches of Sporting CP's Singapore football academy, Terry Lee and Terence Ong were sceptical.
The duo, known for being pioneers in the football freestyling community, were unsure that they were the right candidates for the job, having seen how most local academy branches bring in personnel from the parent club.
Those of Real Madrid, Barcelona and AC Milan are helmed by foreign technical directors, with only Chelsea's, led by former Singapore international Hasrin Jailani, the exception.
Coupled with the fact their lack of traditional coaching licences, such as those approved by the AFC or UEFA, one can see why they were doubtful.
"At first, we were not sure we could live up to expectations because it's a big hat to fill," Lee, 31, told TODAY, noting that Sporting's world-renowned academy have produced the likes of Portuguese stars Cristiano Ronaldo, Luis Figo, Nani and Ricardo Quaresma.
Lee and Ong's chief credential is having undergone the Coerver coaching course, inspired by former Dutch coach Wiel Coerver, while they have had stints at the AC Milan academy here St. Michael's Soccer Association and their own UST Skills School.
The pair also had concerns over the level of input the Portuguese giants would actually provide, having received similar offers in the past that turned out to have minimal direction from the high-profile clubs or players they were associated with.
Lee and Ong, former Prime League players, chose to reject the initial offer as they were comfortable running UST Skills School, their own football school.
LOCAL FIRST
But they were subsequently won over after detailed research and discussions with managing partner Paulo Oliveira, whose belief in them was vindicated by Sporting's management.
Rui Reis, Sporting's technical director of football schools and international projects, and Pedro Morgado, Sporting's executive coordinator of projects, flew down to Singapore to observe Lee and Ong's training methods and gave their stamp of approval.
"They are very good… (and) have clearly demonstrated to us that they have the requisite knowledge, experience, professionalism, attitude and passion to succeed with the academy at all levels," Reis told TODAY.
"We don't start academies that could fail and believe we have the right partners and coaches to make it a huge success."
It was a huge confidence boost for the pair, who feel "very honoured" to be entrusted with the job.
"When they said 'okay, you guys have it', I didn't care what anyone else said (anymore)," Ong recalled. "If they believe in me, I am going to bring myself all the way (in this journey."
Oliveira pointed out the "unique" significance of trusting two locals to head the academy.
"It's a big compliment to them," he told TODAY. "Sporting certify their own coaches; it's more about the person and what they know about the game… they prefer to develop the coaches themselves.
"Sporting won't just open an academy and let anyone coach… the fact that a major club has told them they are good enough speaks volumes in terms of (the talent in) Singaporean coaching."
HANDS ON
The trio were also reassured that the club would be extremely involved with the day-to-day operations.
"For us, a call away (if we need help) is immediately to the club, rather than (having to go) through someone or an agent," said Ong, also 31.
"Whatever we do has to go through them; they will let us know what is right, what can be done or cannot be done."
Holding up an A4-sized flyer with details about the academy, Lee quipped: "Even this poster had to be approved a couple of times – they take everything that seriously!"
Ong added that they are in constant communication with Reis, Morgado and other staff from the Sporting academy, headquartered in Alcochete.
"This is what we like – their direct commitment to support and educate every individual at their academies," he said. "In our 10 years involved in private, team, school and club coaching, we've never seen or experienced anything like this."
Lee and Ong, who are also shareholders along with Oliveira, are in the midst of receiving training to become certified Sporting academy technical directors. They will depart in two weeks to further their education at Alcochete. The trio oversee every aspect of operations and have a third coach to help with goalkeeping coaching.
GETTING DOWN TO WORK
In the meantime, they got down to business officially on April 17. UST Skills School has now become Sporting CP Soccer Academy Singapore, which has a permanent clubhouse at their headquarters at the Cage at Turf City.
There are currently close to 50 students from Under 8 to 16 levels, which comprise a 50-50 mix of expats and locals. Training is twice weekly, two hours each, though that will be increased when their numbers swell in the future.
"In three years' time, we hope to have 400 to 500 kids," Ong said. "We want to expand slowly; this is not like a factory. If we have more kids, it means we need more coaches, and we want to make sure that we know these guys (can impart the values required)."
The academy is targeting an official launch sometime this August, which will be graced by Sporting president Bruno Carvalho.
Lee and Ong are excited about their new long-term project and hope to successfully impart the "Sporting Way" to their proteges and help raise the standard of local football. Plans are already underway to visit Alcochete again in September with the kids in tow this time.
"Everyone comes in at a different level, and our objective is to bring all of them to the best they can be," Ong said, noting that Sporting could absorb those who are good enough into their professional youth squads.
"We want to raise the level of play in Singapore… our aim is to improve everyone, not just any one (particular) team.
"For sure (we can succeed); as time passes, we will have more interaction (with Sporting), gain more knowledge and be better and better."
*Sporting CP Singapore are holding trials for U14 and U16 boys on Saturdays – email enrol [at] sportingsg.com to register. Visit www.sportingsg.com for more academy information.*