With Halo 5 and a focus on Asian fans, Xbox aims to be number one
SINGAPORE — The end of the year is coming and for gamers that means a non-stop slew of releases of new games that will fight for their console gaming dollar.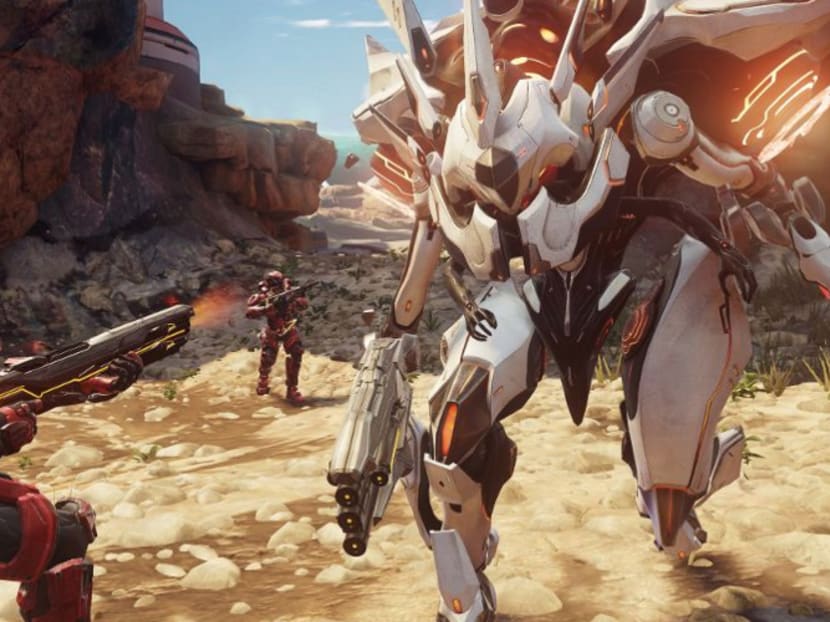 SINGAPORE — The end of the year is coming and for gamers that means a non-stop slew of releases of new games that will fight for their console gaming dollar. 
Over the next few weeks, games like Call Of Duty: Black Ops III, Fallout 4, Rise Of The Tomb Raider, Star Wars Battlefront and Need For Speed will clamour for attention — but for Microsoft's Xbox One, one game just released on Tuesday (Oct 27) might hold the key to success this season: Halo 5: Guardians, the latest title in the Halo franchise.
And even beyond the worldwide release of the latest instalment in the blockbuster franchise, the console is hoping to make more inroads into Asia. To do so, Xbox promised it will focus on three things that Asian fans have said they want: The best games, localised languages for games, and regionally relevant content.
"What we consistently hear is that our fans across the region want the best games. So I feel like we're delivering on that commitment this holiday," said Mr Rennie Addabbo, general manager, Xbox Greater Asia, Microsoft. "If you look at our lineup, (there's) not only Halo 5: Guardians, but Rise of the Tomb Raider, Forza Motorsports 6, Gears Of War — just an epic lineup. Add what we're doing with Fallout 4 - these are the games that resonate well across the region."
"If you also go beyond that, what they ask for is to deliver those game in their local language," he added. "Our commitment has never been higher than this holiday in terms of localisation so every one of those games that I mentioned come to us as an exclusive, or are localised for our Asian markets."
As for regionally relevant content, Mr Addabbo listed upcoming games from Japanese studios – Scalebound, ReCore and Psycho-Pass – as well as Neverwinter from Chinese publisher Perfect World as examples of games that are coming out from Asian studios.
"I'm confident we can bring fans Japanese content, bring them content out of China, so that's an incredibly exciting environment for us, and it's something that we've really, really hard on," said Mr Addabbo. "I feel like we're delivering on our commitment to bring them the things that they ask for the most."
FANFARE IN ASIA
In conjunction with the launch of Halo 5, Xbox held launch events in countries all over the Asia-Pacific region, including in Singapore, Taiwan, Japan, India and Australia. But since this was for a popular title like Halo, Xbox decided to pull out all the stops.
For starters, Xbox Asia got Taiwanese cosplayer Hsu Chia-Hao and Australian designer Jenny Manik Mercian to come up with a Swarovski crystal-encrusted Master Chief helmet for the launch of the game. Adorned with 25,000 crystals and weighing about 5kg, the helmet is now up for auction, with all proceeds going to the Make-A-Wish Foundation.
"Being able to celebrate a cosplay fan in Taiwan who did a beautiful job with the helmet in collaboration with Jenny, an Aussie lady who has done fantastic work with Victoria's Secrets — that Swarovski helmet is just a stunning piece of art, and hopefully demonstrates to our fans (in Asia) why we're here," said Mr Addabbo, who remarked that the helmet might be good enough to end up on display in Beyonce's house.
But in another bigger step, Xbox paid tribute to one of their biggest fans in Asia by sending Japanese fan Sandwichy up, up into the sky — almost.
Figures of the Halo 5's main characters — Master Chief and Spartan Locke — holding a flag marked with Sandwichy's gamertag and his achievement of 10,000 hours of Halo played were launched into space.
"I am absolutely thrilled about this opportunity. I have played the Halo franchise for more than a decade and never thought that I would see my gamertag in space. It literally feels like I'm at the top of the world, a once-in-lifetime experience that I would never forget," said Sandwhichy.
It is these "epic" moves that Mr Addabbo hopes will signal to fans that they mean business in Asia. "We're incredibly proud of the work we did to bring Halo 5: Guardians to our fans in Asia and hopefully represent the epic nature and scale of the game," said Mr Addabbo. "Hopefully it reflects how we'll bring (future) games to our fans right across the region."
THE "SECRET SAUCE" TO SUCCESS: WINDOWS 10
During the interview with Channel NewsAsia on Tuesday, Mr Addabbo also hinted that gamers will have something to look forward to during the Chinese New Year period, including new limited-edition console bundles.
But before that, Xbox One owners can look forward to a free update coming Nov 12. It touts speed and usability improvements, and comes with backwards compatibility for a selection of Xbox 360 games. With the update, the Xbox One will run on the Windows 10 platform, which Xbox hopes will expand their reach into new areas. This is turn will help Xbox in Asia in the coming years, says Mr Addabbo.
"By 2017, we see over a billion gamers in Asia, and if you look at the global business, it's a US$91 billion business, and nearly half of that is in our Asian region," he said. "So we're really excited about where we are as a gaming platform, when you look at the extension when we get into a much broader environment through Windows 10, I couldn't be more excited about our region."
All this will play a part in the "secret sauce" that will help make the Xbox One the top console in the region, said Mr Addabbo.
"If you look at our launch of Halo, if you look at the way the game's been developed, it's really having at the fans at the heart of everything we do," he said. "And if you extend beyond that, when you look at gaming, and you look at Xbox and you look at Windows 10 and the potential of what Microsoft can do for gamers right around Asia, and if you look at the scale of the Asian gaming business ... when you put that together with what will happen to the future with Windows 10, across this region, I think that for me is the secret sauce for sure."
ELITE CONTROLLER LAUNCH DELAYED
However, one area where Asia continues to lag is the release of upcoming hardware. While the limited-edition Halo console was released in Singapore with the global launch of the game, this doesn't always apply to all new releases. One example is the release of the Xbox Elite Wireless Controller, which was released on Tuesday in the US. Mr Addabbo confirms that the "pro-level" controller will instead be released in Asia "early 2016".
Such delays have been a constant bugbear for Asian fans. The Xbox One console itself was launched in Singapore on Sep 23, 2014, almost a whole year after its 2013 release in the US. The Xbox One's biggest competition, the Sony PlayStation 4 (PS4), was released in Singapore in December 2013, leaving many local gamers no choice but to get a PS4 if they wanted to play newer games without waiting almost a whole extra year.
Even then, Mr Addabbo maintains that Asia will continue to be a focus for Xbox, and that whatever new products Xbox has will come to the region.
"We're always focused on bringing the best possible experience, products, services and games to our fans in Asia, so I think when you look at most of the things we're bringing to the market, I think that we'll continue to see that we bring them to Asian gamers," said Mr Addabbo. "I think that's a big focus of ours."  CHANNEL NEWSASIA