Anti-molestation posters: Deterring offenders, staying sensitive to victims not mutually exclusive
I refer to the news report, "Police defend crime-prevention posters after Aware takes issue with price-tag design" (Nov 17).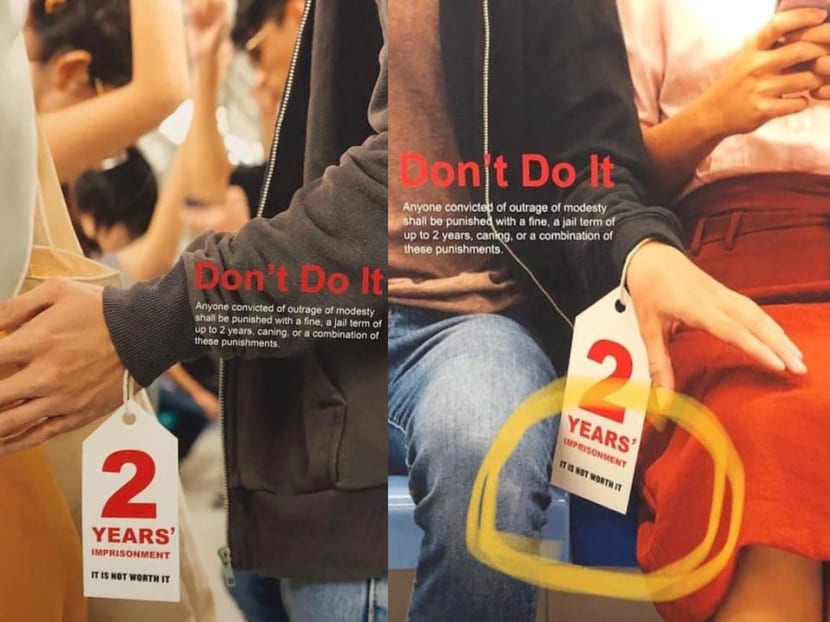 I refer to the news report, "Police defend crime-prevention posters after Aware takes issue with price-tag design" (Nov 17).
The Singapore Police Force (SPF) is right in saying that its crime-prevention messages were designed to deter would-be offenders. The Association of Women for Action and Research (Aware), a women's advocacy group, is equally right in calling out the inappropriateness of putting a "price tag" on a sexual offence.
Other posters in the series depict price tags for other crimes, such as theft, shoplifting and rioting.
But crimes such as molestation need to be treated with much more sensitivity than, say, shoplifting.
Molestation cases require more complex considerations, including victim trauma, victim shaming, victim blaming and victim objectification. They are not analogous to crimes such as shoplifting.
It would be grossly inappropriate to use an image of a prowling hand with a price tag to deter child molestation. Likewise, we cannot imagine similar posters for crimes such as rape, spousal battery or murder. What makes it OK for outrage-of-modesty crimes to be treated with such carelessness?
It is laudable that the SPF had given students from Singapore Polytechnic a good learning opportunity by enlisting their help to design the posters, but it is questionable if this was the best option.
Perhaps a more professional outfit would be able to understand the nuances better and propose a more considered yet impactful message.
As a father of two girls, I found the SPF poster and message distasteful, and would appreciate it if they were removed.
The SPF could consider other themes that do not diminish the deterrent factor.
Here are my suggestions:
First, adapt the prominent and successful "Shop Theft is a Crime" standee, which thrives on simple effectiveness. Change the header to "Molestation is a Crime that Puts You in Jail for 2 Years" and it would achieve the desired deterrent effect.
Second, shift the focus of the message to one that encourages all commuters to be vigilant and to intervene on behalf of terrified victims where necessary. With increased public vigilance, a theme such as "We won't let you get away with this" will make would-be offenders think twice.
Deterring would-be offenders and staying sensitive to victims need not be mutually exclusive.
Have views on this issue or a news topic you care about? Send your letter to voices [at] mediacorp.com.sg with your full name, address and phone number.