Up Close With… Benedict Tan, Singapore's chef de mission to the Tokyo Olympics
In this instalment, Justin Ong speaks to Dr Benedict Tan, who was Singapore's chef de mission at the recently concluded Olympics in Tokyo, Japan.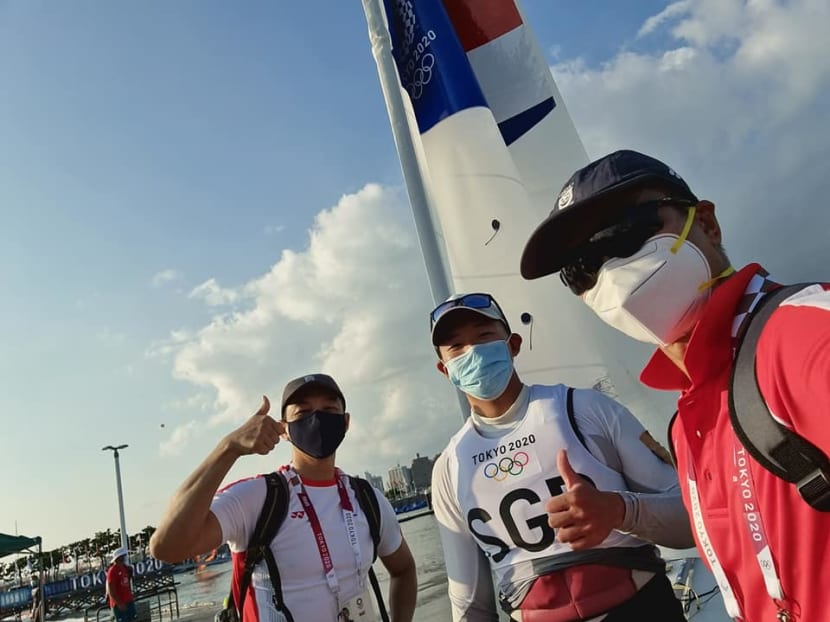 In this series, TODAY's journalists meet the people behind the headlines.
In this instalment, Justin Ong speaks to Dr Benedict Tan, who was Singapore's chef de mission at the recently concluded Olympics in Tokyo, Japan. Dr Tan is a former national sailor, and a gold medallist at the Southeast Asian and Asian Games. He took part in the Atlanta Olympic Games in 1996. The medical doctor gives his thoughts on the performance of Singapore's athletes at the Games and where sports in Singapore can go from here.
Excerpts of the interview have been edited for length and clarity.
Justin: Recently, there's been much talk about how our athletes have performed during the Games. A lot of people are focusing on the fact that they did not bring home a medal this time around and that this is the first time since 2004 that our athletes have failed to do so. What are your thoughts on this?
Benedict: I don't believe in criticising for the sake of criticising. If the criticism leads to a better outcome, then by all means criticise. But if the criticism doesn't lead to any positive outcome, which means the criticism becomes counterproductive or just adds noise only and doesn't have any productive or constructive outcome, then why criticise? So, let's say, if an athlete in the heats didn't perform well, what good does it do to criticise the athlete, because he's got the next day's events coming up? It doesn't help. What we want is results for Singapore. And if being negative compromises the results, why be negative? Our athletes, a lot of them have the next (Olympic) cycle to worry about. So, let's say, we keep criticising them, they lose heart and they say: "Wow, it's so difficult being an athlete. I get so much scrutiny, I get flamed. Let's forget about sports, let's concentrate on my engineering career or my auditing career, or even my medical career." And then you have very high attrition. On the one hand, you have high attrition... on the other, you're asking, why do these athletes only do one Olympics? So I like to look deeper to see how our behaviours and how our actions relate to the results.
Justin: Many sportspeople and critics have said that our elite sports ecosystem is lacking and that there are few clear pathways to sporting success in Singapore. Do you agree that this is a problem and what more can Singapore do?
Benedict: I'll answer the question… as an adviser to Singapore sailing. To nurture an athlete, the environment is definitely very important... We want to create an environment that nurtures world-class athletes. Ideally, you want to build the environment in Singapore... (Among) our young sailors, we've got quite a few world champions… How do we get that kind of success at a junior level? We made the competition so intensive. They are in Singapore but...  the competition among their own teammates, their fellow Singaporeans, is so intensive that when they go to the World Championships, the standard is the same… We had to make the Singapore system very competitive, because we start sailing at six or seven years old. You cannot take an eight-year-old and then plant the person overseas. That's why we invest a lot in building the ecosystem at a junior level in Singapore. But when they become adults in their late teens, then, yes, you can take them overseas, separate them from their parents. (Olympic sailors) Kimberly Lim and Cecilia Low are based overseas, and when they went to Tokyo, they flew in from Portugal... (sailor) Ryan Lo is now studying in Rotterdam.
Justin: The ideal situation is that Singapore can raise these champions on our home soil, but the reality suggests that it isn't so simple, given the fact that some of our champions are not here but in Europe or America, where there is a strong ecosystem.
Benedict: The biggest factor in training quality is whom your sparring partners you train with are. For Kimberly and Cecilia, their training partners are an Australian pair. That is the standard of their training partner: World-class. Ryan Lo's training partner is Tonci (Stipanovic) from Croatia. He is the Rio Olympic silver medalist and the Tokyo Olympic silver medalist. That is the kind of training partner that Ryan has. And are you surprised that Ryan is in the top 10 in the world? Our sailors got there not by accident; we put them in that environment.
Justin: Looking back on your own sporting career, do you think you had it easier or harder than our current athletes? There seems to be a lot of pressure on athletes today to bring back medals. Based on conversations with young athletes today, how similar or different is their experience to yours?
Benedict: Why do our athletes, or the majority of them, do one Olympic cycle and retire? It is the challenge of being a pioneer… you are paving the way for others, and that is very taxing. Think of it this way: When you are pioneering, you don't have much support or resources, because our support system is based on, as I call it, cash on delivery.
I was the very first one to win an Asian Games gold for sailing... after I won the Asian Games gold, Sport Singapore (then known as the Singapore Sports Council) said "oh, sailors are capable of delivering... let's pump in more resources, let's invest more in them". So the investment comes after you deliver the first result. It's a struggle; you're fighting, fighting, fighting with hardly any resources, and that burns them out. When they eventually get a result, they're already spent… I applaud them because they are very unselfish: They paved the way so that the next batch benefits from it. Because the next batch was drafting behind them, when they get to qualify for the Olympics, they are not so spent and therefore they can do another cycle.
Justin: Do you think that athletes nowadays face more pressure from social media?
Benedict: As an athlete, you are trained to control what you can control and shut out what you can't. Can you control the fact that there's such a thing called media? Reporters? Tabloids? If you can't control it, embrace it. You have to learn how to thrive on it… Build a social media presence. If I were an athlete, I would build a holistic, wholesome brand... to have a social media presence. Once you build that brand, what's the next thing that happens? You attract sponsors. So I can use social media to attract sponsors and funding, or I can cry foul and say social media causes me a lot of problems. You might as well be positive about it, make use of it, rather than be a victim of it.
Justin: There was a lot of attention on the performance of athletes who fell short of expectations, but there were also several inspirational and positive stories among the Singapore Olympians. Fencer Kiria Tikanah came within one point of the world number one during her second-round match. Table tennis player Yu Mengyu finished fourth. How are we to harness these positives for future games?
Benedict: I will harness them to justify more resources, because they earned it. Like I said, in our system, it is cash on delivery — you deliver the result, I give you the cash. So they have earned more resources and more support. Then you must also harness it to build your breadth. Like the sailing example I gave, build the fleet, not just the individual… If you give that one individual the funding, and not anybody else, who is the person going to spar with? You cannot train alone. For me, I know that very well as a sailor. I specialise in the laser, which is an individual event. But the training is not an individual event. I am highly, highly dependent on my sparring partners. Without a sparring partner, my training becomes meaningless. I don't even know whether I'm going fast or slow. So I will invest in our inspiring athletes, but I will also take part of that investment into building the ecosystem around them, so that I can get sustainable results and build on this performance.
Justin: Do you think some of our athletes' inspiring showings will lead to a cultural shift, meaning young kids may now see sports as a viable career, rather than chasing careers viewed as more practical? 
Benedict: In the past, people said sports is not a career. But that has changed. Now you see parents are willing to enrol their kids into the Singapore Sports School — more willing now than 10 years ago, for sure. Because I monitor these things, and being a sports physician, my patients are all athletes.
Nowadays, if a child says "Daddy, I want to play badminton full-time", you would be surprised, a lot of parents would say: "Okay, I support you." A lot of parents do that now; the mentality has shifted… They also see the other part of the ecosystem: The financial part. You can make a living, you see that these athletes got sponsors and their training expenses are covered, and (some) got a stipend on top of that. Parents are seeing that. But of course, we have to do more.