Up Close With… Chew Kheng Chuan, chairman of The Substation
In the second instalment of Up Close With, TODAY's Navene Elangovan speaks to Mr Chew Kheng Chuan, chairman of The Substation, an independent arts centre thrust into the national spotlight in recent months over its impending closure.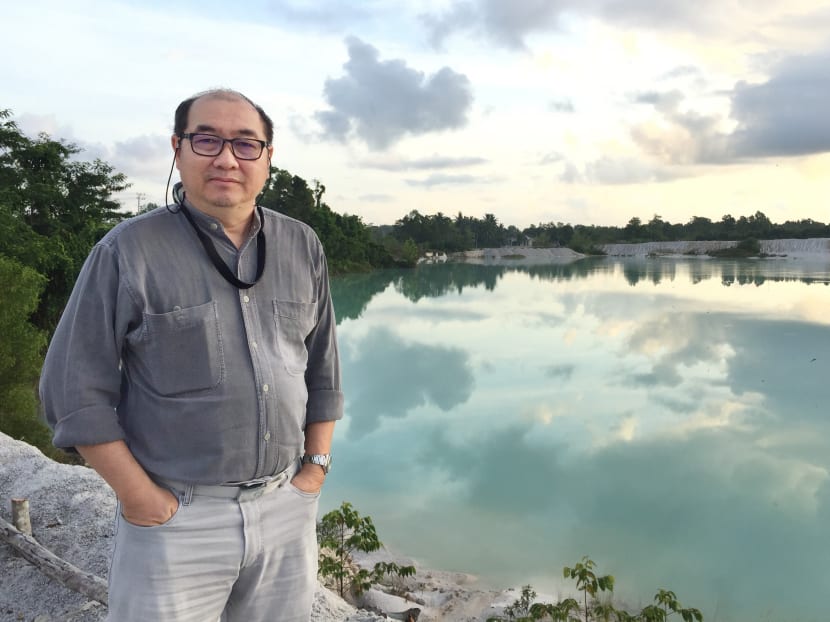 In this series, TODAY's journalists meet the people behind the headlines to talk about issues of the day and the more personal side of their lives.  
In the second instalment, Navene Elangovan speaks to Mr Chew Kheng Chuan, chairman of The Substation, an independent arts centre thrust into the national spotlight in recent months over its impending closure. The 64-year-old independent fundraising consultant came under fire from the arts community over the decision to close the 30-year-old arts centre, which has launched the careers of many Singaporean artists. Speaking to TODAY via video-conferencing tool Zoom from Hawaii, where he is on an extended visit, he spoke about how he arrived at the decision to close The Substation and how he handled the criticism that followed.
Here are the edited excerpts:
Navene: We know that you're the first Singaporean to go to Harvard College. Could you tell us a bit about your formative years?
Kheng Chuan: I didn't know it for 16 years after I graduated until the Dean of Admissions William Fitzsimmons came to Singapore on a visit. I hosted him because I was chairman of the alumni interviewing committee. I worked closely with the admissions office on interviewing applicants from Singapore.
So, in 1994, when William Fitzsimmons came to Singapore, he told me: "You know, KC, you're the first Singaporean admitted to Harvard College." That was very surprising for me to hear. I started university in 1978 and I graduated in 1982. We're talking about Harvard College, which is the undergraduate part of the university. Harvard University is made up of the college, which is the so-called heart of the university, and 12 graduate schools. When I was there from 1978 to 1982, there were no other Singaporeans who were admitted.
Navene: Could you tell us how you ended up moving into the fundraising sphere?
Kheng Chuan: I've always been interested in the arts, although my field is more the social sciences, like economics, history and political science. So, at that time in 1995, I was invited to join The Substation board by the chairman then, who was Ho Kwon Ping, and Arun Mahizhnan, who is now the chairman of the Intercultural Theatre Institute. It was because of Kuo Pao Kun (founder of The Substation) that I agreed to join the board because I had a huge admiration for him. I thought that Pao Kun was a colossus who strode on the Singapore arts and culture landscape... We, unfortunately, share something in common as well. We were both ex-detainees under the Internal Security Act, but I did not know him then. But I knew of his plays and thought they were very, very good and critically acclaimed. I joined The Substation because of my admiration for Kuo Pao Kun in 1995, which means to say I've been with the Substation for 25 years — the last 20 as chairman, which is an embarrassing thing to say because, clearly, very bad succession planning. 
Navene: Do you recall that moment when you finally realised you had no choice but to shut down The Substation? What was the feeling like for you?
Kheng Chuan: I tried to think of it in terms as clear as I could. I listed all the reasons as to why we should go on and why we should shut down. Then I tried to put a weighted number on each factor, in terms of its significance in the whole scheme of consideration. The results were very interesting to me. When I totalled the numbers, 63.7 per cent said we should continue and 63.4 per cent said we should shut down. It was less than a 1 per cent difference. I told myself this is just a guide. My ambivalence was very, very, very deep. In the end, I decided that I would go with the collective decision to shut down. It was not clear-cut. That's why we felt it was a very difficult decision. That's also the reason why after the town hall had given the expression of the arts community, the board was willing to review that decision. It's not to say that we will carry on since they feel so strongly, but if there's any party that feels that it can have a viable plan to make The Substation continue, then we are open to hearing it and we are agreeable to take the steps to allow that to happen.
Navene: How did you handle the criticism after the announcement of the closure?
Kheng Chuan: I have a very thick skin. So no, I didn't take it personally at all. I felt that much of the criticism was unwarranted. It was unfair. It was done on the basis of not knowing the facts of what we've done or not done... It's also unfortunate as some of the people who put out very harsh criticisms knew the board members on personal terms and it's like, why didn't you just call any one of us instead of blasting? I think some members of the board did feel aggrieved, but I did not.
Navene: What do you think is the best way forward for The Substation?
Kheng Chuan: The critical element is sufficient funding. The answer does not lie in being completely reliant on government grants… The way we are, we cannot rely on ticket sales. We are not a Wild Rice and we are not in a position to produce programmes with such popular appeal that we can sell tickets and live off them.
… The Government should have some responsibility in supporting the arts, but private funding must come in. To me, a future solution must lie in The Substation having sufficient funds and the simple model for that is to have an endowment of, let's say, at least S$20 million. And the wonderful thing about Singapore is that if you raise S$10 million, you can get another S$10 million through the Cultural Matching Fund.
Navene: What are the challenges in arts fundraising?
Kheng Chuan: In Singapore's fundraising landscape, there are several things to observe. One is we are a very wealthy society, so that is very promising. We are one of the wealthiest societies. The sector that gets the most of the private donation is higher education in Singapore and also religion. The conclusion is that higher education is an easy sell, where donations are concerned, because the donors don't need to be convinced. They say: "Yes, education is an investment in the future." The big argument to overcome is from an earlier time when they say that higher education is the state's responsibility, but we managed to overcome that mindset. In that same mindset is the arts, which they say is not a life-and-death issue. It's not education, so it's not so important.
Navene: Is this a uniquely Singaporean mindset or is this the case all over the world?
Kheng Chuan: My sense is that this sentiment is quite generalised, but it's different in certain other societies. In certain societies, because there is a large-enough pool of people and there's enough money going around, you do get support for the arts, especially in the United States.
… For me, unfortunately, all this time, when I've been on the board, because we had managed to survive, notwithstanding the fact that I have this background in fundraising and I'm the chair, I frankly never did serious fundraising for The Substation until one-and-a-half years ago. That's when I really said: "Oh, this is critical and I need to do this." Then I allocated one day a week when I would think about and do this, as opposed to always being at the back of my mind and never doing anything about it.
Navene: Why did you start just one-and-a-half years ago? Was it because a major donor pulled out?
Kheng Chuan: No, it was because of the fact of our impending move. We knew that we were going to lose S$500,000 a year in rental revenue. That was the hole that needed to be filled. So I began to identify and pursue many donors. In fundraising, these things take time. You need to have a plan and a strategy, and to pursue your donor. I think I didn't have sufficient time until the crunch came and, if I had succeeded last year, when I could have up to four persons each giving me a million dollars, that would have saved us. But, as it turns out, all those failed and it did not happen.
… Maybe if I had two or two-and-a-half years, that first big gift might have come in, but we ran out of time. I appealed to NAC (the National Arts Council) to buy us more time and I thought they would, but they did not. That brought us to our decision.
Navene: Looking back on the episode, do you wish you could have done something differently, such as cultivating donors earlier?
Kheng Chuan: If you were on the board, then you would have known how relentlessly I pursued this fundraising and how intensely I did it for the last one-and-a-half years. Could I have started earlier? Yes, but I had committed to doing fundraising for both The Substation and the Intercultural Theatre Institute. When I started fundraising in 2019, the Intercultural Theatre Institute's need was more dire. Given that I've been at it for such a long time, I suppose it's not something that I feel that I have too many regrets over. I certainly don't blame myself for not trying hard enough. When there are detractors who blame the board, it's OK. I know what I did. Some people know what I did.
Navene: What's next for you after The Substation closes? Are you going to be involved in the arts in any other way?
Kheng Chuan: I suppose if there's to be a future Substation, I would be supporting it, although likely not as a member of the board. I would be very supportive of it if I feel it is faithful or true to the vision and mission of The Substation. At the same time, the Intercultural Theatre Institute is still there and it needs help. I'm on the board as well, so I will be turning my attention to supporting them.