Up Close With… Dione Song, CEO of Love, Bonito
In this instalment, Natasha Meah speaks to Ms Dione Song, the chief executive officer (CEO) of retailer Love, Bonito.
In this series, TODAY's journalists meet the people behind the headlines.
In this instalment, Natasha Meah speaks to Ms Dione Song, the chief executive officer (CEO) of retailer Love, Bonito.
Ms Song, 33, joined the company as chief commercial officer in 2017 before being promoted to chief operating officer in 2018. She became CEO in April 2021, the first in the company's 11-year history as it was managed previously by its team of co-founders and executives.
Previously, at age 26, she had been appointed managing director at e-commerce firm Zalora and spent time at Sephora Digital, heading its Australia and New Zealand e-commerce business and digital marketing for the Asia-Pacific region. 
Here, Ms Song addressed TODAY's questions on her career, the story behind Love, Bonito's success and the importance of empowering women.
Excerpts of the interview have been edited for length and clarity.
Natasha: Tell me about your younger years. Did you always want to be in business?
Dione: No. In fact, never. When I was growing up, I thought I was going to be in a creative field and in junior college I thought I was going to be an architect. I got into architecture school, but I had cold feet because the course is six years long. I finally decided to do a general degree so I would have my options open. So I ended up studying business. 
Thereafter I started my career in finance in different roles, from investment banking to equity sales. I didn't really enjoy it… I realised it was really not my passion. Then I reconnected with an old university friend, who introduced me to the world of e-commerce. That was in 2011, when e-commerce and a lot of the tech giants first entered Southeast Asia — Rocket Internet, Zalora, Lazada, Food Panda.
I discovered this and was like, "Hey, this is pretty interesting, really exciting, really fast-paced", and then just took the first role they offered me, on-site analytics at Zalora. And thereafter I just found my way.
Natasha: What about this industry drew you in?
Dione: In 2011 we were starting to see transformation. Because I studied in the United States, I had already seen a lot of these (tech) companies come about, like Spotify was huge already. Fab.com, a home living website, was huge. When I came back to Southeast Asia, the market was still nascent, but at the cusp of evolving and transforming.
So that was a time that was very exciting. I just wanted to be a part of this. I did not know in what capacity and I did not think I had the skills. So I just kept a very open mind, had an interview with (Zalora) and asked them: "Where do you think I would be a good fit, for me to just try?" 
Natasha: And you proceeded to become managing director at Zalora at 26. How did you feel about taking on such heavy responsibilities at such a young age?
Dione: Even before the managing director role, (when I was made) marketing director, it was scary for sure. Suddenly you have a team of more than 10, and you're thrown into deep waters. 
And that first time, a lot of (my team members) were either of similar age to me or older than me...That was scary. No one's teaching you how to be a manager, how you should communicate with people and manage people who may have had more work experience than you and life experience as well.
The first couple of months, honestly, I can't even remember. It was just so fast. You just start doing, doing, doing, doing, and you try to find your way through mistakes and learn to survive and create your own toolkit for how you should be reacting in certain situations.
I think probably until last year or two years ago, I didn't find (leadership) to be a natural fit for me. From young, in school, I was not your natural house captain or leader of the sports team... I've always shied away from leadership roles. 
When they gave me that first promotion to marketing director, I was still contemplating whether I wanted to be a sole contributor and maybe move into the product management team, which is under the technology team, because I've always enjoyed the strategy, planning and user experience side of things.
And then I had a conversation with the then chief technology officer at Zalora and he gave me that push — oh just go do it and see what happens because these opportunities don't come often in life! 
Natasha: A lot of fashion retailers have been struggling. In Singapore for example, international brands such as Topshop and River Island have had to exit the market. Why do you think Love, Bonito is still standing strong?
Dione: I think even when Love, Bonito first started, its value proposition was extremely clear. Why Love, Bonito even existed in the first place was because the founders saw a gap in the market.
There were a lot of international fast fashion and high street brands… but they couldn't really fit Asian women properly. The issue was design sensibility — Asian sizing, proportions, even fabric because we're in a more tropical climate. 
We've also always operated on a direct-to-consumer model. Over the last 10 years, we've been making connections. We weren't just collecting receipts, we were collecting data — we know your email, we understand your preferences, we understand your life stage. And that's why I think we understand our consumers so well.
And if you take a step back and look at the entire fashion industry, a lot of times it's age-segmented… So we asked ourselves, why can't there be a brand that caters to women across generations? I think those are a couple of reasons why we've stuck around.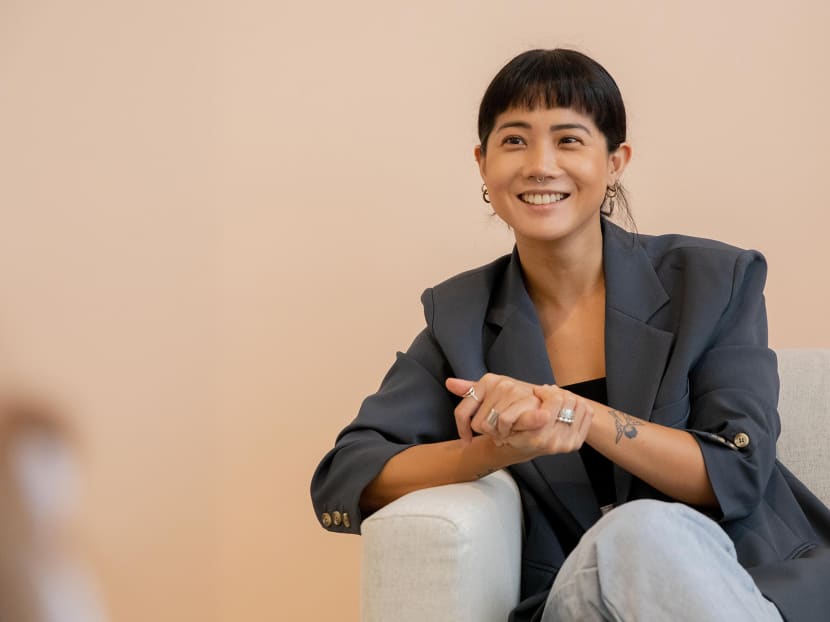 Natasha: Today, 40 per cent of Love, Bonito's sales now come from outside of Singapore. How did that happen?
Dione: There are so many Asians around the world, not just in Asia. There is an Asian diaspora globally.
I think for these markets, they are way under-served because there is no brand speaking to them. I have a lot of friends who are still overseas who say "When I buy something, I need to alter it because things just don't fit me."
So I think that that's how we grew. Especially now when there are a lot of conversations around Asian pride — we've just seen sales and traction in these markets accelerate.
Natasha: So, as the leader of such a big company, how do you juggle work and your personal life?
Dione: Everyone always asks, "Do you believe in work-life balance?" This answer sounds very scary — I always say no, I believe in work-life integration. In an ideal state, if work is something we're passionate about, then it should feel, hopefully, like a hobby.
I'd want to be in a place, an industry that truly gets me excited. Even on weekends when I'm reading or building up knowledge, I'm naturally already reading about tech, e-commerce or fashion. 
But I also learnt the hard way, I realised it's very important to define some non-negotiables to keep time and space for yourself... Even simple things like ensuring that I have two, three times a week to do my workouts or do a run in the park because that energizes me.
I think I've also had it a bit easier because I'm not a mother yet. When I look at working moms I feel such respect, that is a whole different level.
Natasha: What are some of the best leadership lessons that you have learnt throughout your journey?
Dione: Even before joining Love, Bonito, when I was part of a team and as a more junior member, I thought: "What do I expect of my leader and what do I want to ensure that I'm feeling fulfilled?"
I think most of my lessons have been taken from that perspective. Now that I have the chance and am fortunate enough to step into this pair of shoes, what would I want to provide to young Dione then to have made it a better environment? 
I think a lot of times leaders think so much about strategy, about the business, which of course you should, but if you think about it, if you have a sound business model, what else do you need? An organisation's made of people.
You need the right people, which means hiring the best  — people who are not just smart, but very importantly have a good heart and the right intentions and can work as a team. Then your role as a leader is to ensure that the environment that they're in is good, which... is on you to create. 
Natasha: What's your advice for young women who aspire to one day be where you are now?
Dione: Oh, just go do it. First, have an open mind...for opportunities. A lot of times I think we have (an idea of) a set path for our future.
(Instead, you should be) open, seize things that come to you. And then the moment you have seized them and jumped in, don't regret.
Go in 100 per cent, 200 per cent, give it your all and see where that takes you, and then don't underestimate yourself, just be confident.