Fines for not returning trays, clearing tables: Do it not just to avoid fines, but out of graciousness
From Jan 1 next year, diners at coffee shops and food courts who do not return their trays and clear the tables after use will be fined, the authorities announced this week.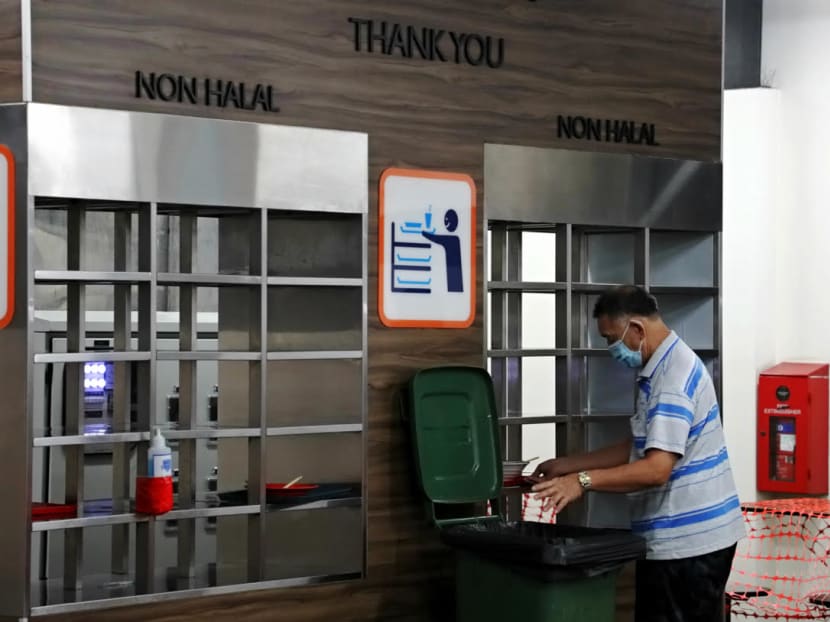 From Jan 1 next year, diners at coffee shops and food courts who do not return their trays and clear the tables after use will be fined, the authorities announced this week. The approach will be similar to that at hawker centres, where enforcement against table littering started from Wednesday after an advisory period that gave the public time to adjust to the practice of cleaning up after themselves. Those who have been reminded but refuse to heed the advice of enforcement officers will be issued a written warning and those who commit subsequent offences will face fines of S$300 or more.
The news drew a range of reactions from TODAY's readers, some of whom supported the move but felt that cleaning up after eating was a basic duty as citizens. Others disagreed with the Government's enforcement approach, preferring for such a culture to take hold gradually with gentle nudges.
Cleaning up your own mess is such a basic task of human decency, which people in other countries do without having to be fined. Even children are taught this basic responsibility. The fact that people here are whining about it shows their level of immaturity and entitlement. Get a grip and clean up after yourselves. GILBERT CHEAH
Basic civic-mindedness needs to be taught? I thought it should be automatic. IMAN QASEH
I support this, but sometimes, I find it ridiculous when I need to find the return points for halal and non-halal utensils, and they are all overwhelmed with plates and bowls. ASHARI WING BISSAKA
I like the implementation of this rule, but can we increase the fine and enforce it? AUGUSTINE HO
Good habits of cleaning one's own mess acquired outside would be internalised and practised at home automatically. Conversely, if one already has this good habit at home, no additional efforts are needed to do the same outside. CHE CHYE WOON
Strange. Not returning a tray will draw a fine. No wonder we are such a "fine" city. Having a clean table and returning your tray should be something that you do voluntarily. Just look at Japan. Something must have gone wrong with our education system here. BROWN WONG
Brown Wong, I totally agree. But besides our education system, I think it also boils down to the values taught at home. What values have parents inculcated in their kids that they grow up and baulk at doing the right thing, such as keeping the table clean and tidy for the next customer, and returning the trays?... Khoo Teck Puat Hospital's food court has a system in place where people dispose of all food waste into a bin, then return their utensils and trays into separate buckets. There's a bucket for each utensil. There are two sections: Halal and non-halal utensils. Customers do it automatically since it started. No threat of a fine back then. If one can do it at the hospital, why not across all food courts and hawker centres? LIM LEE PENG
Uniquely Singapore, I guess. Just like how we need to be told how to be courteous with a courtesy campaign. STHL TAN
Actually, the main intention is to cut down (cleaning) load. I'm sure there will be flaws in every system. But if we can help cut back 90 per cent of the load, everyone gets to enjoy faster seating, too. LLOYD
Now that all tables are cleaned, it is so much easier for us to chope (reserve) a place during lunchtime. Let's take our culture to another height. GARY LIM THIAM JOO
At coffee shops that sell zi char (a variety of local dishes that are eaten communally), people ordering all the zi char dishes would wonder how they are going to clear these plates. Imagine Chinese New Year lo hei (a festive offering with raw fish and other ingredients) at a coffee shop and, after that, patrons have to clear the tables. If the Government really wants to implement these rules, it had better ensure there's enough infrastructure at all coffee shops. Otherwise, it will only add to further confusion. TERENCE LEE
Terence Lee, coffee shops are expected to have these facilities or upgrade them. VINCENT KOH
If people eat zi char at coffee shops, are they supposed to carry the bowls and hot plates back? KEVIN KOH
I would like to see how they expect people to clear mookata barbecue pans and zi char. KENNY CHIA
Customers clearing tables after dining should not be mandatory. We should practise this habit more often out of our compassionate hearts rather than because of enforcement… I hope we can allow some time for people to accept this culture than make use of the Covid-19 situation to suppress this act in various hawker centres and coffee shops. At the same time, we can put up more leaflets and notices to encourage customers to clear their tables as a habit after meals. LEONG KUM WENG
I did return the tray to the collection point. But the moment I turned away, my bowl of noodles and curry, together with the tray, dropped to the floor, spilling everything. And, as you guessed, a few coffee cups shattered as well. This is causing more problems than just leaving it on the table. JACKY HO
Many hawker centres are governed by the National Environment Agency, but food courts and coffee shops are business entities. Why should the rule be forced upon those who patronise them? I'm all for a gracious society, not one built on fines. MAURICE LEONARD
I have come across small coffee shops that do not have space for customers to have a tray return trolley or shelf, and it's not hygenic to pass the trays directly to the stallholders. How? PATRICK DE SOUZA STEVEN
Imagine this. After finishing your food, you bring your tray to the nearest station. And the staff member there informs you that the station is full and requests that you return it to another station, which requires you to walk a big round to reach there. Worst case, the next station is full, too. How? JIMMI LOW
Remember to bring wet wipes. MUHAMMAD ZULKARNAEN OTHMAN
These comments were first posted to TODAY's Facebook page. They have been edited for clarity, accuracy and length.