How does phasing out Kopitiam card affect users, especially seniors? TODAY readers weigh in
Should Kopitiam retain its physical cards? TODAY readers discussed the topic this week, after FairPrice Group — which runs the food court and coffee shop chain — said that it would be phasing out the card come June 30. Users will need to use its mobile app instead to enjoy a discount.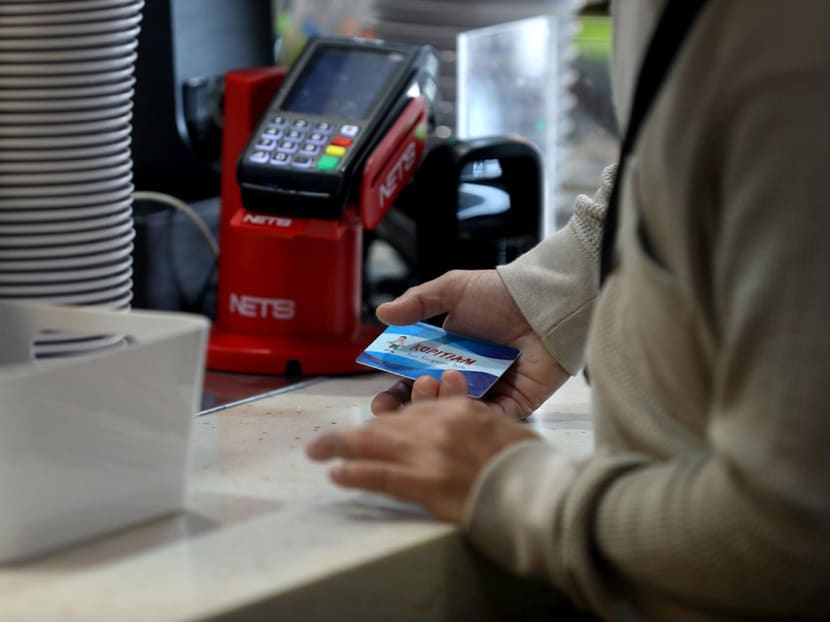 Should Kopitiam retain its physical cards? TODAY readers discussed the topic this week, after FairPrice Group — which runs the food court and coffee shop chain — said that it would be phasing out the card come June 30. Users will need to use its mobile app instead to enjoy a discount.
Senior citizens interviewed by TODAY lamented the move, saying they would find it hard to learn to use a new app. 
Many readers agreed, saying the move risks leaving the elderly behind. The card is also useful for children and others who might not have access to the app, they added. A handful of readers lauded the change, urging users to adapt to it, while others suggested having a combined card for various services. Here's a selection of comments:
ELDERLY LEFT BEHIND?
"The Silver Generation is made up of different groups of people. For the literate ones, asking them to learn to navigate apps is not an issue. For the not so literate ones, the struggle is real. It's not a straightforward matter of teach and they will learn. Hope in our rush to digitalise we do not leave behind our non-tech-savvy seniors." LEE HENRY
"I'm 65. I worked in the corporate world before retirement and used to use electronic systems at work but at this age I really hate it when any operating systems get updated... It takes so much more effort to unlearn and relearn at this age!" VONO SEEKEH
"Many elderly do not have mobile data plans. Some don't have the habit of switching it on as they are afraid of hefty charges in case they accidentally exceed the limit." NICOLE ED
"My mum can't even learn to use a mobile phone... and what about seniors with poor eyesight?" NURAISHAH CHONG PL
As a senior, I'm trying to catch up fast. It's so tiring and sometimes it makes me feel so depressed. As a widow, I want to be as independent as possible. This next technology sometimes makes me look so dumb.

REGINA TEO
CARD SHOULD STILL BE AN OPTION
"The card doesn't need battery or data to operate. I can pass it to my family members to buy what they want to eat when we dine together at Kopitiam. With the handphone, they can't remember my lock screen pattern." MCFRANCIS LIM
"Cards are already deemed as cashless. They can always keep the physical cards and convert them to account-based ones with cloud-based stored value, like the new Ez-link cards." JASON GOH
"Consumers should be given a choice to use the card or app." GARY HAN
"All the card needs is the top-up amount, no need for Wi-Fi, data or battery." DEVAN KANNAN
"Physical card please. Too many apps: Banking, hospital, government organisation, telco… my elderly dad's fingers keep trembling whenever he tries to hit the app's icon and keeps hitting the wrong one accidentally. He gets very irritated and it stresses him out whenever he needs to use apps." CANDY TAN LAY NAH
NOT JUST SENIORS AFFECTED
"How about my kids and my mum that don't have phones, don't know how to use apps and don't fall into the Merdeka and Pioneer generation group?" RAYSON XAVIER RAE
Kids are also affected. I am sure there are parents who gave a Kopitiam card to their kids and get them to buy their lunch after school. It is just so myopic to terminate the cards.

MERRAYELL LOW
"Sometimes seniors need domestic helpers to buy food too. Who would hand over their phone to their helper with the login password?" M FENG ZHANG
"Not easy for old folks to download and use the app. Please let them continue with the Kopitiam card. Helpers are also not familiar with the app." KALAI SELVI
LEARN TO ADAPT?
"Overall, it's better using the app. You need to queue to top up the card. There's a non-refundable fee and the card will expire after two years. Either you top up (more than required) or end up short… and you have to go to the machine to queue up (again) and re-queue at the stall. Now, you just need to link a credit card and you pay exactly what is required. No need to put in the extra money."
JOE JL NG
It's a matter of time before the elderly get used to technology. Go (to) China if you have a chance; almost cashless payment and the elderly are well versed with it.

GILBERT NG
"You can also buy what you need to eat through the app easily, without leaving your table." HIME KANG
"(The physical card) works well, but it really pales in comparison to modern payment methods... When you're dining in, the first thing is to check the amount left in the card which is annoying, especially when there's a queue at the terminal. I can carry a receipt of my latest order to skip this process, but that's another item to carry around which is annoying." TIN HONG WEN
ALTERNATIVE SOLUTIONS?
"Cards have a limited lifespan and costs quite a bit of money to produce in bulk. As much as we need to accommodate seniors, they also need to understand that they need to adapt. I suggest allowing seniors to use their senior citizen card to pay for such transactions. They already use it for their transport." ROLAND CHUA
"FairPrice should allow seniors to use their Passion Card to pay for their meals with the same 10 per cent discount. Presently, all seniors who are 60 and above are issued with the Passion Silver Card and they can top up this card for public transport concession. So, why not make use of the same card for payment at Kopitiam eateries? I hope FairPrice can review this by reconfiguring the Kopitiam payment terminals' software and hardware for the benefit of seniors." JONATHAN WONG
"Leverage the use of our Ez-link card more. Reduce the number of different cards, but don't force the digital illiterate to use mobile apps. Every citizen or permanent resident has an Ez-link." TINGWEI LEE
These comments were first posted to TODAY's Facebook page or sent in via email to Voices. They have been edited for clarity, accuracy and length. If you have views on this issue or a news topic you care about, send a letter to
voices

[at]

mediacorp.com.sg

(

)
with your full name, address and phone number.