How should we deal with cyber-bullies?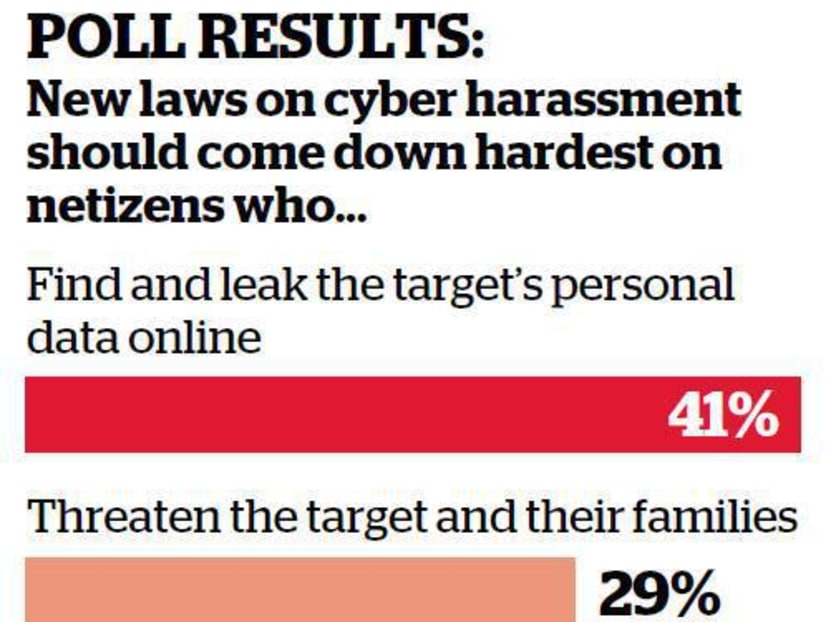 Are Current laws enough?
Jonathan Yuen: Yes and no. We have various laws dealing with different instances of harassment. For example, under the Women's Charter, family violence could constitute harassment. What we lack is an omnibus law for all these instances, with a unifying definition that says as long as it distresses and worries people in any scenario, it constitutes harassment. The gap that has not been addressed properly, or what lawyers call the lacuna in the law, is behaviour that has not tipped over into something threatening or more severe.
Dierdre Grace Morgan: In my opinion, if a child is harassed, it should be an aggravating factor because of his vulnerability. We should also make it an offence to circulate content that harasses and not only go after the person who wrote it.
Chong Ee Jay: There should be no need to circulate. One could save the evidence and flag it to the authorities. If there is legislation, it should apply broadly to everyone. Everyone has freedom of speech, but one cannot escape from the freedom of consequence.
On investigating and prosecuting
Fernando Fonseca: As the police were so efficient and quick in tracking down the Messiah (hacker), they could set up a dedicated task force to investigate any cases involving cyberbullying and online harassment for effective results.
Jonathan: It depends on the matter. We should not waste resources on, say, a blogger who calls another a silly bimbo. But if it is a matter of harassment and the statute provides for it, the police could initiate an investigation and, if they do not, the legal cost is provided for in statute, with the victim (able to) initiate a magistrate's complaint.
Why the bullying?
Ee Jay: From the cases we have seen and schools we have gone to, a lot of it is because of bad personal experiences. Maybe, even every bully was bullied previously, so the best form of defence is to attack first. There are also cases in which young people do not know how to resolve conflicts, so they go online, rally a crowd and start such online banter.
Dierdre: Precisely because they do not see the person, they do not see the immediate effect of their actions. Typing on a keyboard is easier than saying (things) in person.
Jonathan: People think the moment they sit behind the computer, normal rules in the world do not apply. But they all do (for) defamation (and) sedition, online and offline. There are also specific Acts — the Computer Misuse Act, for example — that deal with these types of offences.
Will education work?
Dierdre: People in the online community would recognise that they have an obligation to be respectful to one another ... In terms of personal responsibility, if one is bullied, one should try to get help, not live in denial ... We should have a self-help option, like in New Zealand: A dedicated agency to address complaints from individuals and to mediate.
Jeraldine Phneah: A group of my friends and I are organising a peer-to-peer campaign called Not A Keyboard Warrior, to tell young people that cyber-aggression is something they should control and to educate them about the consequences of such actions. I think a public education campaign organised by the youth is more effective because people do not feel distrustful about it or think of it as controlling freedom of speech.
Andrew Teo: Everyone can be bullied on cyberspace, not just the young. I am 49 and I get bullied. You simply cannot take sides: If you say good things about a person, someone will hammer you; if you talk back about another, you will be clobbered. We must teach victims how to stand up for themselves in a gentlemanly, non-barbaric fashion.
• Mr Jonathan Yuen is a lawyer and partner at Rajah and Tann.
• Mr Chong Ee Jay is Assistant Manager at TOUCH Community Services and associate member of the Media Literacy Council.
Dierdre Grace Morgan is a law student.
Jeraldine Phneah is a blogger and student.
Fernando Fonseca and Andrew Teo were callers on the show.