My Southeast Asia Ventures: My work at a hypermarket chain in Vietnam has been challenging. Learning the language and local culture helped
I began working in Vietnam in 2020 after being seconded to Co.op Xtra, a hypermarket chain in Ho Chi Minh City which is a joint venture between Vietnamese retailer Saigon Co.op and Singapore's NTUC FairPrice.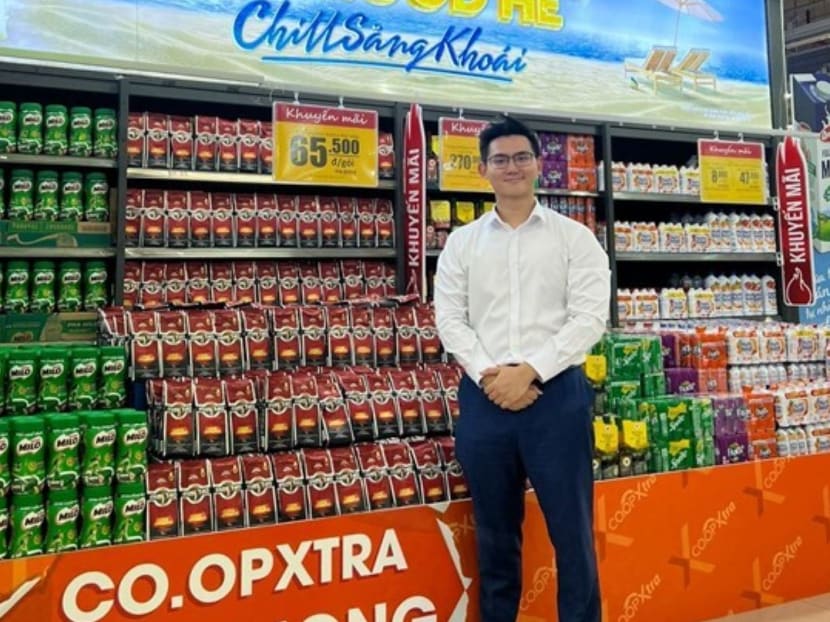 Southeast Asia might not be many young Singaporeans' first choice as a destination for work or study, but some have taken a leap of faith and ventured into the region. TODAY's Voices section is publishing first-hand accounts of those who have spent time in Singapore's closest neighbours for a variety of meaningful pursuits.
In this instalment, Mr Branson Koh, 30, who works for a hypermarket chain in Vietnam, describes how the language barrier caused tension between him and his co-workers. They eventually welcomed him into their community, thanks to his effort in learning Vietnamese and weathering the pandemic with them.
I began working in Vietnam in 2020 after being seconded to Co.op Xtra, a hypermarket chain in Ho Chi Minh City which is a joint venture between Vietnamese retailer Saigon Co.op and Singapore's NTUC FairPrice.
Previously, I held roles in operations and digitalisation under the FairPrice's management associate programme.
I accepted the offer since I figured that working overseas will broaden my horizons, and I will be seconded there until mid-2024.
My current role involves transferring operational knowledge to improve our four outlets' processes and growing our e-commerce platform.
During the first few months there, I struggled to collaborate with my Vietnamese counterparts.
The difference in the working culture was exacerbated by the language barrier and resulted in several miscommunication incidents.
Once, I asked an employee about an issue, and who was responsible for it.
However, when she translated it to Vietnamese, she misinterpreted that I was holding her responsible, and she replied to me in English rather impolitely.
With such differing frames of reference, I knew this could be a source of tension if not handled properly.
I had to try to assimilate quickly, so I enrolled myself in a Vietnamese language school with the goal of achieving business working proficiency.
Initially, I was only able to communicate briefly with my colleagues. However, with what limited proficiency that I had then, I recognised the positive change in their attitudes during our conversations.
I realised that showing interest in assimilating and building relationships is important in Vietnam's working culture.
The Vietnamese language is generally more affectionate than English. The pronouns and the vocabulary take into account the seniority and working relationship between parties.
The organisational structure at work is also relatively flatter compared to Singapore. It is common for staff from all ranks to mingle and work together.
Good working relationships are important to win the hearts of the locals. There is a saying among the expat community that once you win the hearts of the Vietnamese, they will ride through the hardships with you.
In the second quarter of 2021, the Covid-19 situation escalated to a complete lockdown in Ho Chi Minh City.
I was given the choice to work from home or to continue working on site.
I chose the latter since we then had manpower issues after movement controls were implemented. Furthermore, the ongoing slews of panic-buying exacerbated the issue. 
It was a fearful experience since I was not vaccinated at the time and the risk of contracting Covid-19 was real. The silver lining was that I was welcomed into the tight-knitted Vietnamese community by simply getting hands-on with the team while fulfilling online orders.
As the crisis deepened, the country's army was also dispatched to assist us with our logistics challenges. Collaborating and coordinating the massive amount of online orders with different parties gave me a deep sense of achievement. These orders fulfilled were more essential than ever since residents were only permitted to shop online.
Being in Vietnam for the past two years has been rewarding and it has given me the courage and strength to work outside my comfort zone, adapt to rapid changes and become more independent.
As I am alone here, I have much more spare time, which I use to improve my Vietnamese and visit the gym.
Having an intermediate level in Vietnamese allows me to converse better with the locals to understand the diverse culture.
I would encourage anyone to seize the opportunity to venture overseas.
Putting ourselves out of our comfort zone allows us to understand ourselves better. Learning the local language is also important in easing into a new environment and building relationships. These are important to create a healthy social support system of our own while away from home.
ABOUT THE WRITER:
Mr Branson Koh Ze Yang, 30, is the deputy director of e-commerce and operations at Co.op Xtra. He is passionate about the fast-moving consumer goods segment and the digital landscape in Vietnam.
If you have an experience to share or know someone who wishes to contribute to this series, write to voices [at] mediacorp.com.sg with your full name, address and phone number.