'Selfish' and 'ridiculous': Response from Singapore Marathon organisers on traffic gridlock draws ire
TODAY readers chime in on what the organisers of the Standard Chartered Singapore Marathon had to say after a switch from a traditional early morning flag-off time to 6pm led to traffic gridlock in the Marina Bay, Central Business District and surrounding areas due to road closures on Nov 30.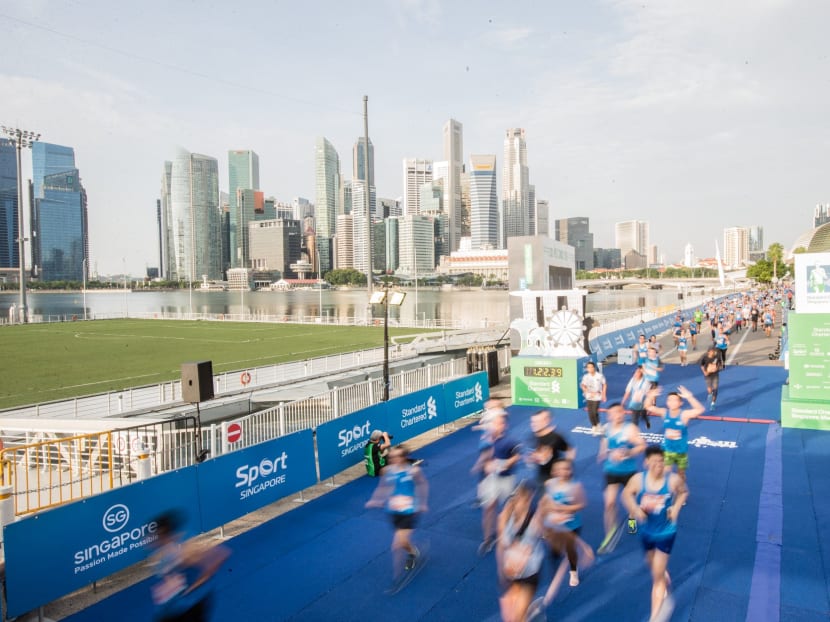 The Standard Chartered Singapore Marathon on Nov 30 made news for the wrong reasons this week, after a switch from a traditional early morning flag-off time to 6pm led to traffic gridlock in the Marina Bay, Central Business District and surrounding areas due to road closures. The organisers Ironman Asia and Sport Singapore (SportSG) — the lead government agency for the event — later apologised, though they have no plans to review the timing of next year's race.
SportSG chief executive officer Lim Teck Yin also expressed hope that "in the years to come, the meaningfulness of the event will grow as Singaporeans embrace (it)". The organisers' response mostly drew flak from TODAY readers, with some calling on the authorities not to allow a repeat of what happened this year. A minority did defend the organisers.  

Not all Singaporeans love to run. Please plan this somewhere else from next year onwards. Suggest Lim Chu Kang or Pulau Ubin. SYLVESTER ONG
It is hard to swallow the organisers' statements.  The change to an evening marathon was aimed at inducting it into the Abbott World Marathon Majors. Eventually, this boils down to chest-thumping and prestige, without caring for the inconvenience it causes non-participating Singaporeans. The insistence on continuing the evening race next year and asking Singaporeans to embrace it smack of elitism.
Lastly, can the Land Transport Authority (LTA) clarify if there is a minimum timeframe organisers must adhere to when applying for road closures? Despite the "extensive consultation" and traffic advisory, Singaporeans were still caught off guard. This shows that pre-event measures taken were insufficient.
Considering other events such as Black Friday sale and concerts, why did LTA approve the road closures despite knowing that many Singaporeans needed to travel to the city? SEAN LIM WEI XIN
I wonder why the Government approved such event road closures on a Saturday. Go run at Tuas. It is spacious and you can block the entire area. A D LEE
Embrace we shall, but put it back to Sunday morning please. CHEE-KEONG LEE
LTA should not approve such arrangements. The financial losses and reputational loss of good infrastructure outweigh whatever purported gains. This is not to mention the inconvenience caused in large areas in central Singapore with spillover even to Sentosa, which is a tourist destination. LAWRENCE LEE
Downright ridiculous. Who would want to embrace such an event which caused so much inconvenience? Unlike the F1 Grand Prix, this covered a much bigger area. MUHAMMAD NOOR OTHMAN
Marathons are great, but Standard Chartered Singapore Marathon 2019 was not. Idiotic is the word I'll use to describe the shutdown of roads. Entry to the Marina Coastal Expressway from Telok Blangah all the way to Keppel was closed, with traffic directed to Lower Delta where there was only one right turn lane on a short timer right turn arrow. What kind of traffic studies did they even do? JUSTIN NG
Poor planning and execution of logistics have nothing to do with embracing the event. How do you expect people to embrace it at the expense of so much inconvenience? DORIS TIONG
The event organisers need to be sensitive and take a holistic approach in their planning. Paralysing and adversely impacting many others in the downtown area must not happen again. The Singapore Government should also step in. LAWRENCE TAN
By insisting on their selfish planning for future runs on the same route and timing, I can foresee more and more people detesting the marathon rather than embracing it. KELVIN FOONG
That's plain selfish. Nobody is objecting to the event. Timing is not an issue. There are other places to run in Singapore if you want to hold it at a timing which affects weddings and other activities. LTA should not agree to such arrangements again. ONG CHAN
Basically, all members of the public should forget about any plans for dinners, events, date nights and so on in the Central Business District for the event weekend. ROHAN VINEKAR
Dec 5 and 6, 2020 (the first weekend of December where the next marathon would be held), be warned. ROBBIE LEONG
So high handed. So dismissive. So arrogant. TONY BOEY
What kind of insensitive statement is that? Just look at how much misery the recent night race caused. The right thing would be to never hold it again. LEON KHOR
The defiant statement from the organisers smacked of disrespect. Standard Chartered should review its sponsorship of the event. JERRY LOO
Selfish. ANNA MAYA YAYAH KH
The world's most prestigious marathons: Berlin, New York, Boston, Chicago, London and Tokyo. None of these races is held in the evening. GARRETT KAM
It is best to announce the road closures in all media outlets one month before the race to allow others to plan their route and prevent gridlock. ENSHAO LIU
Nobody to blame. The road closures have been broadcast (and announced previously). FRANCIS 'GEMUK' TEO
His apology sounds sincere. Respect for Mr Lim (Teck Yin, SportSG chief executive). WILFRED RAYNEE
These comments were first posted to TODAY's Facebook page or sent to Voices. They have been edited for clarity, accuracy and length.