Should in-camp training continue as S'pore fights novel coronavirus?
Many TODAY readers disagreed that in-camp training should be suspended, as reserve soldiers may have to be mobilised if the coronavirus spreads more widely in Singapore.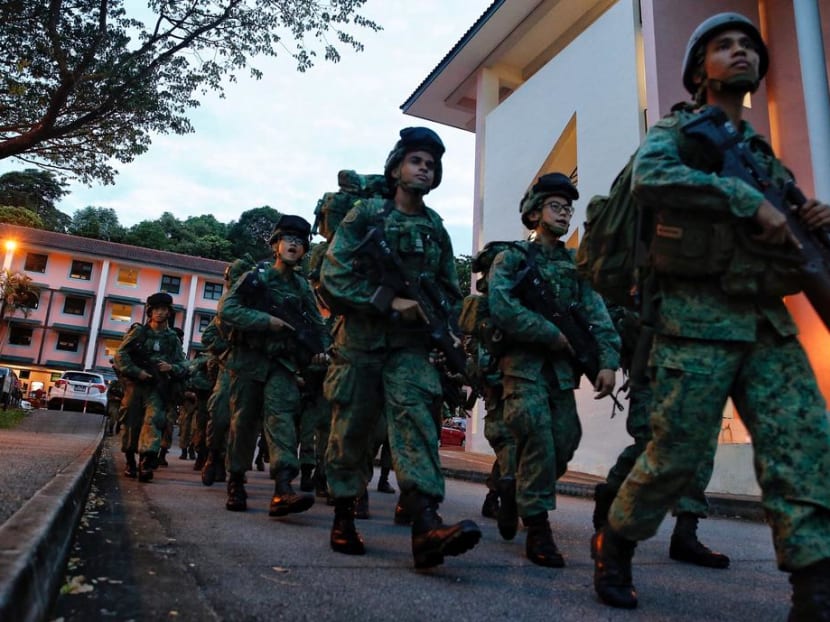 This week, TODAY reader Jasmine Tan urged the Ministry of Defence to suspend in-camp training for reservists until Singapore's authorities have a better grasp of the novel coronavirus. Her suggestion came as the country reported its first cases of local transmission, and schools, preschools and eldercare centres scrapped mass assemblies and excursions. 
While a few TODAY readers who chimed in agreed with Ms Tan, most said that reservist training should continue as these soldiers may have to be mobilised if the coronavirus spreads more broadly in the community. 
Suspending in-camp training is not the main thing. The key is to be vigilant, safeguard your health and pay attention to hygiene. FAITH ZIQING LIM 
I do not see how in-camp training is worse than regular work in terms of potentially spreading the coronavirus. If anything, an army camp is bigger than the office building that I go to every day. Hence, there is a lower concentration of people. Besides, if you stay in camp, you are saving yourself from unnecessary public transport trips that could expose you to the virus. NASRI NASIR 
It is precisely during such times when our reserve army must be ready to be mobilised. If the virus spreads in the community, you will need to deploy lots of manpower to help affected citizens. DARIUS LOW 
To be honest, if you were to ask me, we should all the more have in-camp training for reservists at a time like this. That is exactly what the army or the Home Team has to do. We do not train only during peacetime, but could be activated if circumstances call for it. MIKE CHUA 
No need to suspend in-camp training. If everything is suspended, we might as well lock down the whole of Singapore. Everyone should just keep washing their hands. BOON LIANG CHAN
If the writer's logic is anything to go by, then all business activities and services, including public transport, food-and-beverage stores, offices, supermarkets and anywhere with high human traffic, should be suspended. Then the whole of Singapore can close up shop. Everyone would stay at home. Whatever happened to common sense and good hygiene? Nothing weakens our immunity more than over-worrying. ARIES WILSON 
Kids have lower immunity than our soldiers. If the kids are going to school without masks, then why should the authorities stop in-camp training? There has yet to be widespread community transmission of the coronavirus, so life should go on as normal. NICOLE ED 
Postpone till when? If this becomes a full-blown pandemic, I think all of us will be recalled to fulfil a role similar to that of the United States National Guard. GOH MING 
Yes, I agree. If the in-camp training is not urgent, it can be postponed until the coronavirus eases. KEVIN TAN 
All in-camp training should be postponed, not cancelled. It is a precaution. No one is saying that in-camp training is unimportant. BRYEN YAP
It is better to play safe. ALLAN TAN 
These comments were first posted on TODAY's Facebook page. They have been edited for clarity, accuracy and length.