Should parents use physical means to discipline their children?
A first-of-its-kind study here, which found that more than half of parents who use physical means to discipline their children think that such methods are ineffective, has generated much debate among TODAY readers.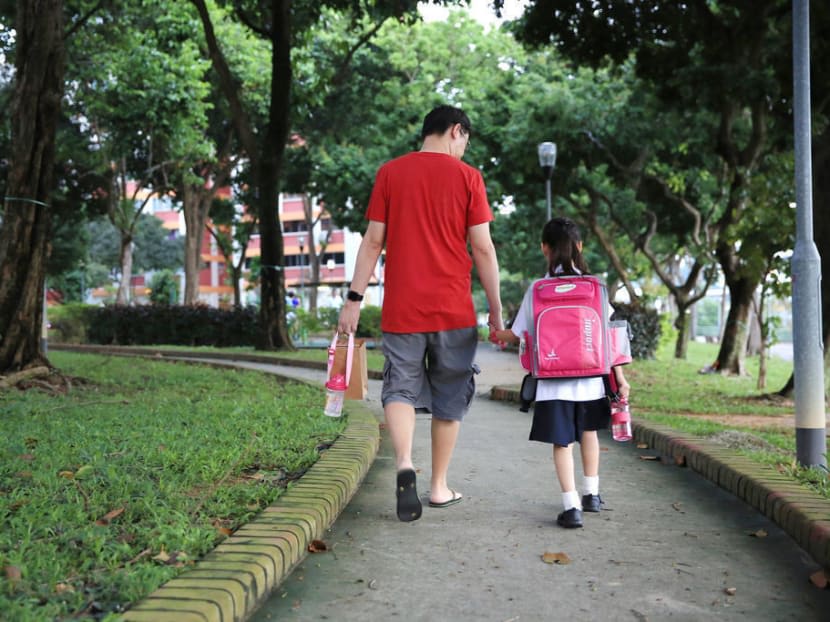 A first-of-its-kind study here, which found that more than half of parents who use physical means to discipline their children think that such methods are ineffective, has generated much debate among TODAY readers. 
Many felt that there's still a need for corporal punishment if it's used judiciously and with explanation. But some argue that there is no place for physical punishment for children.
I agree with spanking children for potentially dangerous behaviour such as playing with fire... but this must be followed up with a talk to explain the disciplining. LAWRENCE TAN
To those who question parents who use the cane occasionally and judiciously, do you look askance at those who do use physical punishment lightly and occasionally and think of them as "worse" parents than you? Do you assume those who cane judiciously don't talk to and hug their kids after that? Each child is different. Some need a stronger deterrent beyond mere words. Some can just listen and follow readily. But yes, they all need love, and we still need to communicate to them our love. Let's be clear, those of us who do use the cane occasionally and judiciously do not love our kids any less than those who spare the rod. LEE HENRY
Lee Henry, if you can't reason with your kid that an action is wrong and you use physical violence, all you are teaching is that using physical violence is an acceptable way to interact with others. RON ALD
There are many other methods to discipline children, such as removing privileges. Understand the context of the issues, and apply structured consequences such as isolation, logical consequences and chastisement. More importantly, let the children know why they are disciplined and provide the moral reasons for them so they learn from their mistakes and love them for who they are, tackle the issues, and not the personalities. JASON TAN
Frankly, every child is different. There is no one size fits all when it comes to discipline. Some need a soft approach. Others need a strict regimented discipline with counselling but the most important of all is, every kid needs tender loving care. ANN LIM
The ability of a person to comprehend depends on a lot of factors, including age and upbringing. A 12-year old will probably understand reasoning better than a two-year old. Hence the method of discipline should differ. Disciplining, when used as a form of teaching, should be age-appropriate. When we teach young kids, we frequently use statements such as "repeat after me". We don't do that to older kids. As they grow older, we may use the classroom or lecture format. Expecting a child without the appropriate language skills to be able to comprehend results based on reasoning skills may not be wise. What do we do then? SOO HOO
Discipline can be enforced in different ways. Spanking is a lazy and easy method but a short-term solution. Spending quality time with children is a long term solution which we don't look at. SUKHVIR SINGH
Disciplining a child is not merely about showing anger. Before disciplining a child, exercise self-control first. When using force, be ever mindful of the amount of force used, and the site of impact. If the hand does something  wrong, hit the palm, not other parts. Never hit the buttocks, the head, cheeks, torso and other fragile parts. Treat the child with love and respect. And he will be more than willing to listen and mend his ways. ARIES WILSON
"Spare the rod and spoil the child" is how the saying goes. A couple of good smacks will not kill or traumatise a naughty child. In fact, it is a good cure to get the message across. As a grandmother I could not stand by and watch my grandchild hitting out at the helper. I asked the little one to put her palms out and gave a good smack on her palms. She tearfully told me it was so "ouch". I told her how much more "ouch" it is for the helper when she was smacking her hard constantly and the helper could not retaliate. Now she knows how painful it was for the helper that she was hitting really hard. Teach and discipline them young but of course there should not be constant abuse. INDIRA ISWARAN
The issue with spanking is, it will be overwhelming for the child when the parent loses emotional control due to anger and in the end there isn't a teaching moment and there isn't restorative work with the child. This is what happens most of the time when such a punitive method is used. Don't spank but hit once to get the child's attention if needed. JOEL ISRAEL SHASHIKUMAR
There is a fine line between discipline and outright abuse. Some parents get triggered by anything and use it to take out their frustration on their kids who become their punching bag. And sometimes I wonder how a child can become naughty, mischievous when he was born with nothing. How did they become "naughty"? Isn't it outside influence? Picking up what adults exhibited? Parents need to spend time to show by example. ROSZ TOH
Physical discipline is never a solution compared to a soft but firm approach through meaningful dialogues with your kids. Caning is to instil fear and kids in turn take this fear to isolate themselves because they feel their parents are not their parents but an outsider with no love for them. The aftermath? Kids will not share their problems with you and will instead depend on their peers. Do you as parents want these to happen? Think about it! CHENG FEI
Why do we cane offenders and they still repeat their offence? Why are schools still caning rowdy students? SITI MUHAMMAD
If you have been beaten, and therefore you think it's a good idea to beat your children, I highly recommend rethinking your stance. The fact that you think it's alright to beat a small human is already a sign that you've been affected by your own beatings. Please think twice, before you continue the cycle of violence for your children, and grandchildren. KENNETH LEE
Better you spank your child when he is doing something wrong now and he learns, than let the Government cane him in the future when he makes the same sort of mistakes (and breaks the law). GLENN SEE TOH
These comments were first posted to TODAY's Facebook page. They have been edited for clarity, accuracy and length. If you have views on this issue or a news topic you care about, send a letter to voices [at] mediacorp.com.sg with your full name, address and phone number.