SME Diaries: Covid-19 made our corporate-gift business model irrelevant. Here's how we adapted
In this instalment, Mr Danny Zhang, co-founder of Gift Market, describes the toll the pandemic took on his corporate gift business, and how he turned it around with the help of experienced consultants and mentors.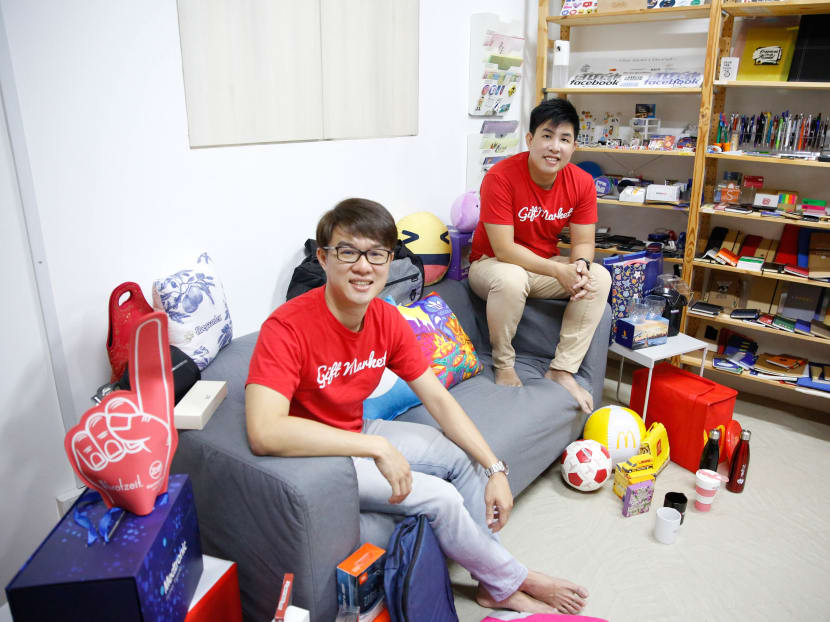 Small- and medium-sized enterprises (SMEs), which form 99 per cent of businesses in Singapore, have felt the impact of Covid-19 keenly. TODAY's Voices section is publishing first-hand accounts from SME owners and managers on the highs and lows of running a business in the pandemic.
In this instalment, Mr Danny Zhang, co-founder of Gift Market, describes the toll the pandemic took on his corporate gift business, and how he turned it around with the help of experienced consultants and mentors. 
Gift Market was founded in 2013 to help our clients build relationships with their stakeholders through memorable corporate gifts.
Before Covid-19 hit, we relied heavily on the direct selling of products that our clients used for trade shows and corporate meetings.
Our role was largely to print our clients' logos onto products such as bottles and bags, with little value-add.
During the circuit breaker in 2020, our revenue nosedived.
Many clients cancelled orders, since in-person events were prohibited.
We operated at a loss, with sales plummeting almost 80 per cent year-on-year, and inventory for peak seasons collecting dust in the warehouse.
Still, we were not worried about the long-term impact on our business.
Using the severe acute respiratory syndrome outbreak of 2003 as a gauge, we hoped Covid-19 would subside in weeks, or at worst, months. Employee morale was still high.
But as Covid-19 became a global pandemic with no end in sight, uncertainty and fear started to set in.
Uncomfortable questions arose.
How would we answer for our employees? I was preparing for the birth of my first child. What was I going to tell my six-month-pregnant wife?  
We soon came to the painful realisation that our business model was no longer relevant.
To survive, we had to fundamentally change how the company works.
But how? It was unprecedented and we were not confident we could transform the company successfully, so we sought help.
Thankfully, we stumbled on trade agency Enterprise Singapore's Enterprise Leadership for Transformation programme.
We reviewed our business models with experienced consultants and mentors, and went back to the drawing board in January 2021.
Although physical events were cancelled and most people were telecommuting, our clients still needed to cultivate their stakeholders. 
Our mentor recommended that our company adopt a one-stop gift solution for our clients, starting from consultation for the right gifts, sourcing, packaging, all the way to delivery.
It is a fuss-free, all-in-one service drawing on what we have gathered from eight years in this industry.
Initially, our employees were sceptical, even resistant.
Expanding the reach of our services meant training them and re-scoping their duties, and some left the company.
Yet most employees committed to the plan, after increased communication about the challenges we faced.
Our efforts paid off. The majority of our orders now are catered to our clients' specific needs.
Our account managers have been trained to understand our clients' concerns and what they wish to achieve with our services.
We are now well-placed to provide greater value in the post-pandemic world.
Although volumes have not recovered to pre-pandemic levels, our company is more diversified and sustainable in the long term.
For instance, despite telecommuting becoming the default in September 2021, sales volumes did not dip as with previous periods. 
With the gradual resumption of international travel and Mice (meetings, incentives, conferences and exhibitions) events, we are confident that the industry will flourish again.
ABOUT THE WRITER: 
Mr Danny Zhang, 31, is the director and co-founder of Gift Market. The company, founded in 2013, aims to help its clients forge relationships with their stakeholders through corporate gifts. 
If you are an SME owner or manager with an experience to share or know someone who wishes to contribute to this series, write to voices [at] mediacorp.com.sg with your full name, address and phone number.