SME Diaries: We run a traditional industrial supplies business. Covid-19 gave us the opportunity to modernise
We run President Trading Company, which supplies tools and other industrial equipment to engineering plants, shipyards and manufacturing facilities in Singapore.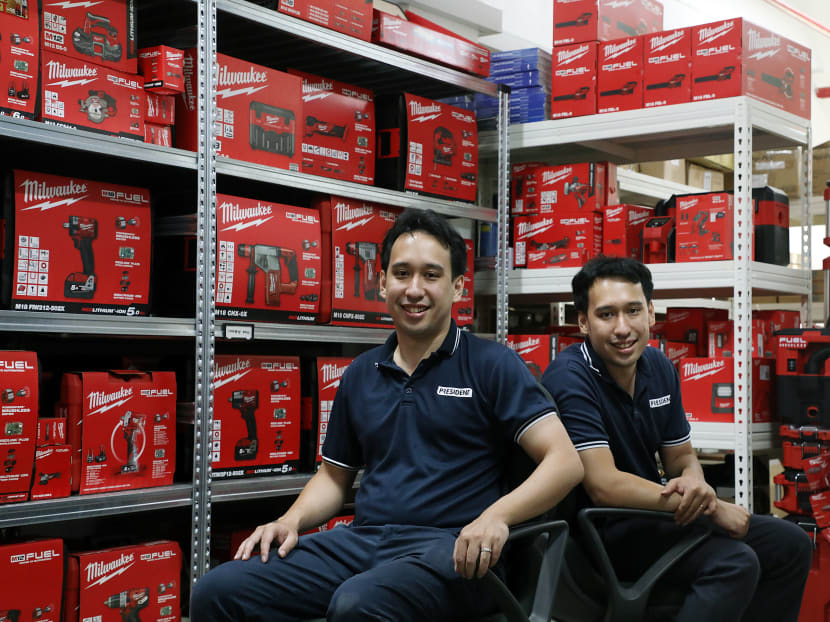 Small- and medium-sized enterprises (SMEs), which form 99 per cent of businesses in Singapore, have felt the impact of Covid-19 keenly. TODAY's Voices section is publishing first-hand accounts from SME owners and managers on the highs and lows of running a business in the pandemic.
In this instalment, third-generation business owners Kho Zhi Gang and Kho Zhi Qiang, both 36, recount how their traditional industrial supplies business was hit by demand and supply chain issues during the pandemic. They took steps to modernise, including adopting social media marketing and setting up an online shop, and emerged stronger as a result.
We run President Trading Company, which supplies tools and other industrial equipment to engineering plants, shipyards and manufacturing facilities in Singapore.
As workplaces and borders closed due to Covid-19, the engineering and maintenance sectors were badly hit. This affected our demand significantly. Global lockdowns complicated our supply chain, as we import most of our goods from Europe and the United States. 
We knew we had to act fast. Covid-19 was a trying time with rapid and unpredictable changes. But in times of adversity, new opportunities were also available.
We took a moment to think about our direction, before deciding to focus on digitising our internal and external processes, and venturing into market segments we were not present in.
Covid-19 restrictions prevented face-to-face meetings. To overcome this, we put more priority in our e-commerce and marketing efforts. Social media marketing and setting up our online shop were some of the things we experimented with.
We also chose to relocate our premises from Tuas to Tiong Bahru for our customers' convenience. The central location made it easy for them to browse our products when making purchases.
We implemented these changes bit by bit and were pleasantly surprised by positive customer ratings and feedback. 
Our Instagram page has an engaged audience who give us suggestions on what they want to see next. This is encouraging and we look forward to growing our online audience.
Looking back at the past two years, the Covid-19 disruption gave us a chance to discover new ways to excite our customers. 
We were also lucky to hire like-minded people to help enact these changes. We expanded our workforce by hiring another two people during the pandemic, and we now have six staff members.
It is great to work with people who embrace our dynamic, youthful and innovative culture. With the aid of our team, we were able to bring forth a modern business outlook in a traditional industry. 
Listening actively to customer feedback has also helped us understand demand better. For instance, we decided to expand our product range with power tools and precision equipment to provide more holistic workshop solutions. 
Our mobile-first style of working also allowed our employees to fulfil our customers' requests on the go.
However, our journey does not end here. We continue to work hard on integrating our online and offline businesses and are going to try to set up a YouTube channel next. To do so, we will need a team of experienced video editors and content producers.
We are lucky to have emerged stronger from this period. 
Covid-19 has changed the way organisations are structured and we see that as something firms must adapt to. 
We are positive that while we experiment with flexible work arrangements, such as coming to the office only when required, we will find good local talent that understand our vision and are inspired to work with us.  
Together with more fresh minded employees, we will take our business to the next level and help our customers find safe and productive solutions for their work.
ABOUT THE WRITERS:
Kho Zhi Gang and Kho Zhi Qiang, both 36, are third-generation business owners who have been running President Trading Company since 2009. They aim to equip engineers and individuals with the right tools to complete their work quickly, accurately and safely.
If you are an SME owner or manager with an experience to share or know someone who wishes to contribute to this series, write to voices [at] mediacorp.com.sg with your full name, address and phone number.