Voices from the Front Lines: Marriage plans on hold, but I find joy in returning patients to their families
When I heard that my hospital would be receiving Covid-19 patients, my heart leapt with joy at the opportunity to serve and contribute to the fight against the virus.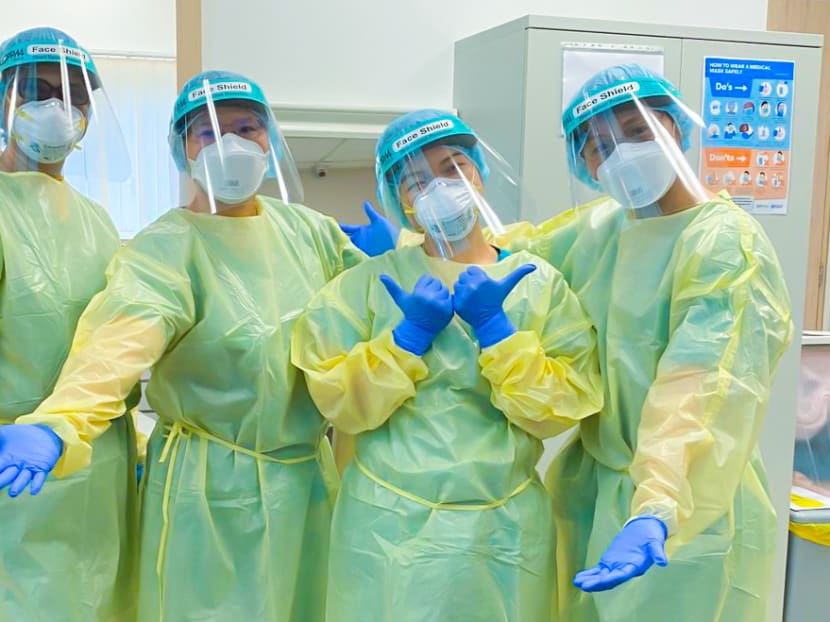 As the fight against Covid-19 will be a long-drawn one, TODAY's Voices section hopes to shine a light on the triumphs and struggles of Singapore's front-line workers by publishing their first-hand accounts.
In this instalment of Voices from the Front Lines, senior staff nurse Jolene Ho of the Concord International Hospital writes about the sacrifices that she has made, including putting off her marriage plans, and what inspires her to press on every day.
When I heard that my hospital would be receiving Covid-19 patients, my heart leapt with joy at the opportunity to serve and contribute to the fight against the virus.
I saw the need to rise to the occasion at this crucial time. The calling of a nurse is to help those in need, and the world needs nurses on the front lines now more than ever.
I was the first to opt in to care for Covid-19 patients at my hospital.
Even though we did not know what would come next, we volunteered to care for these patients at short notice. Many of us stayed behind after work to make the infection control preparations.
On March 20, we were on the ground receiving our first batch of patients from ambulances.
I had to call home to inform my family about my role, and to tell my two young nieces aged one and three, who enjoyed spending time at my place and stayed over occasionally, not to come over. I could not take a chance and potentially infect them.
My fiance and I also had to put our plans to get married in October on hold.
I am glad that they were understanding as I answered the call of duty this period.
Throughout my stint so far caring for coronavirus patients, I have encountered people from all walks of life.
I have tried to understand their cultures, allay their anxieties and give my best to meet their needs when they are in despair. At their time of weakness, we have become the rock on whom they can depend.
For many patients, their length of stay is uncertain. Every day, they put up their best fight against the virus, so that they can be discharged and reunited with their families. It is indeed a struggle for them to be hospitalised and separated from their loved ones.
I realised that their socioemotional and mental needs were as important as their physical treatment. My team of nurses has therefore tried our best to reach out to everyone during our nursing rounds by bringing cheer, hope and support.
This period has brought a myriad of new experiences for me. These include adapting to frequent changes, meeting patients' diverse needs, and becoming a swabber and team leader.
The well-being, emotions and family concerns of team members can affect their work and the rest of us if these issues are not handled properly.
What brings me the greatest satisfaction is to see patients recover and reunite with their families.
Some have sent us photos after their discharge and showered us with words of appreciation for the care given to them. Their joy has made my work enjoyable, too.
My colleagues, family, friends and the hospital management have been my pillars of strength. They help me pull through every single day.
ABOUT THE WRITER:
Jolene Ho, 33, is a senior staff nurse specialising in oncology at the Concord International Hospital, one of several private hospitals caring for Covid-19 patients who are clinically well but still test positive for the virus. She now works in wards that serve up to 44 Covid-19 patients.
Read the first instalment of this series here. If you are on the front lines of the Covid-19 outbreak or know someone who wishes to contribute to the series, write to voices [at] mediacorp.com.sg with your full name, address and phone number.