When is it okay to take photos and videos of road accidents?
This week, an accident behind Lucky Plaza mall claimed the lives of two Filipino women and wounded four others.
In a letter to TODAY, Voices contributor Francis Cheng urged bystanders to refrain from taking photos and videos of accidents, and the Government to enact a law that makes it a crime for anyone who does so instead of helping.
His suggestion drew a range of responses from readers.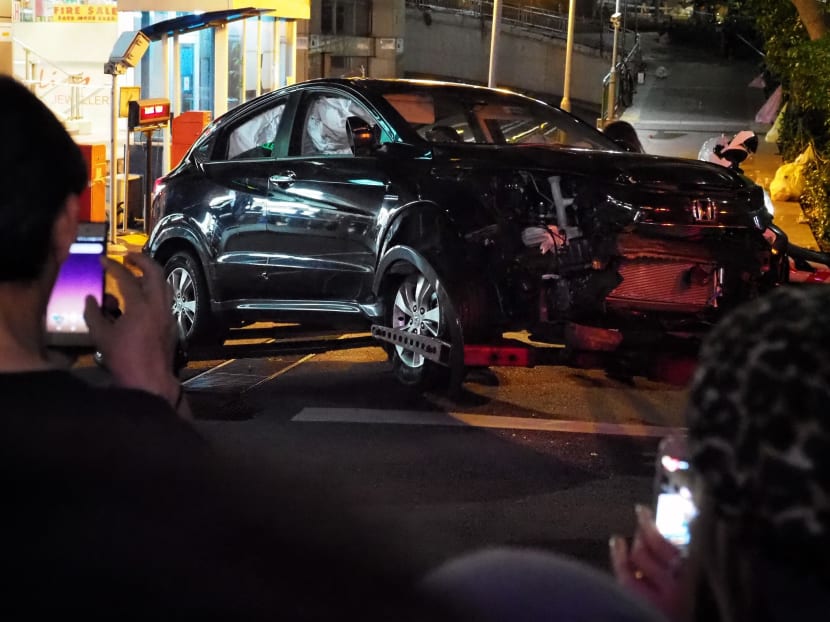 This week, an accident behind Lucky Plaza mall that claimed the lives of two Filipino women and wounded four others sent shockwaves through Singapore.
In a letter to TODAY, reader Francis Cheng said it remained common for people to stop at an accident scene to take videos and photos. But this, he said, cannot be at the expense of helping victims. He urged bystanders to refrain from taking photos and videos, and the Government to enact a law — similar to Germany's — that makes it a crime for anyone who does so instead of helping.
Responding to his suggestion, TODAY's readers supported having such a law, saying that the first instinct should be to help the victims as time is of the essence. Yet others said enforcement would be hard, because some people may not be equipped with the skills to help in accidents. Photos and videos could also serve as important evidence, but should not be circulated on social media, they added.
It is really terrible of bystanders who do not help in accidents such as this. Instead, they whip out their smartphones to take pictures or videos, and treat these as a form of entertainment. This is equivalent to bystanders who jot down car registration plates in accidents for 4D bets. No empathy at all. If you cannot help, do not rub salt into the wounds of others who are hurt. DAWN HO
Agree. Bystanders who take photos or videos may add unnecessary stress to the victims or authorities on duty. But help should be rendered only by trained personnel to avoid further injury. ZEN XU 
I agree with the need for the law. The first responsibility is to call 999 and not register the accident: That is what street and car cameras are for. ANGELA TAKANO 
They are self-made reporters who show off, but never have the heart to help and care for the needy. Please be considerate in urgent incidents and offer help, not a photo. ARTORO A LEE 
Singapore should consider enacting a similar law to deal with apathetic bystanders who should, to the best of their abilities, help those affected. Every second counts and time is of the essence. KEVIN TAN 
Why not recommend that everyone in Singapore go for basic medical training then? Then everyone can help in these situations instead of taking photos? KAI YIN 
While you are at it, you might as well also make it illegal to slow down at accident sites to note vehicle numbers for 4D bets. Perhaps in Germany they can enforce such a law, but here? What is enforceable is penalising those who obstruct access to aid. CHRISTINA TEH 
It will be hard. With everyone owning a mobile phone, how are we to stop them? The same applies to drugs, theft, corruption and sex crimes. All are crimes, but people still commit them. PERRY LIM
It is hard to enforce, as not everyone can help or knows how to. Arresting a crowd for taking photos or videos will put stress on the enforcement officers, too. On the positive side, the photos and videos can provide much-needed information to relevant parties. ALLAN TAN
Not everyone has the capability or knowledge to help the injured. They may make injuries worse or put more lives at stake. Pictures and videos may be used in investigations. I agree, however, that it should be a crime to circulate these on social media instead of turning them over to the police. It is also insensitive to grieving families if there are deaths involved and pictures spread on social media without their consent. JAMES TIO
Whatever it is, blur the victim out of the pictures and respect the victim. People just want to know what happened. ZULKIFLI MAMAT 
Pictures and videos will allow more accurate and easier reporting of incidents. These are vital when the culprits have committed a hit-and-run, as they will allow the authorities to investigate and apprehend the offenders of such crimes. ACE KINDREDZEN FG LUCKY CHEONG
Sometimes, it is helpful for bystanders to take videos or pictures because they are the key witnesses, being at the location when it happened, especially when fake or unverified news is trending on social media. PAMELA MONTGOMERY 
It all boils down to the intent of spreading or sharing the pictures and videos. Sometimes, sharing these videos keeps Singaporeans connected. You can perceive it as a way of showing concern and keeping abreast of the mishaps around us. ROY CHEW 
There should not be a law, as it is up to individuals to help or not to help. MAMAKLEIN MEIPENG TIW 
While enforcement may be seen as an immediate way to stop such "citizen journalism", more important is public education on critical thinking and on delaying judgments from one-sided stories as well as restraining ourselves from reacting before the facts of the matter are established. STEVEN ONG 
Rather than this, there is a greater need for a law that makes having a picnic on footpaths illegal. This is OK in open fields and parks. ABDUL HAFIZ BIN MAZELAN
These comments were first posted on TODAY's Facebook page or sent to Voices. They have been edited for clarity, accuracy and length.