4 attacks, 1 universal refrain: Why them?
NEW YORK — A family of Canadian volunteers dedicated to alleviating poverty in Africa. A group of intrepid German retirees on a tour of Turkey and the Middle East. An Iraqi who had gone to Baghdad seeking refuge from the jihadi violence of his hometown. A Canadian audiologist who had fallen in love with Indonesia.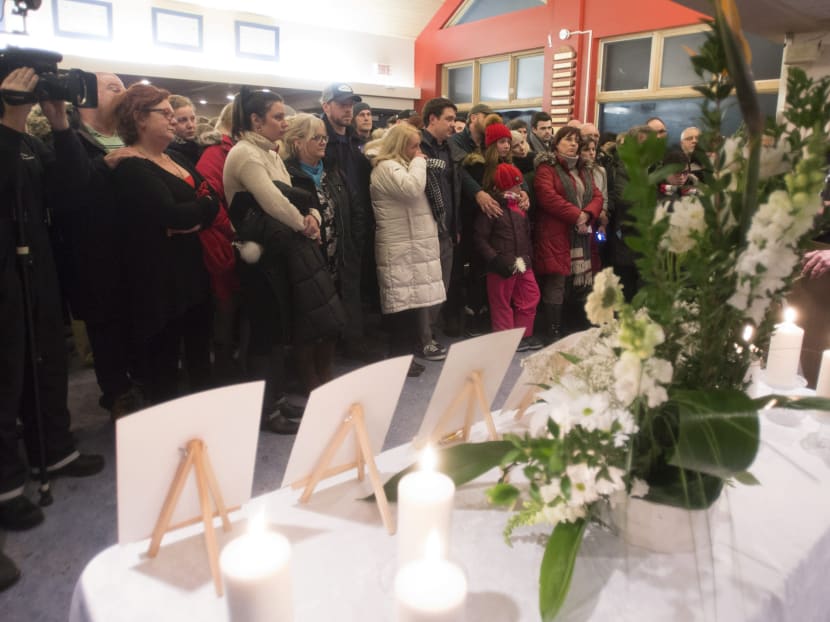 NEW YORK — A family of Canadian volunteers dedicated to alleviating poverty in Africa. A group of intrepid German retirees on a tour of Turkey and the Middle East. An Iraqi who had gone to Baghdad seeking refuge from the jihadi violence of his hometown. A Canadian audiologist who had fallen in love with Indonesia.
They were among the scores of people slaughtered by Islamic extremists in four countries last week in spasms of bloodshed that left loved ones stunned at the randomness of the killings.
"It will never be understood: 'Why you?' No one can give an answer," observed Mr Andr Franke, a relative of one victim, Karin Franke-Dutz, 70, a retired teacher who was among the Germans killed by a suicide bomber in Istanbul. Franke, summed up a universal anguish in a Facebook post, saying, "Incomprehensible that we lost such a cordial, wonderful person in such a terrible way."
The settings for the attacks were the softest of soft targets: a shopping mall in Iraq; a hotel and a cafe in Ouagadougou, the capital of Burkina Faso; a popular shopping area in Jakarta, Indonesia; and Sultanahmet Square, the historic and cultural heart of Istanbul.
Seemingly uncoordinated, the indiscriminate violence highlighted the goal of Islamist militants determined to sow terror in disparate corners of the world. At the same time, the United Nations reported yesterday (Jan 19) that more than 19,000 Iraqis had died in a 22-month period marked by what it called a "staggering" level of violence.
In the year since gunmen killed 12 people in Paris in an attack aimed at Charlie Hebdo, a satirical weekly newspaper that had lampooned Islam, jihadis have embarked on an ever-widening campaign of global bloodletting that would appear to have little strategic value.
The attacks also highlight the growing rivalry between followers of the Islamic State and al-Qaeda, extremist organisations determined to prove their jihadi bona fides through a gruesome tally of random bloodshed.
In Baghdad and nearby Diyala province, Islamic State assailants killed at least 40 people on Jan 11 in twin attacks that targeted ordinary Iraqis as they shopped and relaxed at a cafe. In Jakarta on Thursday, gunmen fatally shot the audiologist, Tahar Amer-Ouali, who had spent much of his life helping the hearing-impaired. In Ouagadougou, the dead included Westerners and Africans, Muslims and Christians.
Leila Alaoui, 33, a French-Moroccan photographer whose hauntingly beautiful photographs explored themes of migration, cultural identity and displacement, died Monday night after being shot in a leg and the thorax by al-Qaeda gunmen on Friday while parked outside the Cappuccino Cafe in Ouagadougou. Alaoui, who was in Burkina Faso on assignment for Amnesty International, had her work displayed in museums around the world and in publications including The New York Times.
Maude Carrier, 37, a high school French teacher from Quebec and the mother of two girls, was among those killed while sitting in the cafe, a popular spot in downtown Ouagadougou.
Also killed were Carrier's father, Yves; his wife, Gladys Chamberland; and the couple's 19-year-old son, all members of an aid mission that was sprucing up schools in Burkina Faso, a former French colony
"They did things like fix roofs and repaint blackboards," Camille Carrier, Maude Carrier's mother, told The Globe and Mail, a Toronto newspaper. "Who would want to kill people fixing blackboards?"
Some members of the group, most of them educators, had taken two or more trips to Africa coordinated by two organisations in Quebec.
On Facebook, Maude Carrier revelled in the experience, posting a photograph of herself beaming as she held aloft an infant ("I found my baby," she wrote) and a group shot in front of a blackboard with a message that read, "Education is true freedom!"
Chamberland, her stepmother, sought to play down the threat of terrorism in the region.
"Your chances of dying because of terrorism is 1 in 116 million," she wrote on Facebook, adding a reference to the national lottery in Canada, "You are 10 times more likely to win the 6/49."
Survivors in Ouagadougou said the militants who attacked the cafe and a nearby hotel had chosen their victims indiscriminately, although they reportedly fired off extra rounds into the bodies of Westerners.
Among the dead were Arie Houweling, 67, a Dutch consultant who advised entrepreneurs in Burkina Faso and Niger; and Michael James Riddering, 45, a missionary from Florida who worked at an orphanage outside the capital.
"My best friend, partner in crime and love of my life," Riddering's wife, Amy, wrote on her Facebook page. "The best husband ever. An amazing father to his children and a papa to everyone."
The other victims of the attacks carried passports from France, Libya, Portugal and Switzerland. But many of them, like Victoria Yankovsky, a Ukrainian who ran the Cappuccino Cafe, considered themselves global citizens.
"Their employees adored them and some even followed them to new places, which is quite uncommon in Africa," said Katerina Zolotaryova, a friend of Yankovsky, who died alongside her husband and 9-year-old son. "It is a shock because usually terrorists don't attack such common, average people, who are not connected to politics or anything sensitive."
The dead also included at least seven citizens of Burkina Faso; among them were Simplice Armel Kinan, a firefighter who worked for an air safety organisation, and Ahmed Kr, a local coordinator for a US nonprofit group.
Kinan, according to his sister, was attending a poolside reception at the Splendid Hotel when attackers set off an explosion outside the building and then stormed inside. She said her brother had been shot as he tried to put out the flames that had engulfed a hotel guest.
"He was generous and supportive to the point of giving his life in exchange," the sister, Yolande Kinan, said. "He was our protector, our defender."
Ian Vardy, a Canadian, went on an eight-day trek in August with Kr, who worked for the Sonder Project, a Florida-based anti-poverty group.
"He was like many Burkina Faso people; selfless, kind, eager to convey joy and love," Vardy wrote in an email exchange.
"They believe in the concept that we all need each other, because traditionally for years, they have. These are the richest people, and they have no money."
In Indonesia, the Islamic State militants who set off explosive devices outside a Starbucks in Jakarta on Thursday appeared to be singling out foreigners. Amer-Ouali, 70, a Canadian citizen born in Algeria, split his time between Montreal and Jakarta, and operated hearing-aid clinics in both places. His brother was among the 22 people wounded in the attack.
"He was helping deaf people," Amer-Ouali's son Farid said on Canadian television, describing his father as an avid mountain climber who had fallen in love with Indonesia. "He was looking to reach out to people over there, looking for opportunities to try to give them the care they have here."
In Istanbul, the suicide bomber who waded into the throngs near the Blue Mosque and the Hagia Sophia on Jan 12 appeared to have chosen a group of German tourists who had arrived in Turkey a day earlier. The Turkish authorities say the attacker, a Syrian in his late 20s, was an Islamic State operative.
Most of the 10 people killed in the explosion he set off were middle-class retirees: One had been a butcher, another a teacher, another a construction manager.
The dead included a father and son from Dresden, Gunther Hoppner, 75, a retired waiter, and Steffen Hoppner, 51, who worked at a Volkswagen factory. "All this is so senseless and impossible to comprehend right now," Petra Hoppner, Steffen's wife, said by telephone. "I'm speechless and devastated. My husband took his dad on that trip because my father-in-law was very much interested in historic sites." NEW YORK TIMES