America no longer seen as a dependable ally: Asean survey
SINGAPORE — The United States' global image and credibility has taken a beating since President Donald Trump was inaugurated in January.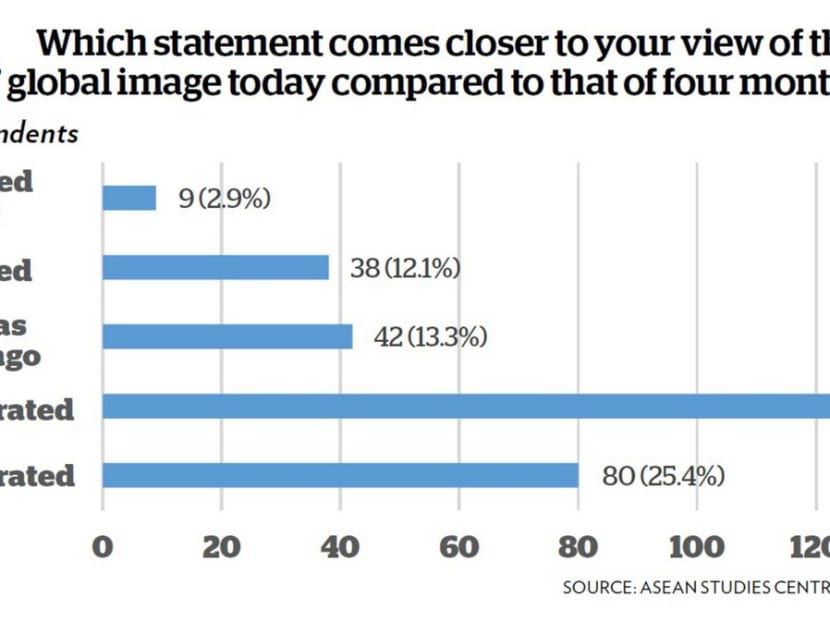 SINGAPORE — The United States' global image and credibility has taken a beating since President Donald Trump was inaugurated in January.
More than 70 per cent of respondents in a survey released by the Iseas-Yusof Ishak Institute survey yesterday said America's image "has deteriorated" or "deteriorated immensely" as compared to four months ago, after Mr Trump took over from former president Barack Obama.
While 69.8 per cent of respondents felt that South-east Asia will be more stable with US engagement, America is no longer seen as such a dependable ally as compared with the days before Mr Trump took office. 54.3 per cent of respondents now consider the US "undependable" or "highly undependable".
In the same vein, 64.3 per cent felt the US cannot be relied on to uphold free trade, human rights and international law in the region. More than half of the respondents also felt that Washington has lost strategic ground to China since Mr Trump took over.
The purpose of the survey — which involved 318 regional affairs experts from the region — was to study how South-east Asia views the Trump administration and American engagement in the region.
The findings may be attributed to America's withdrawal from the landmark Trans-Pacific Partnership (TPP) agreement, and Mr Trump's campaign rhetoric, which hinted that the US would turn its back on much of the rest of the world.
Dr Tang Siew Mun, head of the Asean Studies Centre (ASC) at Iseas-Yusof Ishak Institute, said the US' position as the champion for democracy, free trade and defender of global security has been called into question.
"In all probability, South-east Asia, like the rest of the world, grapples with the question of what the US stands for under the Trump administration, other than affirm 'America First'," he said.
Only 4.3 per cent of the respondents felt that South-east Asia was "most important" to the Trump administration.
Other than a two-day trip to Indonesia last month by Vice-President Mike Pence, there has been no other high-level delegation from Washington to the region. Despite the White House indicating that Mr Trump will visit Asia later this year, there are lingering concerns that he is not entirely focused on the region.
While Mr Trump's participation at the Association of South-east Asian Nations (Asean) Summit is a good start, Dr Tang felt that it would take more than showing up to improve the US's image. He said the long climb back to "favourability" is contingent on Mr Trump's policies and actions.
Despite losing ground in upholding its image as a global power, 67.9 per cent of respondents believed Washington will uphold freedom of navigation in the disputed South China Sea claimed almost entirely by China.
The findings in the survey could be due to Secretary of State Rex Tillerson's strong rhetoric on the issue during his confirmation hearing in January, as well as the deployment of the USS Carl Vinson aircraft carrier to the disputed sea in February.
However, Washington's policy on the South China Sea has not been entirely consistent.
Six weeks ago, the American military reportedly requested to sail within 12 nautical miles of Scarborough Shoal — disputed territory between Manila and Beijing — to uphold freedom of navigation, but it was turned down by the Pentagon. The move not to challenge China's territorial claims indicates the Trump administration has adopted a more conciliatory tone with Beijing as the President seeks support to rein in Pyongyang.
Dr Tang said that while Mr Trump appears inclined to appease China to win its support to rein in North Korea, the US President has kept the freedom of navigation operations (Fonops) card in his pocket to be used at an appropriate time. He said Fonops are "highly visible demonstrations of US commitment to the region as well as being cost-effective".
"Without a doubt, South-east Asia's image of the US has declined but the region continues to harbour hopes that Washington will continue to provide regional security," he said.