Nervous days for Asia-U.S. relations as Trump takes office
Mr Donald Trump's unexpected victory in the 2016 American presidential election has confounded many observers, including in Asia.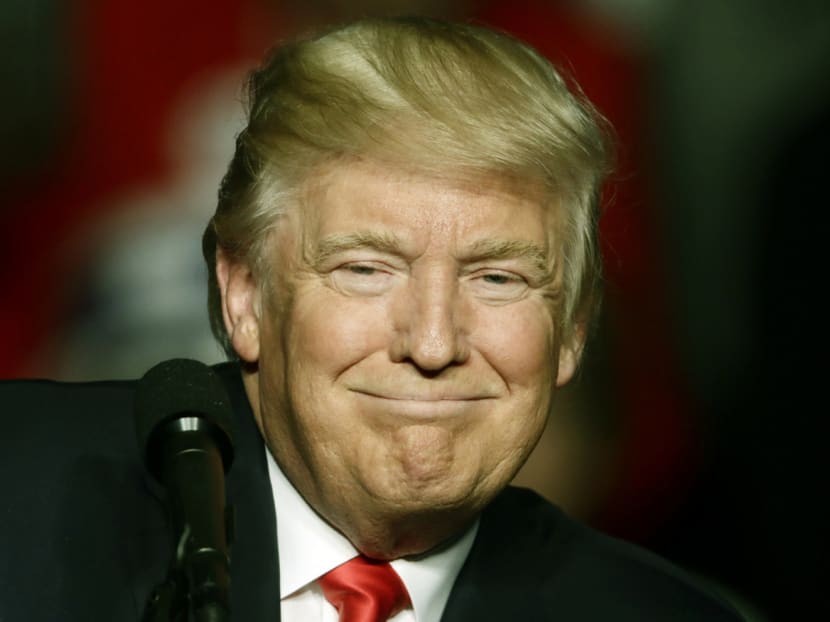 Mr Donald Trump's unexpected victory in the 2016 American presidential election has confounded many observers, including in Asia.
His unpredictable actions — from the provocative and protocol-bending phone conversation with the Taiwanese president to his questioning of the decades-old One China policy — signal that more surprises could be in store following his inauguration as the new United States President in two weeks.
While Mr Trump has spoken much about an "America First" policy, the uncertainty over the extent to which he would implement it has raised questions on what it would mean for the US' security commitments, political engagement and economic ties with the Asia-Pacific region.
SECURITY COMMITMENTS
The presence of US military forces in Asia has underpinned peace and prosperity in Asia for decades.
But Mr Trump's campaign rhetoric on whether current-day alliances are worth their price has led to many nations in the region nervously looking over their shoulders.
Mr Trump has said that America has not benefited from having overseas bases, adding that he was willing to drop Japan and other East Asian allies unless they contribute more, financially, to the relationship.
His casual suggestion that Tokyo and Seoul acquire their own nuclear weapons has also raised eyebrows in the region.
"We're totally predictable, and predictable is bad," Mr Trump told The Washington Post.
Should Mr Trump dial back America's treaty commitments to the region — for instance by removing the US nuclear umbrella over north-east Asia —Japan and South Korea could acquire their own atomic weapons to counter an unpredictable Pyongyang.
Geopolitical tensions in north-east Asia could then worsen significantly, experts say.
"Chinese overreaction would be the largest risk facing Japan in this scenario. North Korea's reaction would also be unpredictable and it would likely lash out in some way," noted Mr Ian Easton, a research fellow with Project 2049 Institute, in a paper published by the US-based Nonproliferation Policy Education Centre.
To be sure, it remains unclear how much of Mr Trump's campaign rhetoric will be translated into action. Most experts say that it is highly unlikely that the new administration in Washington will significantly alter ties with key Asian allies.
Security expert Andrew Shearer said he is "cautiously optimistic" the US will remain engaged in the region because of the threat posed by China and North Korea to the US".
"Trump has signalled that he intends to take a tougher stance towards China and also that he is aware of the increasing threat posed by North Korea's nuclear weapons and missile programmes," the senior adviser on Asia-Pacific security with the US-based Centre for Strategic and International Studies (CSIS) told TODAY in an e-mail interview.
"Once his senior foreign policy team is in place, I have no doubt they will tell him that strong alliances with Japan and South Korea will be essential to dealing with both these major challenges."
But Mr Trump is likely to ask for more burden-sharing on the part of the US' allies and partners in Asia.
This is because of the incoming President's background as a calculating businessman, analysts say.
Japan contributes about 75 per cent of the bill needed to support the approximately 54,000-strong US military presence on its soil.
South Korea hosts some 28,500 American servicemen and foots 40 per cent of the amount of money needed to sustain them.
Security analyst Soul Park of the National University of Singapore noted that US military engagements with Asian countries "would be toned down, but (still) not completely dialled back" if Mr Trump were to stress the transactional nature of America's relations with its allies.
There are also experts who believe that Mr Trump's rallying call to "make America great again" could result in an even stronger US military presence in Asia.
Mr Trump has pledged to strengthen the American armed forces, and this includes building up the US Navy to a 350-strong fleet, from the current 273. This stronger military could then be channelled to Asia, Mr Carl Baker, a retired US Air Force officer who is now a programme director with CSIS, told TODAY.
"Asia will be a focal point for an expanded US presence since it is generally recognised that the US military sees Asia as a key area for sustaining US influence," the security expert said.
"What is likely is that the Trump administration will call for an increased US military presence in Asia with the financial support of its Asian alliance and security partners."
POLITICAL ENGAGEMENTS
Mr Trump has also expressed his disdain for multilateral engagements and his preference for bilateral ones.
"Trump believes that America gets a raw deal from the liberal international order" that is underpinned by various multilateral institutions, Dr Thomas Wright of the American-based think-tank Brookings Institution wrote in Politico magazine last year.
During his electoral campaign, Mr Trump decried multilateral engagements such as the North Atlantic Treaty Organization and the Paris climate change agreement.
While Mr Trump is likely to lean towards bilateralism, experts believe he might adhere to multilateralism in circumstances where American interests are served.
Mr Shearer explained: "Trump is unlikely to value multilateralism as an end in itself ... (but) he is likely to be pragmatic when it comes to multilateral institutions which are in the United States' national interest."
Unlike Mr Obama, Mr Trump is unlikely to attend multilateral engagements such as the East Asia Summit or summits of the Association of South -east Asian Nations (Asean), as these are engagements that do not serve US interests per se, said Mr Harry Sa, a research analyst with the S Rajaratnam School of International Studies (RSIS).
"President Barack Obama's participation in Asean-led summits was primarily to develop closer ties with Asean and strengthen Asean centrality. It was a deliberate part of his rebalance to Asia policy," Mr Sa noted.
"Trump has no such designs, so I don't expect him to be too eager to participate. He will likely participate in forums only if it specifically concerns the US."
ECONOMIC DEALS
One of Mr Trump's main proclamations is that he would withdraw America from the Trans-Pacific Partnership (TPP) — a trade agreement among 12 Pacific Rim countries — when he becomes president.
In its place, the Trump administration would favour "fair trade" — code for better terms for the US — and bilateral agreements in accordance with Mr Trump's aversion to multilateralism, said RSIS political economy expert, Associate Professor Pradumna Bickram Rana.
On the other hand, the incoming US president's approach towards economic dealings with Asia might be more nuanced in reality.
"Mr Trump's opposition to free trade appears to be more of an opportunistic position than an ideological one," said international economics expert Thomas Zylkin, a post-doctoral fellow at the National University of Singapore.
"Throughout his campaign, he has said that the real failure of these agreements is that the US should have received better terms, if only better negotiators (such as himself) had been in place in place to look out for American interests."
Mr Trump may therefore not be the ideologue his words make him out to be. After all, there has been talk of America joining the China-led Asian Infrastructure Investment Bank (AIIB), a 57-member entity that seeks to support the building of infrastructure in the Asia-Pacific region.
Mr Trump's senior adviser on national security, defence and intelligence, Mr James Woolsey, wrote in the South China Morning Post in November that US opposition to the AIIB is a "strategic mistake", adding that he expects a "much warmer" response from Mr Trump to China's One Belt, One Road scheme.
Ultimately, whether America becomes an AIIB member in the future boils down to how the Trump administration perceives the benefits of membership.
"We have to keep in mind that Trump is a dealmaker," Assistant Professor Kaewkamol Pitakdumrongkit of RSIS told TODAY.
"If the analysis suggests that joining the AIIB would bring more gains to, for example, the US companies in the construction sector and American workers, the Trump administration may be interested in joining the AIIB."
With such an unpredictable incoming President, analysts say even the TPP cannot be written off yet.
"A revival of the TPP (or something similar) seems unlikely, but I would not rule it out completely," said Dr Zylkin.
"Mr Trump does, after all, style himself as a deal-maker. It is also notable that many of his top Cabinet picks are themselves on record as supporting the TPP."
Mr Trump's pick as the country's top diplomat, Mr Rex Tillerson, is a staunch believer in the importance of expanded trade as well as a supporter of the TPP. Mr Tillerson also believes in the Paris climate agreement — another area where he diverges significantly from Mr Trump.
The President-elect has also shown aspects of his more pragmatic side with his other nominations.
For instance, although Mr Trump has ruffled feathers in Beijing with his phone conversation with Ms Tsai Ing-Wen, his nomination for the next US ambassador — Mr Terry Branstad — suggests that the President-elect is aware of the significance of US-China ties.
Mr Branstad has known Chinese President Xi Jinping personally for more than 30 years.
However, any future good work by Mr Branstad to improve Sino-American ties could be undone by another of Mr Trump's appointments.
Dr Peter Navarro, a University of California-Irvine economics professor, will head the newly-set-up National Trade Council, which seeks to stem the exodus of jobs to countries like China and Mexico.
The author of the book titled Death by China and Crouching Tiger: What China's Militarism Means for the World", Dr Navarro is decidedly an anti-China hawk.
He was also Mr Trump's key economic adviser during the electoral campaign, and only time will tell if Dr Navarro will go hard on China, in line with his past statements.
All things considered, it may take months before a clearer picture of Mr Trump's Asia policy emerges.
Given that the billionaire is a virtual neophyte in politics, it remains to be seen to if he will follow the advice of his policy advisers or whether he will ride roughshod over them in his firebrand style.
Should the latter comes to pass and Mr Trump follows through on his word to disengage America from Asia, Washington will invariably cede ground to Beijing, experts said.
Mr Shearer noted that this would especially be the case in the economic sphere: "In the absence of US leadership on trade, regional countries will feel they have no alternative but to accept a less open and less liberal economic order organised and dominated by China."
In the political sphere, American disengagement could see the region being driven by cold, hard realpolitik, and globalisation would concomitantly slow down, Mr Sa said. That process, though, could take some time.
Mr Sa explained: "The unravelling of the America-led liberal order will be a long, gradual process and not a sudden collapse. It was established and cemented over the past several decades, and won't be dismantled so easily."