Tempest Trump: China and US urged to make plans for 'major storm' in bilateral relationship
HONG KONG — Mr Donald Trump's inauguration as US president has injected unprecedented uncertainty into China-US relations, with diplomatic pundits warning that leaders in Beijing and Washington need to have contingency plans in place to deal with soaring risks and unforeseeable events that could throw bilateral ties into crisis and inflict collateral damage on other parts of the world.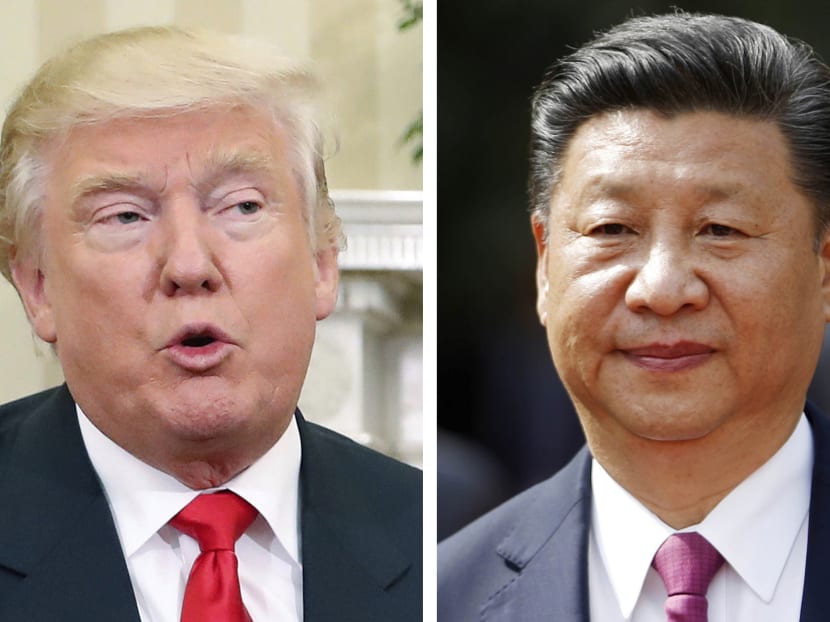 HONG KONG — Mr Donald Trump's inauguration as US president has injected unprecedented uncertainty into China-US relations, with diplomatic pundits warning that leaders in Beijing and Washington need to have contingency plans in place to deal with soaring risks and unforeseeable events that could throw bilateral ties into crisis and inflict collateral damage on other parts of the world.
"There is little doubt that a major storm is gathering," said Dr Pang Zhongying, a professor of international affairs at Beijing's Renmin University. "Both sides appear to have made few discernible efforts to hide the fact that they expect a rough ride ahead for bilateral ties."
Throughout his election campaign, Trump accused China of unfair trade practices and vowed to levy a flat 45 per cent tariff on all Chinese imports to the US. Since his surprise election victory, he has sparred with China on a range of security and economic issues, from currency manipulation to Taiwan, the South China Sea and North Korea.
Mr Robert Daly, director of the Washington-based Kissinger Institute on China and the United States, said the potential for wild-card events to shape US-China relations had grown.
While most people in both countries had viewed the other country negatively since 2014, top US and Chinese leaders had seen each other primarily through an adversarial lens, he said, for different reasons and with different styles.
"So this is a new situation when the public has a negative view and leaders have a negative view," Mr Daly said. "The global situation is more uncertain than it's been and there's a competition for leadership (between the two countries)."
Any unforeseen event — a wild card — thrown on the table now would come at a time when the two countries were "more deeply suspicious of each other than ever before", he said.
Mr Daly said the three most high-profile wild-card events in the US-China relationship over the past three decades had been the bloody crackdown on the Tiananmen pro-democracy movement in 1989, the US bombing of the Chinese embassy in Belgrade in 1999 and the collision between a US spy plane and a Chinese fighter near Hainan in 2001.
"Wild cards — things that happened very suddenly — tested our ability to work together and communicate between the United States and China and in all those cases we didn't handle it very well," he said.
Mr Robert Sutter, a China expert at George Washington University, said both Beijing and Washington had been unable to manage their differences constructively.
"The common interests are fraying and business lobbies for China have diminished a lot," he said. "The sense of unfairness (in Washington) is strong.
"US-China relations will probably be more tense in the next three months because Trump will be taking actions on trade and building up defence. The one-China issue can hardly be resolved any time soon. Both sides are seeing the other up the ante if necessary and preparing for contingencies."
Dr Pang said although Trump had yet to unveil his China policy, there had been growing signs he had every intention to look for leverage over China, which would likely lead to confrontation with Beijing.
"We are seeing less uncertainty and more clarity in Trump's approach to bilateral ties and we simply have no reason to feel optimistic that China and the US will be able to work together to smooth over tensions and effectively prevent the looming confrontation mode," he said.
Mr Sutter said the style of the Trump administration was very different from that of his predecessor, Barack Obama, which was widely criticised in Washington for being "very easy for China" on issues ranging from the South China Sea disputes to trade imbalances and US companies' limited access to Chinese market.
"Critics said Obama's approach, which was committed to an overall good relationship with China, did not work very well for the US because (President) Xi Jinping was able to take advantage of this (perceived weakness) in his pursuit of the new type of great power relationship," he said.
American experts said that even though Xi talked about "win-win', he clearly took a fundamentally adversarial view of the US, evidenced by his listing of universal values and Western culture as existential threats on a par with separatism and terrorism.
Mr Xi's recent trip to the World Economic Forum in Davos, Switzerland, laid bare the Chinese leader's ambition to compete with the US globally — not only economically but also strategically and ideologically.
"We have now an understanding, certainly in China and among many in the US, that the US and China are competitors," Mr Daly said. "And the measure of success is increasingly seen as the ability to shape global norms, orders and practices."
Top China experts in the US have expressed concerns about the direction of China's development under Mr Xi, which has seen Beijing become more repressive domestically and more assertive internationally.
Mr Daly said Mr Xi had lost the support of intellectuals in China because of his ruthless crackdowns on the media, universities, think tanks, NGOs, lawyers and activists.
"He has paid the cost for this within China," Mr Daly said. "He's paid an international reputational cost for this, he's paid an enormous cost for it on the periphery of China, including Hong Kong and Taiwan, Xinjiang and Tibet, as almost all China's neighbours are deeply distrustful of China as a shaper of norms or as a projector of non-economic power."
Mr Zhang Tuosheng, director of the Centre for Foreign Policy Studies at the China Foundation for International and Strategic Studies, a task force consisting of nearly two dozen top China academics and former officials, said it had concluded in a policy report to be submitted to Mr Trump that the US-China relationship had arrived at a critical juncture.
"They have raised concerns that America's China policy since Richard Nixon may no longer reflect the reality that China's rise has posed grave challenges to the US," he said. "We have yet to see the full report but we understand they have suggested a much tougher China policy encompassing a broad political, economic, military and diplomatic agenda."
Mr Daly said that unlike all previous presidents since 1979, who viewed bilateral ties as both competitive and cooperative, Mr Trump, a cold-eyed realist, saw China fundamentally as a competitor that had been enabled by US growing engagement, or even an adversary that America had raised up.
Mr Trump and many of his administration's top officials, who are billed as hawks on China, tend to see China as a very dishonest player which steals American intellectual property and games the international trading system. They advocate a hardline policy to right wrongs of the past and compete with China unapologetically.
Experts agreed that even though he had just been sworn into office, Mr Trump was already a big headache for China.
"I can think of 20 areas in which they have to be prepared in order to deal with contingencies this new US president might raise and he can do it just by a few gestures," Mr Sutter said. "He does not have to send an aircraft carrier. All he has to do is a tweet.
"I don't think China is prepared for confrontation or that they have a good way to deal with this yet."
Most US and Chinese observers agree that Trump is poised to escalate the trade war with China and roll out tougher security and diplomatic policies on China.
"The trade war looks increasingly inevitable and we might begin to see it as soon as sometime around the Chinese New Year," Dr Pang said.
Mr Sutter said Mr Trump would also soon take strong action against Chinese state-owned enterprises accused of undermining US companies' global leadership in technological innovation.
"They have accumulated and got access to so much resources that they basically are buying up hi-tech US companies and producing national champions," he said. "It's totally unfair, asymmetrical and dangerous for US interests. That has to stop and we are going to see that soon."
Mr Zhang said while China and the US might find some common interest on North Korea, Trump's comments on the sensitive one-China policy had already tested Beijing's ultimate red line over Taiwan.
"We have to bear in mind that Republican administrations are traditionally more friendly towards Taiwan and we'll have to see if Trump will ditch the US diplomatic practice of maintaining the strategic ambiguity over its defence commitment on Taiwan," he said, going on to describe Trump as unpredictable, impulsive and lacking in political experience.
Experts said the growing rifts and possible conflicts between China and the US would threaten to destabilise the security landscape in the Asia-Pacific region and no country would be able escape unscathed because they would have a hard time dealing with both powers.
"The way Trump engages in these linkages can exacerbate differences that the US has with these Asian nations," Mr Sutter said. "On the other hand, countries that are looking for the US to be firm, resolved and look credible in sustaining the existing order, if that's done with strength rather than with complication then that's good."
Mr Sutter said Mr Xi would see Mr Trump as a personal challenge because the Communist Party chief had so many cards in play domestically amid intense preparations for this autumn's five-yearly national party congress.
"Unlike Obama, Xi seemed to like tension in US-China relations and he seemed to thrive on it to some degree," he said. "Now we've got a guy in the US who likes tension a lot more than Xi. He is president partly because he created tension."
Mr Sutter said Mr Trump, a wild card himself with the ability to create big complications for China on a whole range of issues, had Mr Xi in a disadvantageous position from a tactical point of view.
"So the Chinese cannot up the ante and raise the tension because Trump will raise even more tension somewhere else," he said. "The Chinese has a headache because Xi wants to show a very good relationship with the US as he moves into the party congress. And he does not have it."
Mr Daly said that if not managed well, China and the US could find themselves locked in full-fledged confrontation, which could lead to a new cold war between the world's top two economic powers.
"The relationship would become so heavily adversarial strategically, economically and ideologically that it would limit our ability to cooperate even where our corporation is in our own self-interest as well as in the global interest," he said. "That's what I mean by a new cold war, in which other nations would find it very hard to balance their interests vis-à-vis the US and vis-à-vis China and that would be extremely destructive for China, the US and the entire world.
"I would not say it's likely but it's far more possible now than it was several years ago."
Mr Daly said that from a long-term, historical point of view, the US-China relationship had always seemed destined for greater conflict, which was something neither Xi nor Trump could manage or control.
"These are civilisational, cultural, historical, demographic, economic phenomena that play out over the very long term and the best leaders can do is try, through wise policy, to manage them as constructively as they can," he said.
"So the real issue is the Chinese Communist Party's desire to promote illiberal global norms. The real question for Americans in my view is not the South China Sea. The question is do we want to live in a world that is increasingly friendly to an increasingly repressive and aggressive Chinese Communist Party? To what degree should the United States and other nations be willing to compromise on global liberal principles for the sake of peace, money and technology? That's the real long-term question." SOUTH CHINA MORNING POST