In Trump's America, Singaporean professionals grapple with uncertainty about future
WASHINGTON ­— Since taking office in January, President Donald Trump has made immigration reform a priority, claiming he will "put hardworking citizens of our country first".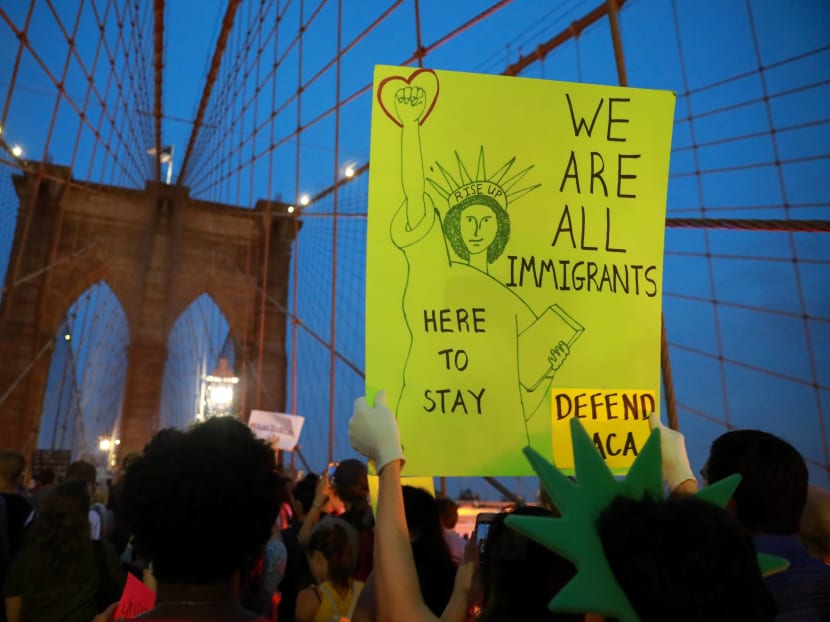 WASHINGTON ­— Since taking office in January, President Donald Trump has made immigration reform a priority, claiming he will "put hardworking citizens of our country first".
While some Singaporean professionals working in the United States told TODAY they were concerned by the uncertainty caused by Mr Trump's America First approach, others were more sanguine that the White House would not target Singaporeans.
In addition to beefing up "extreme vetting" procedures for people seeking visas to enter the US and imposing a travel ban on a handful of Muslim countries, Mr Trump announced in September that he will terminate a programme that has protected more than 800,000 unauthorised immigrants brought to the country before adulthood from deportation.
Lawmakers are struggling to move forward on the issue, wrangling over a bill to protect those covered under the programme, known as the Deferred Action for Childhood Arrivals (DACA).
In the wake of the Lower Manhattan terror attack on Oct 31, the President has also called for the ending of the green card immigration lottery programme.
Fear has spiked in American society that such policies might accentuate racial politics and marginalise the minorities.
Mr Simon Fong, a Singaporean art director based in Maryland, said: "I think the Trump election has given opportunity for the worst form of racism emerge from the fringes."
"As a minority, both Asian, gay and a foreigner, it is very frustrating, scary and infuriating that the Trump administration is so blatant with its racist policies since the beginning," said Mr Fong, who has been in the US for more than 10 years.
Ms Jessie Lee, 36, said that the sense of social exclusion may be felt more acutely by the black community rather than by the Asians.
"Actually, it has always been like this but Trump just made it more socially acceptable," she observed.
Another consequence of Mr Trump's rhetoric is a fear of deportation, even for those who are in the country legally. This might affect the pipeline of international talent to the world's largest economy.
While Mr Kelvin Ng, 32, said that he has not been personally affected by the new administration's policies, the uncertainty surrounding immigration policy has added a layer of complexity to his career decisions.
"Now I have to consider my foreigner status in addition to my credentials when given career opportunities in the US," said the scientist who lives in Maryland and has been in America for over than 10 years.
"My potential employers have to consider that as well… this consideration is more difficult than before because we do not know when and how policies will change, and whether issued visas will be affected," he said, adding that since Mr Trump took office, there had been cases of the authorities rejecting incoming travellers despite them holding approved and issued visas.
Ms Lee, who holds a green card and works in a startup in New York, said that for Singaporeans who need to apply for a work visa, there was bound to be uncertainty about their career progression and whether they can stay on in the US.
"It makes us (Singaporeans) a little bit more unmarketable (to employers)."
Despite the uncertainty, others are sanguine about their prospects.
Some said the Trump administration was unlikely to single out Singaporeans.
Mr Fong, the art director, added that he felt "lucky" being a Chinese Singaporean because it meant he was less likely to be a primary target. "The administration seems to be targeting Muslims and Central and South Americans for now," he said.
Mr Wesley Chan, 26, said that he was confident that the Singapore government would help ensure that Singaporeans' interests in the US will be protected. He also noted that Washington saw Singapore in good light.
"We have navigated our foreign relations with other countries relatively well, especially with the US. This stems from Mr Lee Kuan Yew's time," said Mr Chan, who works in an investment firm in Washington, DC.
"It helps that we have a H1B1 visa," he added, referring to a non-immigrant visa issued by the US government for Singaporeans and Chileans in specialised occupations, such as architecture, medicine and law.
Another reason for the optimism is the belief that America's multicultural mentality will endure, regardless of who is in the White House.
Mr Kelvin Chan, 31, said: "Nothing really changed for me overnight with the Trump administration coming into power."
"Washington DC, where I live in, is a very diverse and international city with people of all nationalities, and that fact will not change as long as it is the nation's capital," said the mergers and acquisition analyst who has worked in America for the past 11 years.
"Many things have been said but nothing has actually been done with regards to immigration besides DACA."
Charles Phua Chao Rong, a recent Fulbright fellow at Brookings Institution in Washington, DC added: "The system (in America) is larger than a personality (Mr Trump). There is a limit to how ideologically extreme any president can be with checks and balances (imposed) by Congress… moreover Trump, an astute businessman, has shown ability to be pragmatic when needed."
He said that the notion of a cultural melting pot will always be a mainstay of American society, as people continue to hold on to a "new world mentality" due to the country's immigrant heritage and sense of national pride.
"Talented people don't feel insecure because the US Congress will never allow a bill passed against economic talent," he added.
According to the US Census Bureau, there were more than 30,000 Singaporeans living in the US as of 2014.