Trump's election adds more volatility to US-China ties
SINGAPORE — Mr Donald Trump's vision of a more inward-looking United States is good and bad news for China. While there may be room for Beijing to play a bigger role in global affairs, it also has to engage a somewhat unpredictable White House.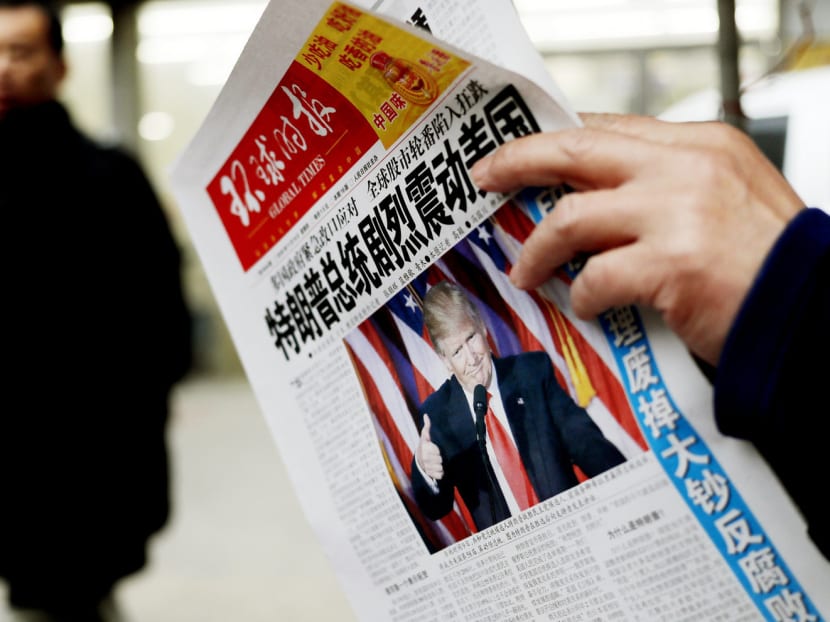 SINGAPORE — Mr Donald Trump's vision of a more inward-looking United States is good and bad news for China. While there may be room for Beijing to play a bigger role in global affairs, it also has to engage a somewhat unpredictable White House.
Analysts noted that the world's most important bilateral relationship is multifaceted and should not be regarded as the zero-sum game that Mr Trump repeatedly portrayed on his controversial campaign trail.
But while both sides are in the process of recalibrating ties, the President-elect's suspect temperament could complicate matters.
Mr Bilahari Kausikan, Singapore's Ambassador-at-Large, believes Mr Trump's victory has "increased the risks for everyone" in the region.
"Like most of East Asia, China values predictability. With the crucial 19th Party Congress only a year away and internal labour and social unrest endemic, this is an especially bad time for surprises," he wrote in a commentary published in the South China Morning Post over the weekend.
He noted that already, President Xi Jinping's anti-corruption campaign has generated a great sense of insecurity among cadres across all sectors of the state. Mr Trump's victory adds another element of unpredictability to the overall environment.
Mr Trump's temperament and knowledge of foreign relations will also be scrutinised closely by analysts.
Assistant Professor Evan Resnick, who coordinates the S Rajaratnam School of International Studies' (RSIS) US Programme told TODAY that "part of the risks (facing both countries) is he's (Mr Trump) so mercurial right now".
"Chinese leaders will now have someone to do business with and he will not interfere too much in the geo-political neighbourhood but, then again, Trump is all over the place (with respect to foreign policy)," he said.
In the immediate future, Beijing will be watching what Mr Trump says and does carefully, in hope of more clarity on his decision-making matrix in its dealings with the White House.
"Beijing must refrain from assertive foreign policies that would corner Trump," said Professor Zhang Baohui of Lingnan University's Department of Political Science.
Prof Zhang said one of the ways in which Beijing can reach out to the President-elect is to offer to help him with his pledge of improving infrastructure in the US. He noted that Mr Trump's guiding principle is for America to regroup and rebuild the country's economy and infrastructure.
During his controversial campaign, Mr Trump criticised the US' allies in the region for not paying their fair share for joint security arrangements, sparking concern that the White House could cut back on its security presence in Asia and cede valuable strategic space to China under his watch.
"China will seize on the strategic vacuum created by US disengagement if Trump does take the US towards an inward turn," said Dr Tang Siew Mun, head of the Asean Studies Centre at the Iseas-Yusof Ishak Institute.
At the same time, Mr Trump had lambasted China, drumming up headlines with his pledges to slap 45 per cent tariffs on imported Chinese goods and to label the country a currency manipulator on his first day in office. He went as far as to call the Asian giant America's "enemy", vowing to stand up to Beijing.
President Barack Obama has urged Mr Trump to adjust his temperament after he takes office on Jan 20.
"There are going to be certain elements of his temperament that will not serve him well, unless he recognises them and corrects them," said Mr Obama on Monday.
There are signs that Mr Trump may backtrack on some of his campaign promises, especially on the foreign policy front, where he has to come to terms with the delicate nature of diplomacy.
In the first interaction between Mr Trump and Mr Xi on Monday, the Chinese leader reportedly said cooperation was the only choice for the world's two largest economies. Mr Trump also said both leaders had established a "clear sense of mutual respect".
Early yesterday, China's Ambassador to the US Cui Tiankai made the point that both countries must avoid being overly suspicious of each other's strategic intentions.
"There are people here in the United States who believe that everything that China does is aimed at challenging the United States' global dominance, and there are people who believe that everything the US is doing is aimed at containing China. I think both views are wrong," said Mr Cui Tiankai.
Commenting on the interaction between the leaders, Dr Tang of the Iseas-Yusof Ishak Institute said Mr Xi's outreach to his American counterpart is a positive sign.
"Beijing should not take to heart the vitriol Trump dished out on China during the presidential campaign; after all, China has been (a) master at stoking nationalistic fervour internally at the expense of its neighbours," he said.
"Notwithstanding the bruised egos in China and in countries that Trump the candidate has said unflattering words, in reality we all have to deal with Trump the president."
Despite the potential risks, Mr Andrew Delios, a professor in the Department of Strategy and Policy at the National University Singapore's Business School said China need not be overly concerned. "Policy measures (under Mr Trump) are unlikely to be decided during temperamental and unpredictable personality moments," he said. He added that Mr Trump's suspect temperament actually poses more risk to Washington than to Beijing.
"Just as China's politicians and foreign service were embarrassed when they spoke out aggressively about the superiority of China and the need for the world to trade with China in heated conversations with Canadian reporters, the same embarrassment could strike the Trump presidency were he to release a torrent of invective to some slight or perceived slight from Chinese officials or politicians," he said, referring to how Chinese Foreign Minister Wang Yi had a angry exchange with the Canadian press when asked about Beijing's human rights record.
The incident, which occurred in June this year, saw the visibly upset minister berating a journalist for asking an "irresponsible" question and asking if she had ever been to China.
This prompted much criticism online and a rebuke from the Canadian Prime Minister. China is seeking a free trade deal with Canada but many Canadians are divided about it over concerns about human rights and Chinese influence over Canada. WITH AGENCIES