Asean agrees on plan for a haze-free region by 2020
KUALA LUMPUR — South-east Asian leaders on Thursday (Aug 11) agreed on a roadmap to ensure the region is free from transboundary haze by 2020, as part of a series of joint actions to combat the annual problem.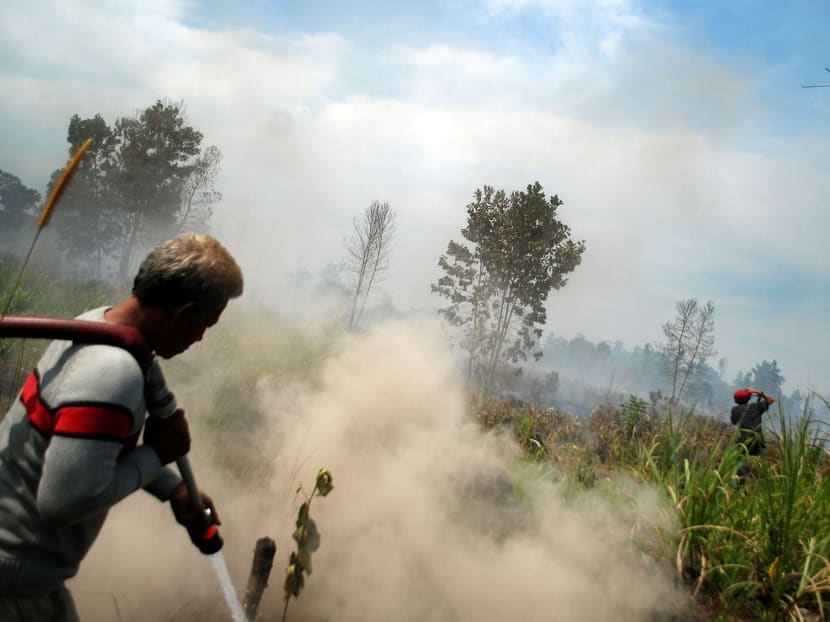 KUALA LUMPUR — South-east Asian leaders on Thursday (Aug 11) agreed on a roadmap to ensure the region is free from transboundary haze by 2020, as part of a series of joint actions to combat the annual problem.
Malaysia's Natural Resources and Environment Minister Wan Junaidi Tuanku Jaafar said at the conclusion of the 12th meeting on the Conference of the Parties to the Asean Agreement on Transboundary Haze Pollution (AATHP) on Thursday that he was glad Asean had agreed to implement the roadmap.
"We adopted the roadmap to overcome haze by 2020. That is one concession that I appreciated. All ministers and Asean representatives have agreed with the adoption and have accepted this roadmap," Mr Wan Junaidi told reporters.
"The Asean member states pledged to remain vigilant and continuously monitor and step up their haze preventive efforts... the Ministers underlined the need for members to place priority and commitment to resolve the haze problem within the expected targets and timelines."
The AATHP was established in 2002 as one of the key steps towards eradicating the transboundary haze problem by 2020. The agreement was ratified by all member states in January 2015.
A press statement issued at the end of the meeting noted the progress in the implementation of activities and programmes in the AATHP which included the setting up of the Asean Coordinating Centre for Transboundary Haze Pollution Control.
"The roadmap will serve as a strategic framework for the implementation of the collaborative actions to control transboundary haze pollution in the Asean region to achieve a vision of Transboundary Haze-free Asean by 2020," it added without elaborating.
Environment and Water Resources Minister Masagos Zulkifli, who was also at Thursday's meeting said with the adoption of the roadmap, Asean now have a "time-bound, action-oriented framework" to complement efforts to tackle transboundary haze.
"As transboundary haze pollution is a shared challenge, Singapore is committed to work with our Asean neighbours to explore how we can better coordinate and prepare for the dry season, including offering timely assistance under the AATHP," he wrote on his Facebook account.
"With greater national and regional commitment, we can resolve this decades-long problem by successfully implementing the AATHP. I am hopeful that closer collaboration among Asean (member) states will bring us towards the goal of a transboundary haze-free Asean."
He also highlighted the Asean Haze Monitoring System (AHMS) as an important initiative to tackle the haze problem. Developed by Singapore, the AHMS is a computerised system to enhance hotspot monitoring by combining hot spot data, high resolution satellite pictures and concession maps. It was adopted by Asean leaders in 2013 but has yet to be operational.
"Our Asean Leaders have acknowledged the AHMS as a useful tool to assist in monitoring and internal enforcement actions against irresponsible parties contributing to fires. I hope we can operationalise the Asean Haze Monitoring System soon," he added.
Mr Wan Junaidi also said on Thursday that both Singapore and Malaysia are ready to share skills and resources to help countries like Indonesia tackle forest fires, but they need to be asked.
"Don't assume that just because we have something here, we can just bulldoze (through) anything, that when we know there is a fire somewhere, we can just go in on a boat or ship or truck or car, and cross over to the border and start doing it, we can't do it like that," he said.
"That's still a foreign country and we have to deal with them and we must respect our neighbour's sovereignty. We cannot assume that because the agreement already exists and we want to set up certain things, that we (can) do it whatever way we want to. We can't."
Absent from Thursday's meeting was Indonesia's Environment and Forestry Minister Dr Siti Nurbaya Bakar. She was said to be busy at a Conservation Day event in Bali.
When asked about Indonesia's commitment to the commitment of ensuring a haze free region, Mr Arief Yuwono, senior adviser on energy to the Minister of Environment and Forestry in Indonesia said Indonesia have also "suffered from forest fires, which is why we have many initiatives, not just on the police level, but by the local government as well".
He also said penalties for errant companies who are suspected of causing forest fires that contributed to the haze were "more stringent than before" but did not elaborate further.
Transboundary haze caused by widespread fires in Indonesia blanketed the region from September to November last year and affected tens of millions of people.
Last year, Singapore's National Environment Agency sent notices to six companies directing them to put out fires allegedly contributing to the haze.
Earlier on Thursday, Malaysia's deputy prime minister Ahmad Zahid Hamidi urged Asean members to revive "high priority" cooperation to tackle the transboundary haze problem, noting that some activities have been dormant for "some time" due to lack of resources. AGENCIES