ASEAN has role to play in global nuclear security environment
The fourth and final Nuclear Security Summit (NSS) concluded in Washington, DC earlier this month. The summit series was the brainchild of United States President Barack Obama, who first mooted the idea in 2009.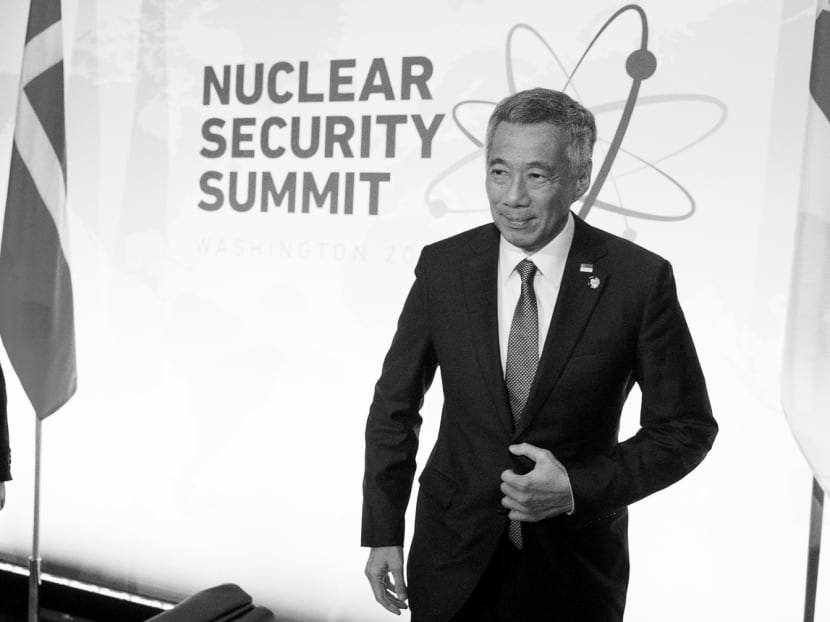 The fourth and final Nuclear Security Summit (NSS) concluded in Washington, DC earlier this month. The summit series was the brainchild of United States President Barack Obama, who first mooted the idea in 2009.
Results have been mixed and it is unclear if the nuclear security discussion will continue without Mr Obama at the helm. Whether it does will have particular implications for ASEAN.
The summit series has made only limited progress towards reducing existing nuclear arsenals. This is unsurprising in the current climate of poor US-Russia relations, especially given Russia's recent moves, from Ukraine to Syria.
On the issue of halting proliferation of nuclear weapons to additional states, the US and its allies have managed to broker a deal with Iran. But North Korea remains intransigent, with the rogue nation persisting with regular missile tests and threats to employ its nuclear capabilities in an offensive manner.
Yet there is one important area of success so far — keeping dangerous nuclear material out of the hands of terrorists. As the summit has evolved, this has become the main focus, and it was certainly front-and-centre this year.
Countries have reduced their highly-enriched uranium stockpiles, converting research reactors and isotope production facilities to low-enriched uranium use.
Security has also been tightened at nuclear material storage sites around the world. These measures are important given the current global security environment.
Many global leaders, including Singapore Prime Minister Lee Hsien Loong, have highlighted the nature of a nuclear terror threat. Speaking at this year's NSS, Mr Lee said that though the threat is not the most imminent, it remains a "very plausible and believable" one.
He noted that the Islamic State militant group has already demonstrated an intent to engage in nuclear terrorism. He cited an issue of the group's propaganda magazine from last year that outlined a possible nuclear terrorism scenario in which IS launches an attack with a nuclear device purchased from the black market.
There is no evidence that terrorist groups already have the capability to use nuclear material in attacks. But the recent attacks in Paris, Brussels and Jakarta demonstrate that no country can be immune to terrorism and terrorists who aim to cause mass deaths and panic would not hesitate to employ whatever means they can.
Perhaps ominously, the Brussels bombers who attacked the airport and metro in March are known to have been spying on a Belgian nuclear official.
The threat of nuclear terrorism represents an area that countries can agree on, despite inter-state politics. It is also an issue particularly relevant to Singapore and other ASEAN member nations.
WHAT CAN ASEAN DO?
Prior to the 2011 Fukushima nuclear plant disaster in Japan, four ASEAN countries — Malaysia, Thailand, Indonesia and Vietnam — were keen on building nuclear power plants.
The Fukushima tragedy, and other domestic political and economic issues in Malaysia, Thailand and Indonesia may have indefinitely postponed the nuclear energy plans of these countries. But Vietnam remains committed to the idea of having nuclear power. According to Vietnam's plan, its first nuclear power station will begin operations by 2028.
At the NSS, Prime Minister Lee noted that Singapore needs to do its part to minimise the threat of terrorist nuclear attacks, including implementing stringent border checks. This sentiment was echoed by other ASEAN leaders at the summit, including Malaysian Deputy Prime Minister Ahmad Zahid Hamidi and Indonesian Vice-President Jusuf Kalla.
The question now, with Mr Obama approaching the end of his term in office, is what will happen to international cooperation on nuclear security. The summit series was driven by the US and it remains to be seen if the future US President will make this an ongoing priority.
If this does not happen, can ASEAN keep the nuclear security discussion going for South-east Asia and the wider Asian region?
At the conclusion of the final NSS, global leaders did agree in principle to continue work on this issue at the international level, via their membership in existing agreements or organisations like the International Atomic Energy Agency. But of the more than 50 delegations which attended the NSS this year, only 19 pledged to participate in some form of successor nuclear security conference in 2018.
Given the global nature of the threat, and the move by some South-east Asian nations towards nuclear power facilities in the future, it is crucial for ASEAN to continue a multilateral discussion about nuclear security even without the leadership of the US.
This could be incorporated as part of the ASEAN Defence Ministers Meeting, ASEAN Regional Forum or even the East Asia Summit.
After all, this is an example of a pressing political-security issue where ASEAN needs to take responsibility and a pro-active leadership role — both now and in the future.
ABOUT THE AUTHORS:
Nicholas Fang and Aaron Choo are respectively Executive Director and Assistant Director at the Singapore Institute of International Affairs.