Asia places bets on the Arctic's future
SINGAPORE — The Arctic is heating up — not just literally in terms of global warming. Various countries from beyond the region are competing for a greater role in economic development, scientific research, and shaping regional rules and norms.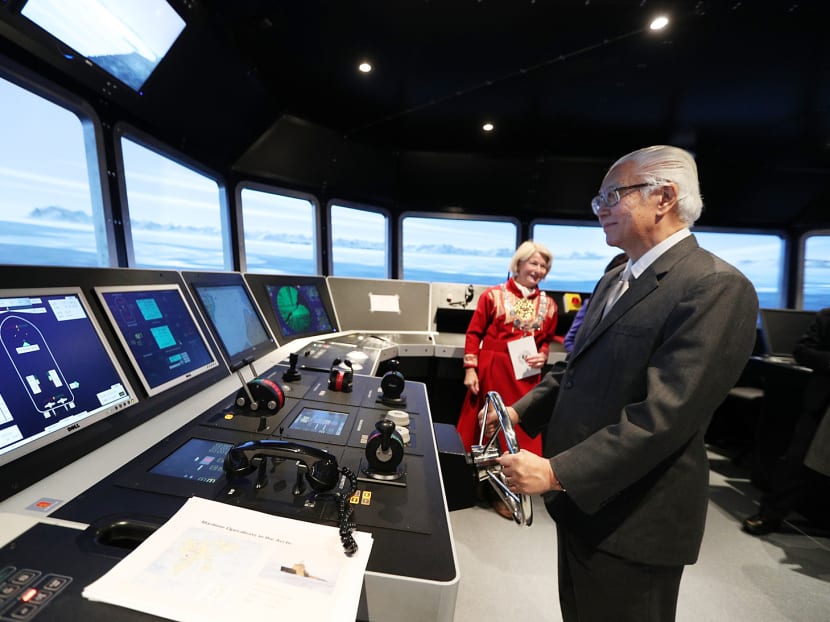 SINGAPORE — The Arctic is heating up — not just literally in terms of global warming. Various countries from beyond the region are competing for a greater role in economic development, scientific research, and shaping regional rules and norms.
The Arctic Council, formed 20 years ago to look into circumpolar cooperation, has seen its membership expand from eight core countries — the United States, Russia, Canada, Iceland, Denmark, Finland, Norway and Sweden — to also include 12 observer nations from Europe and Asia.
According to some scientific estimates, the melting of ice sheets in the now inhospitable region could result in a major ice-free shipping lane above Russia that can be traversed by ordinary merchant vessels by around 2050.
This would open up a shortcut between China and Europe, shaving close to two weeks in the journey as compared to now when the ships have to navigate through the Suez Canal and Straits of Malacca.
This will dramatically alter the picture of global shipping, making maritime hubs in the southern hemisphere less relevant.
The Arctic region is estimated to currently produce about one-tenth of the world's oil and a quarter of its natural gas. Mineral deposits including nickel, copper, coal, gold, uranium, tungsten, and diamonds are also believed to be abundant.
Arctic states are keen to involve non-Arctic actors in their region so that they can contribute to science and invest in resource development, said Mr Adam Stepien, a researcher at the Arctic Centre of the University of Lapland in Finland. But only on their own terms.
"They (Arctic states) acknowledge that many international rules — for example, shipping, climate change mitigation and certain environmental questions — need to be shaped by the global international community as a whole," he noted.
"However, the Arctic states want to retain full ownership over Arctic cooperation forums, they want to be the ones that decide on the terms of participation of others in Arctic developments and they certainly are unhappy — sometimes even hostile —when others enter discussions about sensitive topics such as sovereignty in the Arctic Ocean or Arctic security debates".
Asian players who have taken an active interest in the Polar Regions include China, Japan, Singapore, South Korea and India, who were all granted permanent observer status to the Arctic Council in 2013.
As observers, they are automatically invited to attend most Arctic Council meetings. While they are expected to make contributions and propose projects for Arctic cooperation, decisions at all levels in the Arctic Council remain the exclusive right and responsibility of the eight Arctic states.
Over the past few years, China's and Japan's economic as well as security interests in the Polar Regions have been growing. Singapore is also looking at the Arctic more closely, given how developments there could affect the Republic's role as a maritime hub.
CHINA INCREASES FOOTPRINT
Beijing's interest in the Arctic has been growing in recent years. Since 2010, the Chinese government has described itself as a "near Arctic nation".
The North-west passage, which runs through Canada's Arctic Archipelago, has also been labelled as the "northern link" under President Xi Jinping's flagship "One-belt One-road" initiative. This initiative aims to build connectivity infrastructure and establish new trade routes between China and Eurasia.
The opening of the Northern Sea Route would reduce China's dependence on the narrow Straits of Malacca, especially in terms of oil and gas shipments.
In July, Chinese polar research vessel Xue Long reportedly conducted its seventh Arctic expedition, a clear signal of China's growing interest in the region. In the same month, China Ocean Shipping Company, also known as Cosco, said it would divert more cargo vessels to the Arctic.
Right now, global transit shipments that are routed through the Northern Sea Route is estimated to be around 300,000 tonnes annually, and this is expected to increase.
"China stands to gain economically from the opening of Arctic shipping lanes, through trade routes and through opportunities for Chinese companies in the development of port and other infrastructure in Arctic littoral areas," Mr Jichang Lulu, an independent researcher on Arctic affairs told TODAY.
China is also eyeing the natural resources in the Arctic, he added.
For example, Beijing is cooperating with Moscow to explore and develop natural-gas deposits in the Arctic Siberian Yamal Peninsula.
Shenghe Resources, a Chinese state-linked mining firm is also investing in the Kvanefjeld rare-earth and uranium mine in Greenland — a protectorate under Denmark.
Mr Jichang said if China does becomes a major investor in the Arctic, it would likely use its economic weight there as leverage for political purposes.
"An increased involvement in Russia's Arctic and Far Eastern development could also improve China's bargaining power in other aspects of Sino-Russian relations, such as in the area of Arctic defence," he said.
JAPAN-RUSSIA COOPERATION
Like China, Japan also has its eye on shipping routes in the Arctic and importing energy and raw materials from the region.
Tokyo's Arctic policy is built around its strength in science and technology. The government has announced a three-prong strategy — promote Arctic research and development; use scientific findings to formulate international rules; and champion the sustainable use of the Arctic trade route and resource exploitation.
"Japan has interests in adding the Arctic to its global sourcing of energy and raw materials as well as diversifying shipping lanes," said Professor Rasmus Gjedssø Bertelsen, the Barents Chair in Politics at the Arctic University of Norway.
He added that Japan also sees the Arctic as another area where it is competing with China for influence. To this end, Tokyo is eyeing greater cooperation with Moscow in the Arctic.
Earlier this year, Ms Kazuko Shiraishi, Japan's ambassador in charge of Arctic affairs, said that Japan is keen to work with Russia in scientific research, safe use of the Northern Sea Route and on energy exploitation in Yamal.
There is a bilateral dimension to Japan's approach towards this issue.
Japan has offered to engage Russia closely on Arctic issues because it hopes to break the political stalemate over the Northern Territories, said Aki Tonami, an associate professor at the University of Tsukuba's Faculty of Business Sciences.
Japan and Russia have been negotiating over the fate of Northern Territories (also known as the Kuril Islands), which were seized from Tokyo at the end of World War II. Russian President Vladimir Putin visited Japan last week with the issue featuring highly on the agenda but there was no breakthrough in talks.
"Tokyo is fully aware that if Japan were to resume the stalled talks regarding the Northern Territories with Russia, now is the best timing — with Putin's strong domestic foothold and a more inward looking US, as we have seen in the recent US presidential election," said Dr Tonami, who recently published a book on ''Asian Foreign Policy in a Changing Arctic".
SINGAPORE'S ROLE AS MARITIME HUB
Singapore's interest in Arctic affairs has perhaps raised the most eyebrows given its location along the equator halfway round the world.
Among the reasons cited for the Republic's interest in the Arctic include: Combating the global problem of climate change, opportunities for infrastructure development and watching how developments in shipping lanes in the Polar Regions would have an impact on Singapore's status as a maritime hub.
"Singapore is not situated in the Arctic, but developments there — whether the melting of the ice caps or opening of new sea routes — will have important implications for Singapore as a low-lying island and international seaport," said Prime Minister Lee Hsien Loong in May 2013, reacting to news that the Republic had been accepted as permanent observer to the Arctic Council.
In November last year, Singapore hosted the Arctic Circle Singapore Forum — the first of its kind in Asia, to bring discussions on Arctic issues to this region.
Signalling Singapore's intention to continue engaging the Arctic region, President Tony Tan Keng Yam made a state visit to Norway in October, during which he spent time in the city of Tromso, Norway's Arctic capital.
"Singapore is concerned that the Arctic, particularly the emergence of the new sea route could potentially threaten Singapore's position as a maritime node and diminish Singapore as a global trading power," said Dr Tonami of the University of Tsukuba, adding that Singapore does not want to suffer the same fate as modern Venice. The city state also sees economic opportunities in a fast-changing Arctic region.
Mr Sam Tan, Minister of State (Prime Minister's Office and Manpower), has been representing Singapore in the Arctic Council meetings. In an interview with TODAY earlier this year, he said the Republic's marine industry has built up capabilities over the years in sectors such as shipbuilding and repair, offshore engineering, and marine support services, and is well-placed to provide enabling technology for Arctic development.
Oil rig and shipbuilding company Keppel has constructed a number of ice-class vessels, including the first icebreakers built in Asia in 2008.
"With its experience and assets, Singapore can certainly provide important contributions to the Arctic, along its own interests," said Ms Malgorzata Smieszek, another researcher from the Arctic Centre, referring to the Republic's expertise in managing complex port infrastructure as well as the offshore marine and engineering industry.
Despite these efforts by external stakeholders to position themselves, the reality is most of the Arctic's development will continue to be driven by the littoral states.
Mr Stepien of the Arctic Centre noted that there are many examples of the "exclusive approach" taken by Arctic Council member states on the governance of the region.
He said that the legally binding agreements on search and rescue and oil spills adopted in recent years were agreed upon by the eight member states alone.
The recently established forums, including the Arctic Coast Guards Forum and Offshore Regulators Forum to enhance safety of petroleum activities in the region, also do not involve the observers.
Going forward, the greatest challenges facing the Arctic will in the areas of environmental protection, search and rescue, construction of necessary infrastructure such as ports and aids to navigation, said Professor Michael Byers from the University of British Columbia's political science department.
"Most of this work will have to be done by Canada and Russia, which between them own 75 per cent of the Arctic Ocean coastline," he said.