The Big Read - Danger close: Mindanao, and the terrorists next door
SINGAPORE – The Singapore government has long warned of the dangers of the Islamic State (IS) terror group gaining a foothold in the region, particularly in Southern Philippines where an insurgency has simmered for decades.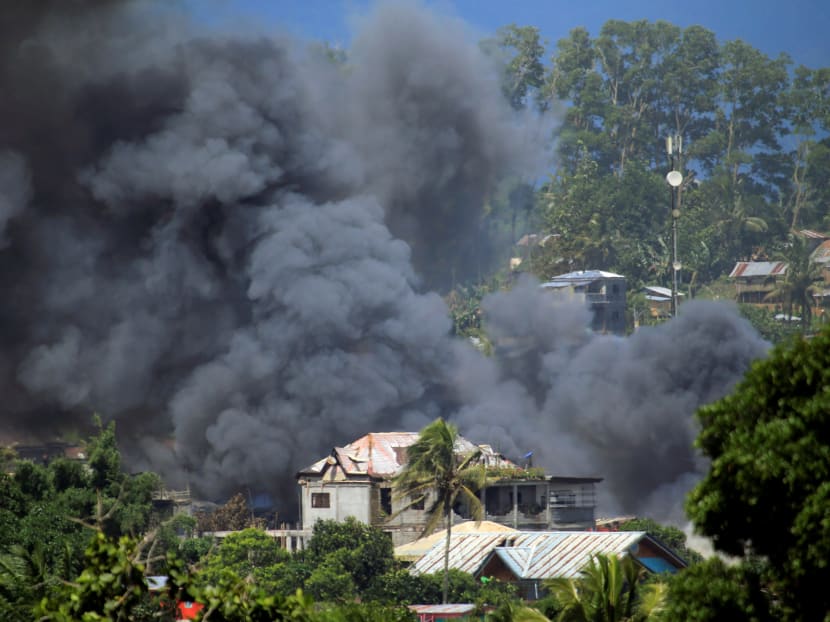 SINGAPORE — The Singapore Government has long warned of the dangers of the Islamic State (IS) terror group gaining a foothold in the region, particularly in Southern Philippines where an insurgency has simmered for decades.
Those warnings have now taken an ominous tone, after the Philippines confirmed that foreign fighters are involved in the ongoing siege by groups affiliated with IS in Marawi city on Mindanao island — just over three hours by air from Singapore.
In the words of Philippine Solicitor-General Jose Calida, the unrest in Mindanao has "transmogrified into invasion by foreign terrorists who heeded the clarion call of the Islamic State to go to the Philippines if they find difficulty in going to Iraq and Syria".
IS, which is losing grip on territories in the Middle East, has long harboured ambitions of controlling territory in South-east Asia. This is evident from its establishment of Malay-based combat unit Katibah Nusantara and previous attempts to direct foreign fighters to Poso in the Sulawesi islands of Indonesia.
"There was an attempt to do so in Poso but this was neutralised by the Indonesian Army and Police through Operation Tinombala (from March last year to present)," said Mr Jasminder Singh, a senior analyst with the International Centre for Political Violence and Terrorism Research at the S Rajaratnam School of International Studies (RSIS).
He said that most of the foreign fighters, including Uighurs, fled to Mindanao.
"While it (IS) failed in Indonesia so far, it seems to have some degree to success in the Philippines," he added.
The so-called tri-border area of Mindanao, Sabah and Sulawesi — where policing is poor and movement of people and arms hard to track — represents a particularly appealing location for IS to plant its flag towards its long-term claims to a caliphate.
Concurrently, the difficulty of travelling to the Middle East these days and the ease of movement in and out of Southern Philippines make it an attractive and convenient destination for IS sympathisers and fighters.
"What we are witnessing in the Philippines is that it has become the centre for international terrorists to group together, a whole-of-terrorist approach, similar to what was seen in the tribal regions of Pakistan, and even to some extent in Iraq and Syria, and now in parts of Afghanistan," said Mr Singh.
"If these terrorists are allowed to group, the danger would be that future terror attacks in South-east Asia or around the world will be planned from the Mindanao area."
The bigger concern, however, is that IS will take root in the region and wreak havoc over the long term.
"We have a clear realisation that if the situation in Marawi and Mindanao is allowed to escalate or entrench, it will pose decades of problems for Asean (Association of South-east Asian Nations) cities," Defence Minister Ng Eng Hen said last weekend after hosting a luncheon discussion for 22 visiting ministers and their representatives on the sidelines of the Shangri-La Dialogue (SLD).
Home Affairs and Law Minister K Shanmugam had warned in April that Mindanao could become a sanctuary for returning fighters from the Middle East, noting that "arms seem to move fairly easily into that area" in Southern Philippines.
A month later, hundreds of IS-linked militants besieged Marawi city, setting fire to buildings, taking hostages and killing civilians with a brutality that shocked many.
THE MARAWI SEIZURE
Mindanao is the only region with a significant Muslim minority in largely-Catholic Philippines and the city of Marawi itself is predominantly Muslim.
For decades, the Mindanao region has been roiled by Islamic separatists, communist rebels, and warlords, offering fertile ground for IS' ideology to take root.
Security officials in the Philippines said that all four of the country's pro-IS groups have sent fighters to Marawi with the intention of establishing the city as a South-east Asian "wilayat" — or governorate — for the radical group.
The Marawi seige came just months after security forces attacked the mountain lair of Isnilon Hapilon, a long-time leader of Abu Sayyaf militant group.
He had sworn allegiance to IS in 2014, and quickly got other groups to join him, including the Maute group, run by brothers Omar and Abdullah Maute from a well-known family in Marawi.
In a video that surfaced last June, a Syria-based leader of the group urged followers in the region to join Hapilon if they could not travel to the Middle East to fight for IS. Hapilon was named IS' South-east Asia leader last year.
Philippine and Indonesian intelligence sources said that over the past few months, his forces recruited foreign fighters and Marawi locals. Hapilon, they said, brought 50 to 100 fighters to join Maute's 250 to 300 men, while two other radical groups, the Bangsamoro Islamic Freedom Fighters and the Ansar Al-Khilafah Philippines, together brought at least 40 militants with them.
On May 23, four days before the start of the Muslim fasting month of Ramadan, the militants launched their attack when Philippine forces made an abortive attempt to capture Hapilon in Marawi.
After the military retreated, about 400 militants quickly fanned out across the city, riding trucks mounted with heavy machine guns and armed with rocket launchers and high-powered rifles. They attacked the jail and nearby police station, seizing weapons and ammunition, according to accounts from residents. The militants also destroyed a Shia mosque and razed a Catholic church.
As the shock of how a few hundred fighters managed to subdue an entire town reverberated across the region, President Rodrigo Duterte imposed martial law in Mindanao, home to 20 million people.
So far, according to the military, the death toll stands at 20 civilians, 120 rebels and 38 members of the security forces. More than 2,000 people remain trapped in the centre of Marawi, with no electricity and little food and water.
The response by the Philippine government appears to be too late, too little.
Defence Secretary Delfin Lorenzana admitted at the start of the conflict that security forces were surprised when dozens of gunmen appeared on the streets of Marawi after the government failed to capture Hapilon.
This is also not the first time the Maute group had attacked civilian targets, according to Ms Sidney Jones, who is director of the Institute for Policy Analysis of Conflict in Jakarta and an expert on radical movements in Indonesia and the Philippines.
Last September, the Maute group bombed a night market in Mr Duterte's hometown of Davao, but the threat was not recognised by the government then.
"In terms of the intelligence monitoring and security-provision in the ground, it is now clear that there have been lapses by former President Benigno Aquino III's administration and now current President Rodrigo Duterte's government," said Dr Graham Ong-Webb, a research fellow at RSIS. He noted that Maute was formed in 2013 but the public came to know of it only this year.
"How could the presence of a relatively new militant group, at least 100-strong, go generally unnoticed or not be taken seriously from the beginning? This is a wake-up call not only for the Philippines but the rest of South-east Asia," he added.
EASY TO GET IN AND OUT
Various groups in the southern Philippines have been fighting for a separate Islamic state since the 1970s, with round after round of peace talks breaking down. It is clear Maute, Abu Sayyaf and other groups took advantage of local frustration arising from decades of clashes with Manila and the slow pace of the local peace process to recruit members.
"There has been a prolonged history of conflict between the local Muslims and the central government with most of the issues remaining unresolved," said Mr Singh of RSIS. "Prior to Jemaah Islamiyah and IS, there were conflicts involving the Moro National Liberation Front, Moro Islamic Liberation Front and the Abu Sayyaf Group, not to mention many other smaller groups."
While the main trigger for militants in Mindanao is specific and local, the conflict there has drawn foreign fighters from Malaysia, Indonesia, and even Chechens and Arabs with IS' encouragement.
Last year, a group of Malaysian militants in the Philippines set up Katibah Al Muhajir — Battalion of Migrants — in response to the failure of South-east Asian recruits to travel to the Middle East to join IS.
"While it has been attracting South-east Asians, the IS presence in the Philippines also seems to have attracted those from the Middle East, Africa and South Asia," said Mr Singh.
"Mindanao is seen as territory of the Khilafah and the ease of access to the Philippines makes it the ideal place to go for jihadi fighters... there is a new modus operandi that involves bringing together different nationalities for a common cause, which is the signature of IS in Iraq and Syria and this seems to being replicated in Philippines and possibly in South-east Asia."
All these could make Mindanao not just a local battlefield, but transform the island into a magnet for global IS fighters as well as a staging ground for future attacks in the region.
"The conflict in Marawi is regionally and globally reinforcing. Thus, the spillover is a two-way phenomenon. People from the outside of Marawi are going inside, and people from the inside are going outside," said Mr Ahmad El-Muhammady, a lecturer of Islamic studies and political science at the International Islamic University Malaysia who has interviewed militant detainees.
"These people have local contacts," he said. "They can inspire the locals, which could be their friends and relatives."
Just as worryingly, the conflict might also inspire South-east Asian nationals to stage attacks in their own countries, Mr El-Muhammady added.
All one needs to look at is the social media accounts of IS-sympathisers to see how they share and propagate ideologies. The takeover of Marawi, said Ms Jones, was greeted with euphoria by extremists in Indonesia and other territories.
As it is, old jihadist networks in the region are experiencing a resurgence, including old players from the Jemaah Islamiyah days.
While in the last few years, South-east Asians radicalised by IS ideology on the Internet tended to travel to the Middle East to join the fight there, they now only need to go a hop and skip away to Mindanao to support IS through its local proxies there.
"As the Islamic State dwindles in parts of the Middle East, we have to monitor the shift of the group's centre of gravity to Mindanao, which, if left unchecked, can become the new headquarters for growing influence across parts of Malaysia, Indonesia and Thailand," said Dr Ong-Webb, adding that he will not be surprised to see more foreigners getting involved in the conflict between IS-inspired elements and the Philippine's forces on the ground.
"By affiliating themselves with the Islamic State, organisations such as the Maute group are globalising what could otherwise have remained a localised problem in the Philippines. What the Philippines government is compelled to do at this stage is to decisively put down the Maute group to deny it the clout it can gain," he added.
That will be easier said than done.
Even if the Armed Forces of the Philippines succeed in taking back Marawi, said Dr Ong-Webb, the Maute group and other insurgents can easily move to other parts of Mindanao, which is about 140 times the size of Singapore. That is a large area for security forces to police, martial law or not.
Making the situation even harder to contain is the region's porous borders — with family, language and religious ties that go back centuries.
"We must not forget that Mindanao falls in the tri-border area which covers Sabah and Sulawesi as well," said Mr Singh. "This area is under-policed and serves as an ecosystem unto itself and a safe haven."
In 2013, about 200 militants from the self-styled Sulu Sultanate in the southern Philippines invaded a small village in Lahad Datu with the purpose of reclaiming Sabah, before they were quelled by Malaysian security forces. While the Malaysian government has taken steps since then to step up security around the area, kidnappings for ransom by the Abu Sayyaf have continued.
Ultimately, what all these mean is that if IS takes root in Southern Philippines, it will make it easier for the group to direct attacks in South-east Asia, including in Singapore.
"A new template seems to be evolving and developing," said Mr Singh, "where terrorists can slip in and out of Mindanao, and once an order is given, say by IS Central to attack any targets in the region, it may be carried out."
RESPONSE BY GOVERNMENTS
South-east Asian governments now face the double whammy of dealing with returning militants from the battlegrounds of Iraq and Syria, as well as those who can export terror from the highly-accessible island of Mindanao.
This threat of foreign fighters is grave simply because of the "unsecured back door" from the Southern Philippines to Malaysia and Indonesia through the porous borders for the three countries around the Sulu Sea, said Dr Ong-Webb.
At the Shangri-La Dialogue last weekend, Malaysia, Indonesia and the Philippines agreed to mount trilateral sea and air patrols in the Sulu Sea to prevent militants from crossing.
Singapore also stands ready to participate in the patrols and help in intelligence and other areas, said Dr Ng.
The United States and the Asean have also offered assistance, but analysts say countries in the region have been slow to act and the effectiveness of joint patrols could be limited by the complexity of the environment.
"The Sulu Sea littoral is very porous with plenty of small-craft movement, and this makes the identification and monitoring of vessels difficult," said naval analyst Ridzwan Rahmat.
"In addition, the maritime landscape is littered with small islands that would enable militants to mask their movements or to hide," noted Mr Ridzwan, who works for defence consultancy Jane's by IHS Markit.
Mr Joseph Franco, a research fellow with RSIS' Centre of Excellence for National Security, said that it would be difficult to seal the Sulu Sea off without impinging on everyday trade.
"Even in piracy hotspots like the Horn of Africa, the challenge is to win against pirates on land, in their strongholds," he added.
"On the open seas, naval forces are already reactive. We need to address the challenge of seaborne non-state armed groups on land before they even cast off to sea."
Observers stress that governments in the region must recognise the complexity of the problem.
Mr Hernan Longo, a counter terrorism programme officer at the United Nations Office on Drugs and Crime, stressed that no country can deal with modern terrorism alone.
He said it is crucial to have stronger cooperation in intelligence, law enforcement and programmes to deal with the use of technology for terrorist propaganda, recruitment and mobilisation of funds.
Governments need to keep up with the agility of extremist groups, he added.
"For any border control strategy to be effective, it requires simultaneously enhancing air surveillance and land ports, simply because criminals are adaptive; and the moment a particular route is shut down for them, they would swiftly look for … more vulnerable ones," he said.
Military interventions alone are not a long-term solution to terrorism, as some extremist groups can trigger such a response from the government as a way to weaken peace talks, added Mr Longo, who is based in Bangkok.
It is necessary to take a sustained approach to address the decades-long conflict arising from social and economic grievances in Mindanao, he said, adding that there is also a need for a long-term peace process to deal with the evolving threat of IS-affiliates in the area.
"The relevant parties involved in the decades-long peace process should persist on it. In conjunction with other criminal justice measures, this reduces the risk of people turning to violence," he added.