BN non-Malay parties cry foul over M'sia's electoral boundaries review
SINGAPORE — A proposal to redraw Malaysia's electoral boundaries has upset non-Malay coalition partners of the ruling United Malays National Organisation (Umno), who say it will benefit Umno at their expense.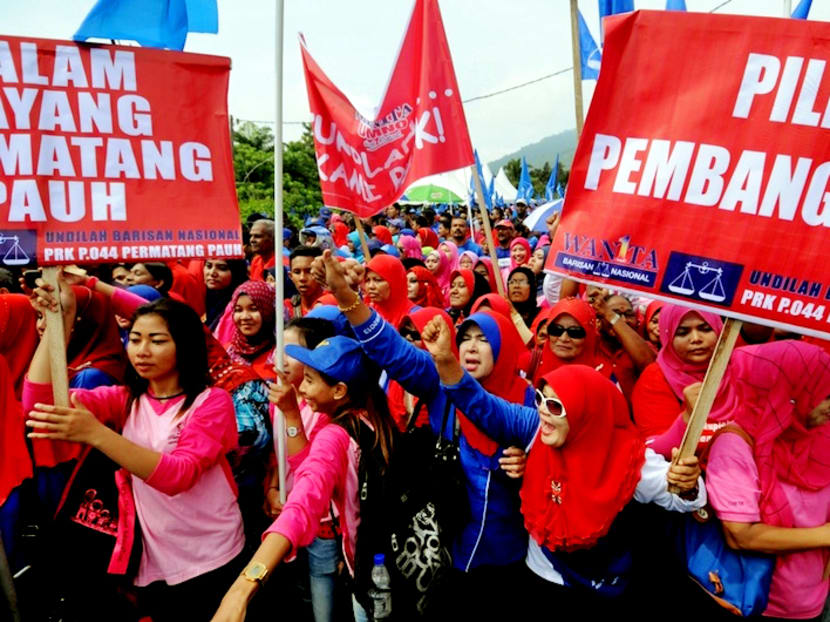 SINGAPORE — A proposal to redraw Malaysia's electoral boundaries has upset non-Malay coalition partners of the ruling United Malays National Organisation (Umno), who say it will benefit Umno at their expense.
They say the new boundaries, proposed by the Election Commission (EC), would make Malay-majority constituencies more Malay and Chinese-majority areas more Chinese. That, they say, would not only help Umno, but also the opposition Democratic Action Party (DAP), which enjoys the support of the majority of ethnic Chinese voters.
The EC, whose members are picked by the government, has said it intends to reorganise boundaries in 112 parliamentary seats — about half the total nationally — as well as 445 of the 576 state seats. The EC did not state its reasons for holding the exercise now although it has the discretion to decide when to conduct reviews of constituencies and recommend changes as prescribed under Article 113 of the Federal Constitution.
Malaysia's national polls are not due until 2018 but Prime Minister Najib Razak, who is also BN chairman and Umno president, is expected to call for snap polls next year to take advantage of an opposition weakened by infighting.
"Single ethnic seats encourage politicians vying for support to pander to narrow racial sentiments at the expense of nation building," Mr Gan Ping Sieu, Kluang division chief of the Malaysian Chinese Association (MCA), a senior party in Umno's Barisan Nasional (BN) coalition, told TODAY.
"The redelineation is tailored in favour of Umno and DAP. By strengthening the racial composition in favour of both parties, someone has to take a hit so parties like MCA will even find it harder to win seats in the future."
Analysts said this appeared to be a reversal of the 2003 redelineation exercise, which saw a number of Malay majority seats turned into mixed seats to bank on BN's popularity among non-Malay voters back then.
"Umno has decided that it could no longer depend on its component partners to overturn the so-called Chinese tsunami of the 2013 general election," Mr Asrul Hadi Abdullah, a director with political risk consultancy BowerGroupAsia, told TODAY.
"While the EC sought to dilute Malay majority seats in 2003, it is now attempting to dilute Chinese representation in a number of Malay seats."
Why did the voter cross the road?
A case in point is the semi-urban parliamentary constituency of Kluang in Johor. It is located about 100km from Johor Baru and has nearly 90,000 voters. It has two state seats: Mengkibol, which is currently held by the DAP, and Mahkota, which is under Umno.
Mr Gan said under the EC's proposal, a new Chinese village and a commercial area with about 3,800 voters that is located in the Malay majority seat of Mahkota will be carved out and placed in Chinese majority Mengkibol — on the other side of the main road which has until now served as a demarcation.
In contrast, Padang Tembak, a Malay settlement area, would move from Mengkibol to Mahkota. He said the move would result in a five-percentage-point increase of Chinese voters for Mengkibol, from 58 per cent to 63 per cent, while for Mahkota, its Malay voters would jump from 51 per cent to 56 per cent.
"It doesn't make geographical sense," said Mr Gan. "There is no reason to carve it out unless you think that Malay voters are going to vote for the Umno candidate, while the Chinese are going to continue voting for DAP."
The EC, in an 18-page notice on Sept 15, had proposed to alter the electoral boundaries of parliamentary and state constituencies in all Malaysian states, with the exception of northern Perlis state, the federal territory of Labuan in Sabah and government administrative centre Putrajaya.
The People's Movement Party (Gerakan) — another BN component party — said the proposed exercise would lead to racial polarisation and affect their chances of winning in the general election.
Mr Ben Liew Pok Boon, a Gerakan leader who is the BN coordinator for the Teratai state seat in Selangor, said the EC did not consult any political parties when it came up with its proposal. He said under the redelineation, the urban Teratai seat saw Malay voters reduced by 4 per cent, and Chinese voters increased by 5 per cent. Teratai is currently a DAP seat.
"I don't know how they do it — most of the boundaries that are redrawn seemed to group people together according to racial lines instead of reflecting a more multiracial composition," he told TODAY.
Mr Liew noted that the entire redelineation exercise would benefit Umno. This is because votes from Malay opposition supporters would be split among the abundance of Malay-centric parties such as the Islamist Parti Islam Se-Malaysia (PAS), multiracial Parti Keadilan Rakyat (PKR) and Bumiputra-based Parti Pribumi Bersatu Malaysia, backed by former prime minister Mahathir Mohamad.
As for Teratai, Mr Liew said boosting more Chinese voters to the seat would make it harder for component parties like his to woo them, since the majority of them are still cool towards BN.
BN to gather feedback
Since Malaysia gained independence from the British in 1957, the coalition that is the modern-day BN has never lost an election, making it one of the longest-serving elected governments in the world.
A year after the last redelineation exercise in 2003, BN recorded its best performance at the 2004 general election, winning 198 out of 219 parliamentary seats contested. This translated to a popular vote of 63.8 per cent, an increase from the 56 per cent in the 1999 general election.
However, in 2008, BN suffered its worst-ever election result when it lost its customary two-thirds majority in Parliament, securing only 140 of the 222 parliamentary seats contested. BN fared worst in the 2013 general election, winning only 133 seats in the 222-member Parliament, a result Mr Najib attributed to a "Chinese tsunami" in which Chinese voters supported the opposition.
Mr Najib has denied accusations that the redrawing of boundaries was meant to benefit his party, saying on Friday that even "Umno has many views against this initial proposal brought forward by the EC".
BN will create a panel to gather member parties' views on this and submit it to the EC before the Oct 14 deadline.
Under the law, objections to the recommendations can be made by the state government, local authorities who are partly included in the redelineation exercise, or a group of at least 100 registered voters of an affected constituency.
The EC will hold a local inquiry to hear the complaints. It did not respond to queries from TODAY.
Umno members whom TODAY spoke to echoed Mr Najib's point that the proposed changes were not aimed at making it easier for the party to win seats. Mr Abdullah Hasnan, Kedah's Umno Kuala Kedah division chief, said political parties were upset with the changes because they were not consulted on it.
Mr Aziz Sapian, the Umno Taman Seri Skudai branch chief in Johor, said it was "perception" that made several quarters cry foul play and think the proposed exercise was to benefit Umno. He told TODAY even if the exercise was carried out to benefit Umno, it would serve no purpose, as BN is losing its appeal among young voters. "The most important thing is for the party and (BN) component members to try to win back the hearts of voters."
There is also unhappiness across the political divide, with DAP reiterating that the move is aimed to help BN to wrest back states under the administration of opposition Pakatan Harapan coalition.
"The 2016 delimitation exercise is a disgusting and partisan attempt by the EC to gerrymander and malapportion parliament and state seats in Selangor in order to help the BN win back additional parliament and state seats," said Selangor DAP Member of Parliament Ong Kian Ming.
The opposition wrested Selangor from BN in the 2008 general election and retained Malaysia's most developed state in the subsequent polls in 2013.
"The EC has abused its power and redrawn the boundary lines in order to benefit one side namely the BN," Mr Ong added.