China, Asean agree on code of conduct framework in South China Sea
BEIJING — China and South-east Asian countries agreed on Thursday (May 18) to a framework for a code of conduct in the disputed South China Sea, an important first step towards managing tensions in the region.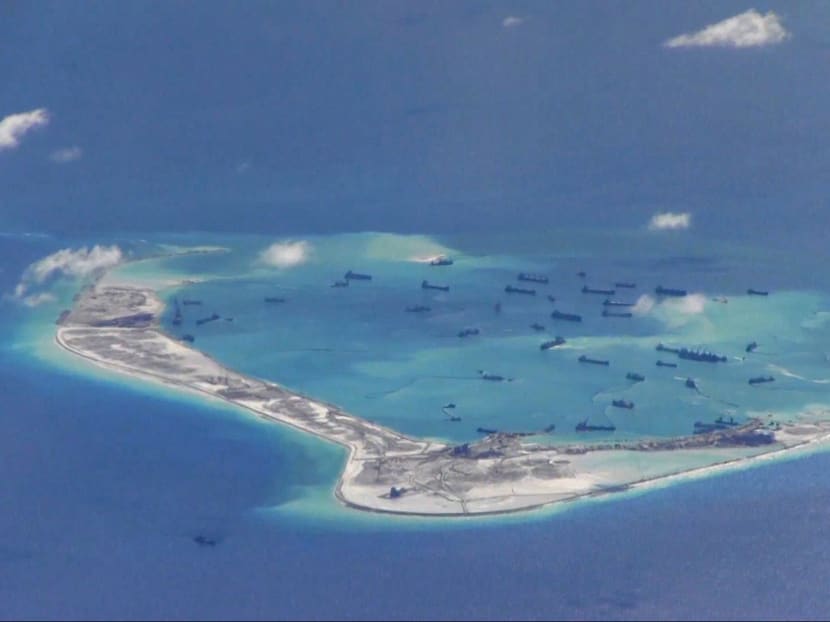 BEIJING — China and South-east Asian countries agreed on Thursday (May 18) to a framework for a code of conduct in the disputed South China Sea, an important first step towards managing tensions in the region.
After a meeting between Chinese and Association of South-east Asian Nations (Asean) officials in the Chinese city of Guiyang, Permanent Secretary for Foreign Affairs Chee Wee Kiong said in a press briefing that the draft framework will be submitted to Asean's and China's foreign ministers in August this year for their political support.
"The draft framework includes elements which parties have agreed upon and will provide a basis for future consultations on the COC (code of conduct)," he said.
"We hope to continue the positive momentum of consultations and make steady progress towards a substantive COC based on consensus, as directed by our leaders."
Mr Chee said it was encouraging that "for the past months there have been no major disruptions and the situation in the South China Sea and the region has been stable".
Singapore is the current coordinator for Asean-China relations.
China's foreign ministry said in a statement that the talks had been candid and deep and made positive achievements.
All parties "uphold using the framework of regional rules to manage and control disputes, to deepen practical maritime cooperation, to promote consultation on the code and jointly maintain the peace and stability of the South China Sea", it added.
Chinese Vice Foreign Minister Liu Zhemin, in comments carried on state television, said the framework was comprehensive and took into account the concerns of all sides.
But he called on others to stay out, apparently a coded message to the United States.
"We hope that our consultations on the code are not subject to any outside interference," Mr Liu said.
Veteran diplomat Ong Keng Yong, who is executive deputy chairman of the S Rajaratnam School of International Studies (RSIS) told TODAY that "this is a positive development as Asean and China have been working on this framework for some time already".
"It will enable both sides to start looking at how to commence negotiations for the COC," added Mr Ong who is also Singapore's Ambassador-at-Large and a former secretary-general of Asean.
Mr Tang Siew Mun, head of the Asean Studies Centre at the Iseas-Yusof Ishak Institute noted that the "breakthrough (in the negotiations for a framework) is the result of Asean's unwavering push for a binding code of conduct. But this positive happenstance would not materialised without China's cooperation and Beijing should be given equal credit."
"The framework is the basis for further negotiations, it is not the code of conduct.  But we should recognise this achievement as an important first step," he said.
China claims almost the entire South China Sea, through which about US$5 trillion (S$) in goods pass every year. Brunei, Malaysia, the Philippines, Taiwan and Vietnam also have claims.
China's construction of man-made islands and build-up of military facilities in the sea have stoked tensions in the region.
Asean and China have announced several confidence building measures, including setting up a communications protocol for unplanned encounters in the South China Sea as well as a hotline among the foreign ministries to respond to maritime emergencies.
COC negotiations began more than 15 years ago. Last year, Asean and China had agreed to conclude negotiations for the framework of a code of conduct by the middle of this year.
Dr Collin Koh, a research fellow in RSIS' maritime security programme noted that a lot of work lies ahead before all parties can reach a binding COC.
"(The framework) in its current form will be nothing much more than the existing DOC (declaration of conduct). The real work would be post-framework: there will be a lot of complex details that need to be ironed out, and interstate differences or divergences bridged before a formal code is finally adopted."
Professor Zhang Baohui, who is with the political science department at Lingnan University in Hong Kong, listed two factors that led to the successful negotiation of the framework.
He noted that China has completed its island building in the South China Sea. Therefore, Beijing is ready to accept the framework that prohibits members from pursuing unilateral actions to change the status quo, he said.
"China has (also) been pursuing a soft-power strategy to woo Asean countries in recent years...  China understands that the South China Sea harming its position in many South-east Asian countries. So accepting this framework will send benevolent signals to the region and should facilitate China's broader strategic agenda," he added. AGENCIES