Cleaning brigade helps Japan's bullet trains to run on time
TOKYO — Armed with detachable brooms, dustpans and other equipment, the cleaners have just seven minutes to clean the 17-carriage Shinkansen as Japan's famous bullet train makes a 12-minute turnaround stop at Tokyo Station.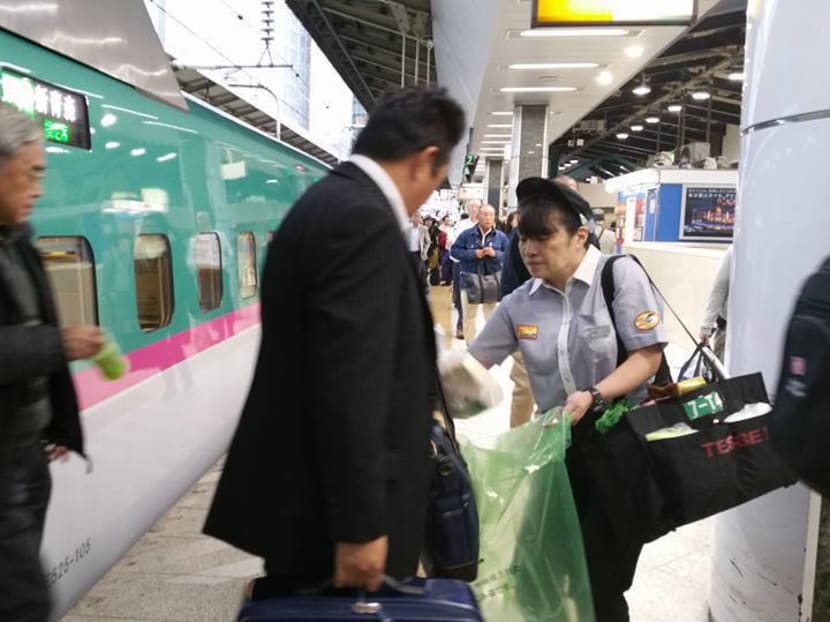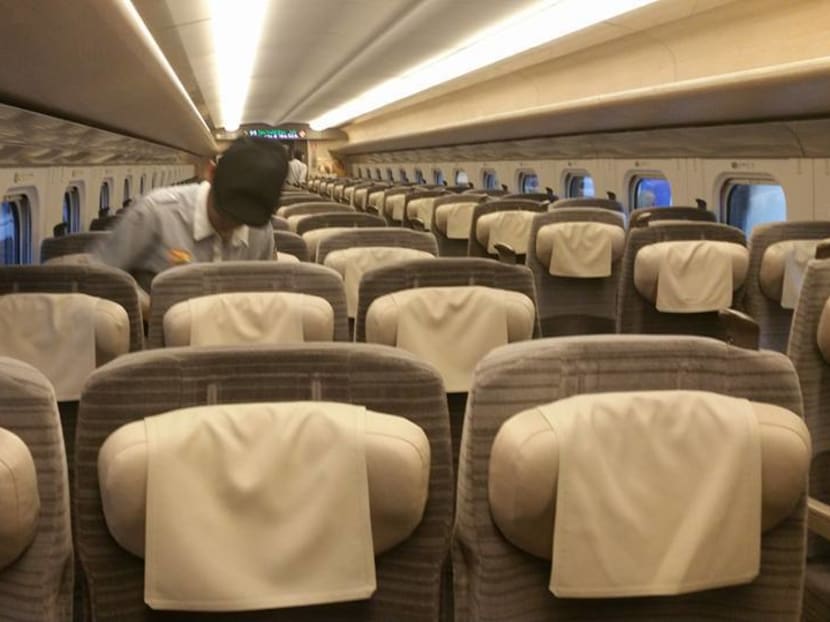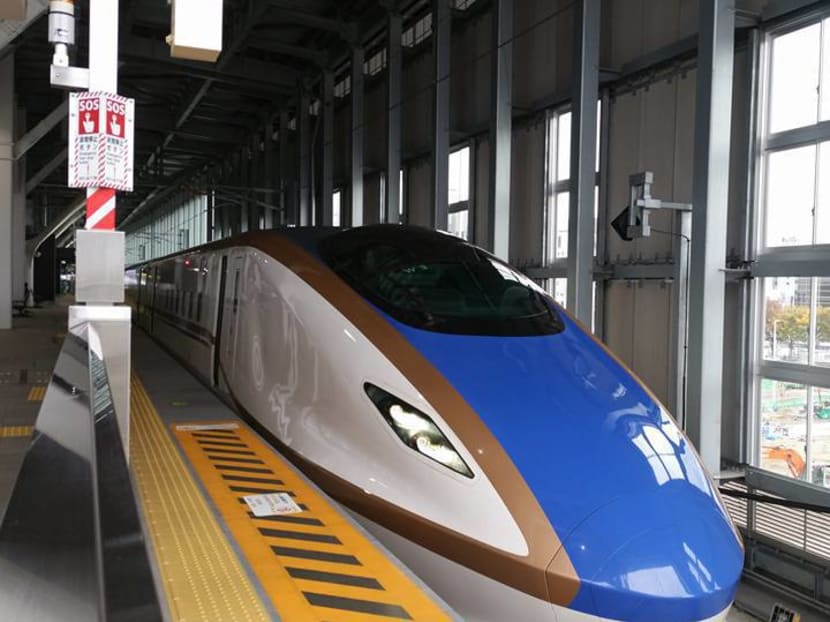 TOKYO — Armed with detachable brooms, dustpans and other equipment, the cleaners have just seven minutes to clean the 17-carriage Shinkansen as Japan's famous bullet train makes a 12-minute turnaround stop at Tokyo Station.
Each of the 40 cleaners is assigned to a seat carriage, which has between 75 and 100 seats. Once inside the cabin, they swing into action – checking luggage racks, clearing tray tables and leftover rubbish, ensuring all seats are in upright position. To meet their deadline, they only have about 12 seconds to clean a row of five seats.
After they are done clearing one train cabin, they will move to another one – their actions monitored by cleaning leaders with an eye on the clock.
Once their seven minutes are up, the cleaners will leave the train and line up at the train platform – to bid goodbye to passengers who have just three minutes to board the Shinkansen before it leaves the station, just a minute longer than the time given for passengers to alight from the bullet train.
Japan's meticulous band of train cleaners — which made the headlines when a video of a Shinkansen cleaning crew in seven minutes went viral last year — form an integral part of the workforce that keeps the nation's bullet trains running like clockwork, give and take several disruptions a year.
"Although they (the cleaners) are not very highly paid, they take a lot of pride in their job," Mr Takuya Watariya, manager of JR East TESSEI, the cleaning company owned by JR East, one of the four JR companies which operate the Shinkansen network in Japan. The other three are JR Central, JR West and JR Kyushu.
As the highly-anticipated Kuala Lumpur-Singapore High Speed Rail (HSR) project prepares to move to its next stage of implementation, TODAY visited Tokyo last November for some insights into how the Shinkansen system works in Japan and the impact the bullet train has had on daily life in the country.
LINKING CITIES
The Shinkansen is a nationwide network of railways which links cities such as Tokyo, Nagoya, Osaka, Sendai, Aomori, Niigata and Kanazawa.
JR East operates a five-route Shinkansen network between Tokyo and major cities in eastern Honshu, Japan's main island.
According to Japan's Ministry of Land, Infrastructure, Transport and Tourism (MLIT), the Shinkansen can travel up to 320kmh, and can cover a total distance of 2,616km.
On average, each Series E5 Shinkansen train cabin has about 73 seats, compared to France's high-speed rail train TGV which have about 37 seats, and Germany's bullet train ICE with about 53 seats.
The Shinkansen runs from 6am to midnight daily and operates 15 bullet trains hourly – three times the number of trains run respectively by both the TGV and ICE hourly.
Tokyo Station has three platforms and six tracks for the Shinkansen, while Beijing South Station in China — currently among the more prominent players in the HSR industry — has six platforms and 12 tracks for its bullet trains.
Tokyo Station – Japan's main intercity rail terminal which also has conventional lines — runs 426 trains daily. Beijing South Station, which mostly handles bullet trains, runs 156 trains daily.
The 12-minute turnaround time at Tokyo Station is also shorter, compared to Beijing South Station's 40 minutes.
"This is why the seven minutes (to clean the train) are important, because it ensures that the Shinkansen leaves on time," said JR East's manager of international department Mr Osamu Onodera. "Punctuality is very important to us."
Each Shinkansen has three types of cabins — Ordinary Car, Green Car and Gran Class — that come with separate price tags.
For example, from Sendai Station to Tokyo Station, the prices for adult passengers are: ¥11,200 (S$135) for an Ordinary Car cabin ticket costs; ¥14,790 for Green Car; and ¥19,930 for a Gran Glass ticket. All the tickets can be bought at the train station.
The Ordinary Car cabin has five seats in a row, and each row comes with a power outlet to allow passengers to charge their mobile devices.
The Green Car cabin has four seats per row, while the Gran Class cabin has only three seats. Both these more expensive cabins have a reading light attached to each seat, and switches for passengers to adjust the head and leg rests.
The Gran Class cabin, which can only accommodate 18 passengers, also provides meals and free drinks.
According to Mr Onodera, maintenance works on the bullet trains are done at night daily, with each Shinkansen being inspected for about an hour.
Apart from daily inspections, the trains are also sent to the Shinkansen General Rolling Stock Centre, which provides various types of inspection for the bullet trains.
For example, the monthly inspections at the centre looks at the trains' pantographs, brakes and electric equipment to ensure that they are not faulty.
Although Japan's bullet trains have zero fatalities since 1964, when the Tokido Shinkansen opened, Mr Onodera noted that there are disruptions "several times a year".
He added that he could not give a rough estimate on the number of disruptions as they mostly occur during natural disasters such as earthquakes, strong winds, heavy snows and typhoons.
However, the railway company is "prepared" to deal with any disruptions on the Shinkansen, said Mr Onodera.
As Japan is quake-prone, the Shinkansen has an early earthquake detection system to stop power supply to the bullet train, if an earthquake occurs.
For example, during the 2011 earthquake and tsunami, 27 bullet trains were operating when the disasters struck, but no passengers were injured.
MALE-DOMINATED SECTOR
Out of JR East's 500 Shinkansen drivers, only about five — or 1 per cent, are female.
To become a Shinkansen driver, an applicant must have at least worked as a conventional train driver for five years. "This will ensure that they have some experience in driving trains," said Mr Onodera.
The applicant will then be sent to the JR East General Education Centre for training for two months. For example, the trainee will learn how to drive a Shinkansen using a multi-personal stimulator, and learn what to do when he runs into various problems, such as mechanical ones.
The centre also has a historical museum of traffic accidents to educate trainees about train safety.
After completing their training, trainees will spend six months learning how to drive a real Shinkansen under the supervision of instructors, who are themselves Shinkansen drivers.
Trainees will have to get a national licence to become a Shinkansen driver.
Even after getting a licence, they have to undergo training at least once a month. They are also required to undergo health screening, such as eye checks, at least once a year. The company has a regulation that Shinkansen drivers have to retire once they reach 60, said Mr Onodera.
KL-SINGAPORE HSR PROJECT
Singapore's Prime Minister Lee Hsien Loong and his Malaysian counterpart, Mr Najib Razak, have said that the KL-Singapore HSR project is a "game changer" for both countries.
The 350km KL-Singapore HSR project will have its terminus station at Jurong East in Singapore and at Bandar Malaysia in Kuala Lumpur. With the HSR connecting both countries, it will cut travel time to only 90 minutes.
During a joint press conference for the 6th Singapore-Malaysia Leaders Retreat in May last year, Mr Lee said: "The terminus there will change the face of Jurong and create opportunities for our citizens and businesses and draw the people of Singapore and Malaysia closer together and connect our businesses with opportunities. This is a game changer."
While the original timeline for the completion of the KL-Singapore HSR project is 2020, Mr Lee said it is "not really a realistic one".
"We have to take a bit more time to do it well, but to do it without delay so we will be tasking our officials to relook at the timetable while we work out the agreement between Singapore and Malaysia on how to structure the project," he said.
HOW SHINKANSEN CHANGED JAPAN
All HSR trains have one main aim: To help passengers travel to other cities or other countries within a shorter time. In Japan, commuters use the bullet train to save time for both work and leisure.
One Japanese commuter who wanted to be known as Mr Tsutomu, lives and works at Himeiji, west of Osaka.
Mr Tsutomu, a 59-year-old corporate auditor at a manufacturing company, takes the Shinkansen train "a couple of times" every month for business trips and to visit his family in Tokyo.
He rarely flies between the two cities, as the Shinkansen is "so convenient to use".
"You will be surprised to find how frequently (the Shinkansen) trains depart and arrive and… how they run without delays at all," said Mr Tsutomu.
Similarly, sushi chef Makoto Muto takes the Shinkansen about two to three times a year when he travels within Japan for vacation.
Last October, the 26-year-old took the Shinkansen to Niigata Prefecture, which faces the Sea of Japan and is situated at the centre of Honshu.
Mr Takuya Wakutsu, MLIT's Deputy Director, Office of Project Development, Railway Bureau, said the Shinkansen train network has also helped to improve Japan's economy.
For example, before the Tokaido Shinkansen was inaugurated and extended to Osaka in 1964, commuters took about six and a half hours to reach Tokyo via conventional trains.
With the bullet train, it now takes only two and a half hours to reach Osaka from Tokyo.
"So it allows day-trips for travellers … the Shinkansen helps to promote tourism in many different cities," said Mr Wakutsu.
One area which benefited from the Shinkansen's arrival is the Sakudaira Station and its surroundings in Saku City, in Nagano Prefecture which is located 170km away from Tokyo.
The station is one of the stops for the Hokuriku Shinkansen. The bullet train's arrival has cut the travel time to Tokyo from Sakudaira to one hour and 20 minutes — from about five hours via conventional trains.
There were hardly any commercial developments in the area before the station opened in 2007.
However, after that year, commercial and entertainment establishments, as well as residential areas, started springing up.
The population in Saku City also rose after the station was built, from 65,350 in 1997, to 70,040 people in 2012.
According to the MLIT, the asset tax revenue around Sakudaira Station increased from US$44,000 in 1996 to US$5.35 million in 2012.
EYE ON CROSS-BORDER RAIL PROJECT
In response to TODAY's queries about the KL-Singapore HSR project, an MLIT spokesperson said a Japanese official had visited "a site" in Malaysia and the proposed Singapore terminus in Jurong East for inspection.
Japan's Land, Infrastructure, Transport and Tourism Minister Keiichi Ishii also had talks with both governments to introduce them to the Shinkansen during the ASEAN meeting in Kuala Lumpur in November.
"(The) Japanese government encourages private companies to bid for the project as it is important to Japan's infrastructure project deployment policy," the spokesperson said.
The Japanese government also supports the Japanese consortium involved in the KL-Singapore HSR project. "The HSR project has a very big investment, so it is very difficult for them to shoulder the investment," he added.
Considering the nature of "international competitive bidding" to be led by the private sector, the spokesperson said the Japanese government is "positioned to support" the Japanese consortium's business with various measures.
They include funding by government agencies such as the Japan Bank for International Cooperation, Japan International Cooperation Agency, Japan Overseas Infrastructure Investment Corporation for Transport & Urban Development, and Nippon Export and Investment Insurance.
Apart from Japan, South Korea, China and French company Alstom have also expressed interest in the HSR project.
At the end of the request for information exercise for the KL-Singapore HSR project last November, close to 100 submissions were received, with the majority from Europe.
In recent years, Japan has been competing fiercely to win contracts for HSR projects in Asian countries.
In December, the Japanese and Indian governments signed a memorandum of understanding to adopt the Shinkansen system for India's major-high speed rail project to connect the cities of Mumbai and Ahmedabad.
However, earlier in September, Japan lost to China in the bidding to build Indonesia's first high-speed railway.
Asked how lucrative a HSR project is, the MLIT spokesperson said "it depends on the project".
"Thanks to Japanese high growth in (the) 1960s, Tokaido Shinkansen recouped its investment within 10 years after commercial operations," he added.