High rents, long housing queues pushing more in Hong Kong to homelessness
HONG KONG — Hong Kong's exceptionally high rents and long queues for public housing have pushed more and more people, even those with jobs, to sleep rough on the streets or at fast food restaurants operating round the clock, according to social workers and community groups.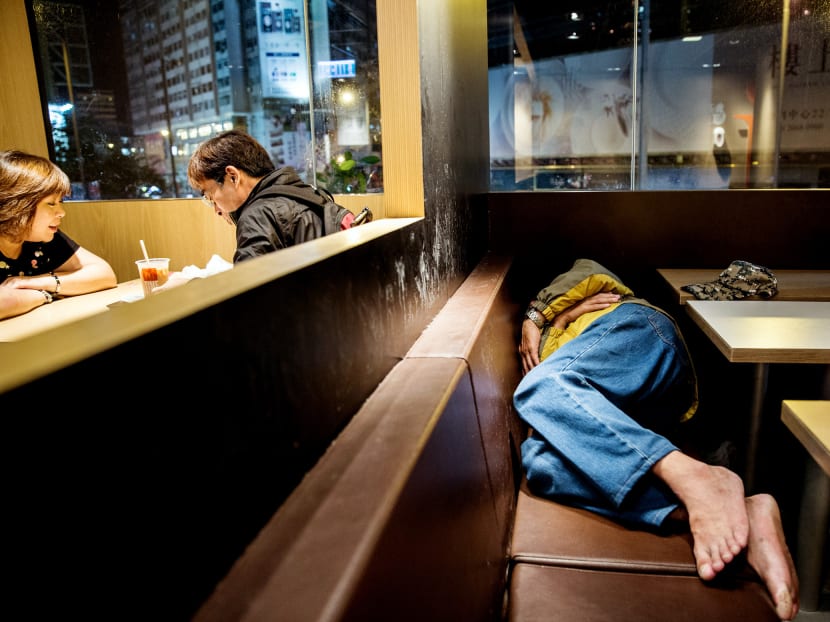 HONG KONG — Hong Kong's exceptionally high rents and long queues for public housing have pushed more and more people, even those with jobs, to sleep rough on the streets or at fast food restaurants operating round the clock, according to social workers and community groups.
Government data confirms the situation is getting worse, with the ranks of street sleepers on the rise.
Social workers and community groups complain the current rule limiting the homeless to no more than six months in government-subsidised hostels is one reason this marginalised group returns to the streets. They argue these people have no choice but to sleep rough because it is almost impossible for them to earn and save enough money to find their own place in a matter of months.
"When I show up at job interviews with a big backpack, employers kind of guess that I'm a homeless person," said 34-year-old Ka-hei, who asked that his surname not be disclosed. "Not to mention that I don't have an address to fill in the application form."
Ka-hei said he became one of the city's hundreds of homeless six years ago after he quit his full-time property agent job due to health problems. Since then, he has been taking temporary work that does not bring in sufficient money for him to rent a place.
Figures from the Social Welfare Department show the number of registered street sleepers has gone up by 16 per cent over the past three years.
As of September, there were 1,023 registered street sleepers – an increase of 12 per cent, or 111 more people, compared with the same period last year. In 2015, the number stood at 882.
But critics claim the government's estimates do not paint a full picture of the problem as some homeless individuals such as Ka-hei are invisible in the system because they are reluctant to receive government handouts, or be registered as homeless.
A 2015 study by a number of local universities and non-governmental organisation (NGOs) found there were 1,614 homeless people – almost double the authorities' estimate for that year.
In February this year, a Legislative Council document revealed the city had only 630 hostel places – either government-subsidised or NGO-funded – for the homeless.
Like many street sleepers, Ka-hei, a casual worker, had previously stayed in a government-subsidised hostel but was forced to leave when he hit the six-month limit.
Society for Community Organisation (Soco) social worker Ng Wai-tung, who deals with Ka-hei's case, observes that some self-funded hostels only allow street sleepers to stay for one to three months at a time due to a lack of space.
Mr Ng said that if the same homeless person wants to return for another stay, it takes at least another year and he or she must present a referral from social workers.
Lawmakers have been urging the government to expand the time limitation to at least 18 months.
Mr Ng criticised the government for its "inadequate support".
"Hong Kong's social support for the homeless is at the bare minimum," he says. He compares the city's social services with those of New York, where some homeless people can avail of transitional housing for years.
A Social Welfare Department spokeswoman describes street sleeping as a "complex social problem" involving the policies of different bureaus and departments.
"While hostel and shelter placements are temporary accommodations, the ultimate goal is to help the residents move to longer-term accommodation," she says.
Tom Ma Chak-shun, who works on community projects for the local branch of the Salvation Army, believes the city's high rents contribute to the uptick in street sleepers. He calls their plight "severe".
Mr Ma said the problem of homeless in Hong Kong now includes working people, estimating half of the street sleepers whom the charity serves hold down jobs. Most of these homeless people work in unskilled labour, Mr Ma surmised, earning between HK$4,000 (S$693) and HK$5,000 per month.
He noted that renting a bed space in the working-class Yau Tsim Mong District could cost HK$2,000 per month, and tenants must contend with hygiene problems such as woodlice infestation in old buildings.
"That's why some people would rather sleep on the streets, because at least they can save some money."
Meanwhile, private flat rentals in Hong Kong hit another new high in the second quarter this year.
Data from Centaline Property Agency in July showed the average cost for renting a flat in the second-hand market rose 2.9 per cent to HK$35.10 per square foot from April to June.
The surging rents are becoming a major concern for young people with family problems who now stay in government-sponsored residences. They become homeless when they turn 18 and must vacate children's homes, according to a new study by Evangel Children's Home, a local charity providing shelter, food and counselling services for troubled children and youth.
Its poll of 233 underprivileged children and teenagers from 13 different children care homes and youth home services found that 70 per cent were concerned about their future, with housing cited as the top priority. The average age of a respondent was 17.
"I don't think I will have a choice when it comes to housing," says a 19-year-old woman now staying at a youth home run by Evangel. She will be forced to move out next year.
The woman, who asked to be identified only be her surname Fan, was admitted to another children's care home in 2012 due to family issues. After turning 18 last year, she moved to Evangel, which provides lodging for young people aged between 18 and 20.
Evangel estimates the city has about 7,000 young people such as Ms Fan struggling to adapt to their adult lives.
Ms Fan works as a property agent, and her average monthly income is HK$8,000. "I just hope there's a kind-hearted landlord out there who will offer cheaper rent for young people like me," she said.
A study by Soco in February revealed homeless people were forced back onto the streets as many as four times. And of those interviewed, some had been sleeping rough for as long as seven years.
Mr Li Tim-choi, 70, has been sleeping on the streets on and off for decades. He said he was able to rent a room when he was younger and worked in construction, but moved to the streets when he could not afford the rent.
He claimed he has been waiting for public housing for years. Eight years ago, a traffic accident left him wheelchair-bound.
Soco's Mr Ng said that high rents, long queues for public housing, and time limits on permitted stays at homeless shelters have pushed people back on to the streets, creating a "vicious cycle".
The average waiting time for public housing is four years and seven months. But based on the cases Mr Ng has handled, most of single applicants have to wait 20 years to get a public flat.
The social worker suggests the government set up transitional housing with basic medical and rehabilitation services, as some homeless people face health and drug problems. He said such an arrangement should allow them to stay at least three years and would help improve a dire situation. SOUTH CHINA MORNING POST