Hiroshima anniversary highlights contrasting nuclear views
TOKYO — Japan yesterday marked 72 years since the nuclear bombing of Hiroshima, with the nation's traditional contradictions over atomic weapons again coming into focus.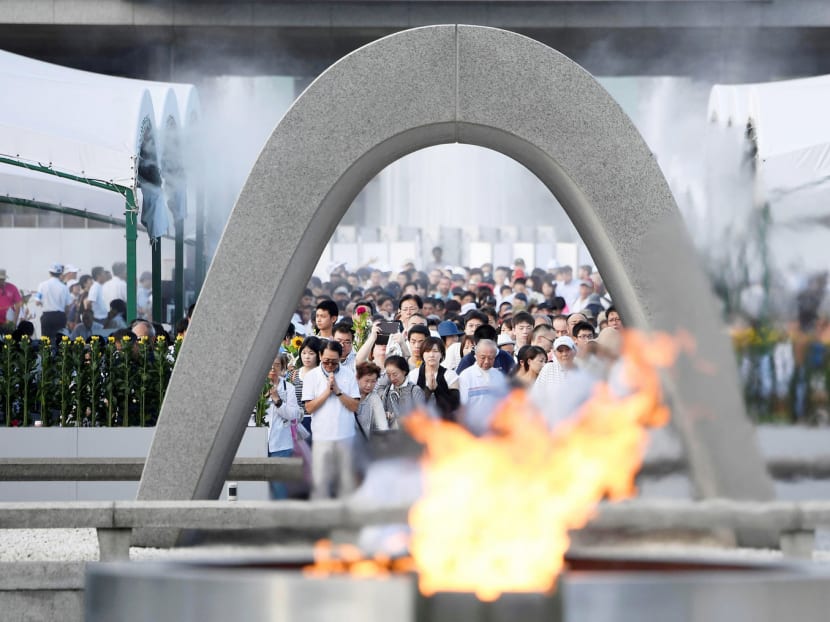 TOKYO — Japan yesterday marked 72 years since the nuclear bombing of Hiroshima, with the nation's traditional contradictions over atomic weapons again coming into focus.
The anniversary came after Japan sided last month with nuclear powers Britain, France and the United States to dismiss a United Nations treaty banning atomic weapons, which was rejected by critics for ignoring the reality of security threats such as North Korea. Japan is the only country to have suffered atomic attacks, in 1945.
Prime Minister Shinzo Abe, speaking at the annual ceremony at Hiroshima Peace Memorial Park near Ground Zero, said Japan hoped to push for a world without nuclear weapons in a way that all countries can agree upon.
"For us to truly pursue a world without nuclear weapons, we need participation from both nuclear-weapon and non-nuclear-weapon states," said Mr Abe in his speech at the annual ceremony.
"Our country is committed to leading the international community by encouraging both sides to make progress towards abolishing nuclear arms," he added, without directly referring to the UN treaty.
Many Japanese and others in the region seem resigned to North Korea's apparent newfound capacity to launch nuclear-capable missiles capable of reaching much of the continental US.
But the threat lends a deeper sense of alarm in Hiroshima, where 140,000 people died in the atomic-bomb attack on Aug 6, 1945, which was followed three days later by another that killed more than 70,000 people in Nagasaki.
Tokyo announced its surrender in World War II on Aug 15, 1945.
"This hell is not a thing of the past," said Hiroshima Mayor Kazumi Matsui in his peace declaration at yesterday's ceremony.
"As long as nuclear weapons exist and policymakers threaten their use, their horror could leap into our present at any moment. You could find yourself suffering their cruelty.
"Today, a single bomb can cause even greater damage than the bombs dropped 72 years ago.
"Humankind must never commit such an act,'' he added, urging nuclear states, as well as Japan, to join the UN nuclear weapons ban treaty adopted in July.
Japanese officials have criticised the treaty as deepening a divide between countries with and without nuclear arms.
None of the nine countries that possess nuclear weapons took part in the negotiations or voted on the treaty.
Japanese officials routinely argue that they abhor nuclear weapons, but the nation's defence is firmly set under the US nuclear umbrella.
In his message to Hiroshima, UN Secretary-General Antonio Guterres said the presence of some 15,000 nuclear weapons, along with "dangerous rhetoric regarding their use", has exacerbated the threat they pose.
"Yet our dream of a world free of nuclear weapons remains far from a reality," he said.
"The states possessing nuclear weapons have a special responsibility to undertake concrete and irreversible steps in nuclear disarmament."
Many in Japan feel the attacks on Hiroshima and Nagasaki amounted to war crimes and atrocities because they targeted civilians, and also because of the unprecedented destructive nature of the weapons.
But many Americans believe they hastened the end to a bloody conflict and ultimately saved lives on both sides, thus justifying the bombings.
Mr Barack Obama became the first sitting US president to visit Hiroshima in May last year, paying a moving tribute to the victims of the devastating bombing. AGENCIES