How can RCEP benefit Asean?
The Association of South-east Asian Nations (Asean)-led Regional Comprehensive Economic Partnership (RCEP) is the most ambitious regional trade agreement to date, covering 30 per cent of both global trade and the world's gross domestic product (GDP).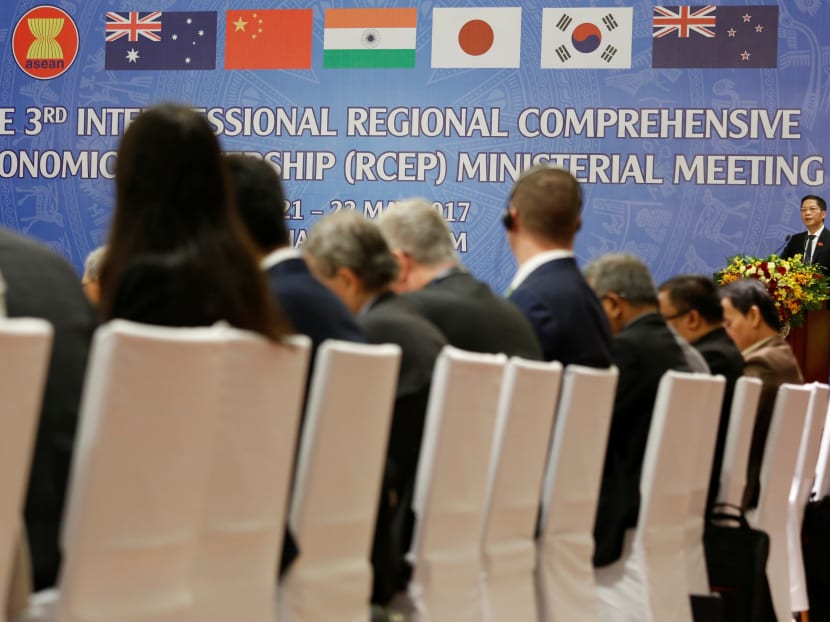 The Association of South-east Asian Nations (Asean)-led Regional Comprehensive Economic Partnership (RCEP) is the most ambitious regional trade agreement to date, covering 30 per cent of both global trade and the world's gross domestic product (GDP).
It attempts to forge stronger economic linkages across four geographical regions – North-east Asia, Oceania, South Asia, and South-east Asia – and to reinforce economic ties between 48 per cent of the world's population. As its chief driving force, Asean not only seeks to entrench itself at the heart of the Asia-Pacific economy, but also stands to reap economic and political gains from the 16-member mega trade deal.
Asean is no stranger to trade deals, having inked its first regional trade deal with China in 2002. It has similar standalone "Plus One" free trade agreements (FTAs) with Australia, India, Japan, Republic of Korea and New Zealand, which have collectively created a "spaghetti bowl" effect where Asean businesses grapples with different tariff rates and multiple rules-of-origin (ROO) provisions when trading with these countries.
RCEP would minimise these complex structural barriers by streamlining rules and procedures related to customs and trade-related infrastructure. In practical terms, Asean businesses would follow one set of procedures instead of having to navigate through five different sets of rules when trading with its RCEP partners. This would inevitably lead to greater ease of doing business in the region and increase Asean's attractiveness as a trade and investment destination.
Even as Asean strives to live up to the cherished vision of increased intra-Asean trade as set out by the Asean Economic Community (AEC), the inconvenient truth is that the ten countries on their own cover only 25 per cent of their total trade at present. This is limited compared to the EU's intra-regional trade of around 70 per cent. Asean's trade with China constitutes around 15 per cent of total trade, with Japan taking 10 per cent and the rest of the non-Asean RCEP members accounting for another 11 per cent.
By itself, Asean countries' own integration efforts are insufficient to sustain their desire for long-term growth and shared prosperity. The manufacturing value-chain of the region is linked to other RCEP members. Hence, what RCEP does is not only to plug in existing gaps in Asean's bilateral trade agreements but also to promote and fortify trade relations within Asean in line with the AEC's vision and between Asean and its regional trading partners. This would have a positive impact on around 61 per cent of Asean's total trade volume.
Research done by the Economic Research Institute for Asean and East Asia (ERIA) have shown that virtually every Asean member state would benefit more from RCEP than if it were to rely solely on either Asean's existing bilateral free trade agreements or intra-Asean trade. In most cases, this is because the same commodity might be subjected to different tariff cuts and different tariff timelines across separate FTAs. The multiple rules have the unintended consequence of adding to trade costs which have discouraged businesses from taking advantage of FTA privileges.
RCEP is therefore expected to resolve this critical issue by consolidating bilateral FTAs into one economic superstructure that would implement the same rules for all 16 participating nations.
Big and small businesses would now have the necessary incentives to use the trade preference to lower their cross-border transaction cost in the region.
Given that an increasing number of multinationals are following Toyota Motors' example of slicing their production process across Asia and South-east Asia to reap savings in production costs, RCEP's promise to simplify and streamline these cross-border impediments would undoubtedly attract other similar companies who are keen to tap onto a more synergised and connected Asean, and provide a more compelling case for them to establish Asean as the central node of their East Asian supply chains.
It may be too early to conclude if RCEP would shift paradigms in Asean's international trade landscape. Negotiations are still ongoing and is mired with many challenges.
The substantial chapters on trade in goods and services as well as investments are not yet finalised. There is no common position yet over Intellectual Property Rights and Investor-State Dispute Settlement.
There has been headway in providing support for the burgeoning logistics and e-commerce industries, but progress in the chapters concerning the services sector in its entirety remain encumbered with regulatory and political sensitivities at the individual countries' domestic level, dealing a blow to the much-needed liberalisation of the sector as intended by RCEP.
While some countries are wary to opening up their markets to the giant economic powerhouse that is China and have taken a protectionist stance, some are seeking gains by focusing on negotiating trade in services in lieu of trade in goods.
The 16 countries will be meeting for the 20th round of negotiations in Incheon, South Korea, in October. All eyes are on the negotiating session as it will probably determine whether or not the trade pact can be substantially concluded this year. As unlikely as that scenario may be, the 16 countries remain hopeful in seeking an agreement to the more substantive parts of the mega-trade deal.
RCEP is arguably Asean's response to the ever-evolving regional economic architecture. By embedding China, India and Japan into a cooperative framework, RCEP prevents Asean from being torn or driven into multiple directions accepting unpalatable Sino-, Indo-, or Japan-centric trade orders.
RCEP is proof that Asean's future lies in not only strengthening connectivity among itself and its larger neighbourhood but by also remaining at the indisputable centre of the geo-economic sphere. Only time can tell how and when negotiations on RCEP will be eventually completed. While countries need to understand the long-term importance of the comprehensive trade pact in their domestic economies and accordingly make compromises, the proof of RCEP's benefits remains firmly and undeniably in eating the pudding that is the actual delivery and implementation of RCEP rules and procedures.
ABOUT THE AUTHORS:
Ms Sanchita Basu Das and Ms Pham Thi Phuong Thao are Lead Researcher (Economics) and Research Officer respectively at Asean Studies Centre, Iseas-Yusof Ishak Institute. This is part of a series of commentaries TODAY is running to mark Asean's 50th anniversary.