How long will Myanmar accept its 'democratic dictatorship' rule?
A new political landscape has started to take shape in Myanmar. A civilian administration sworn in on March 30 is learning the mechanics of governing a country that has been inured to more than half a century of authoritarian rule.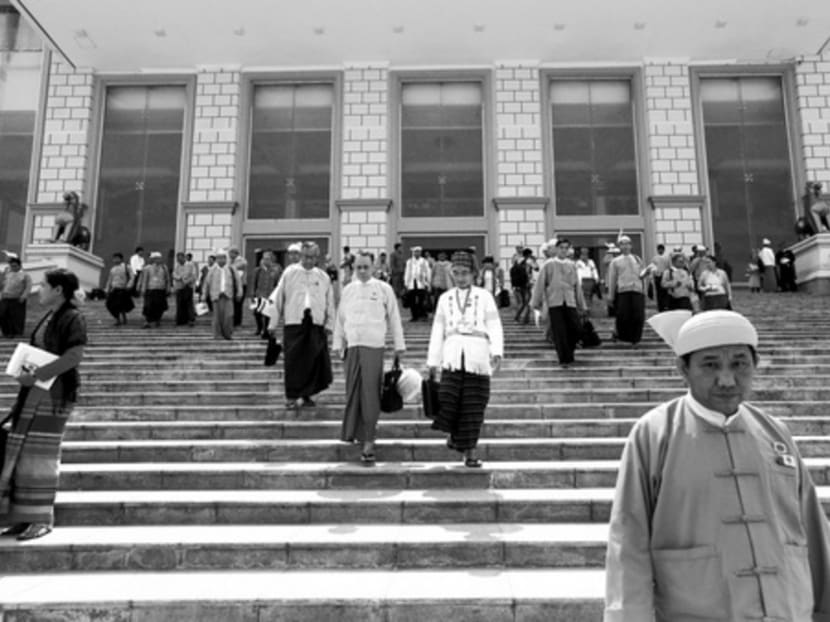 A new political landscape has started to take shape in Myanmar. A civilian administration sworn in on March 30 is learning the mechanics of governing a country that has been inured to more than half a century of authoritarian rule.
Multiple centres of power are influencing government policies geared towards democratisation and economic renewal.
In the landmark November 2015 election, the National League for Democracy (NLD), long the symbol of the country's democracy movement, was given a resounding mandate.
Myanmar's new head of government, the first civilian president since 1961, went straight to the crux of priorities for the NLD government in his inaugural speech: Ending internal conflicts, national reconciliation and a federal democracy, to improve peoples' lives, under a new Constitution.
The previous government's promise to bring economic renewal, good governance, and resolve the decades-long armed conflict and its attendant power- and resource-sharing issues, provides a basis to assess how the NLD government will deliver better results.
To this end, the populace seems willing to accept a "democratic dictatorship" role by the NLD government for the present. But in a freer and more open political climate, voices are no longer silent, nor can they be silenced.
Transition challenges will be played out in three broad areas.
POLITICAL EVOLUTION
Myanmar's political evolution owes as much to the anger of a populace at the end of its tether as to the surrounding global environment that endows legitimacy through democratic processes and performance. The latter influenced the move towards political, administrative, economic and social reforms in 2011, and the former was a deciding factor in the 2015 election.
Under military dictatorship, all promises for a transition to democracy had been largely reneged upon. The election in November 2010 did not have the NLD's participation. Its iconic leader, Aung San Suu Kyi, was released from house arrest only after the military-backed Union Solidarity and Development Party (USDP) had confirmed its win.
Yet, the "civilianised" USDP government of Mr Thein Sein, a former general, gave sceptics pause with the reforms paving the way for the NLD's re-entry into the political process and opening up the economy.
Still, the military remains the best organised institution in the country and is a formidable locus of influence. The NLD's aim of amending the 2008 Constitution towards civilian control of the military may not happen anytime soon. The current bounds of the 2008 Constitution also render Ms Suu Kyi ineligible to be President. To circumvent this, a law creating an overarching State Counsellor role for her was passed in the early days of the NLD administration. In addition to her ministerial portfolios in the President's Office and foreign affairs, a separate ministry has been created for the State Counsellor.
Myanmar's increasingly vocal media has been quick to criticise the move, bringing up earlier pronouncements by the NLD government to streamline the bloated number of ministries and cabinet positions created by its predecessor.
The success of Myanmar's change agenda lies in delivering improved socio-economic conditions. The current regional and global context will affect prospects for land reform and agricultural development, as well as efforts to attract foreign direct investments and encourage local businesses to exercise their "freedom to prosper".
Viable economic development is necessary to create and expand the middle class, critical for greater reform and political change. At the same time, social policy considerations, particularly healthcare and education, are important for Myanmar's economy to take off.
In tackling all this, the government has to contend with an entrenched patronage system that has become a way of life. There are uneven work ethics and corrupt practices, particularly in sectors related to lucrative extractive industries.
With more voices clamouring for attention, progress will be slower than expected, and may even distract attention from nation-wide priorities. One of these continues to be shoring up the trust deficit with ethnic groups negotiating for a ceasefire. The nationalist-extremist undercurrent to human-rights issues concerning the treatment of the Rohingya also has the potential to affect Myanmar's external image, which was tarnished under military rule.
RELATIONS WITH THE WORLD
With regards to external relations, Ms Suu Kyi has reiterated continuity with the non-aligned foreign policy "that has been very successful … since independence".
An important part of Myanmar's foreign policy since 1995-1996 has been its membership in the Association of South-east Asian Nations (Asean). In 2014, Mr Thein Sein pushed for taking Myanmar's deferred turn to chair Asean.
Asean also seems to have found traction in the NLD government's foreign policy. President Htin Kyaw's maiden state visit was to neighbouring Laos, the Asean Chair for 2016, which had joined Asean together with Myanmar in 1997.
While Myanmar's foreign policy continues along the broad principles that motivated the initial diversifying of external partnerships, bilateral relations with neighbours such as China, Thailand and, to a certain extent, India, will be important for Myanmar to balance.
The ball is currently in Ms Suu Kyi's court. Her counterparts from China and Thailand have paid bilateral visits to Myanmar. Public resentment towards Chinese investments and hardening attitudes towards the treatment of Myanmar migrant workers in Thailand have shaped the tone of these bilateral dialogues.
Efforts at normalising relations with the United States will also find new benchmarks of human rights and governance that hit close to hard truths for Myanmar.
Myanmar's trajectory of change is still evolving, and so too are the narratives surrounding it. Discussions of Myanmar's transition require deeper consideration of the country's ethnic and religious diversity, identity, social conflict and the widening role and influence of the media, particularly social media, in informing and shaping attitudes.
The path ahead for Myanmar is not easy. Many compromises will have to be made, internally and externally. Myanmar is learning — under the spotlight — the highs of accomplishment and the lows of backsliding (or even signs of it).
The work has just begun. But now the stakes are higher.
ABOUT THE AUTHOR:
Moe Thuzar is a Fellow at the ISEAS-Yusof Ishak Institute which is co-organising a Myanmar Forum on May 20 with the University of Michigan's Centre for Southeast Asian Studies.