In Indonesia, a new party seeks political change amid religious tension
SINGAPORE — Amid fears of creeping Islamisation in Indonesia, a relatively new political party in Indonesia is positioning itself as a voice for diversity and 'clean' politics as it aims for a successful debut in the 2019 general elections.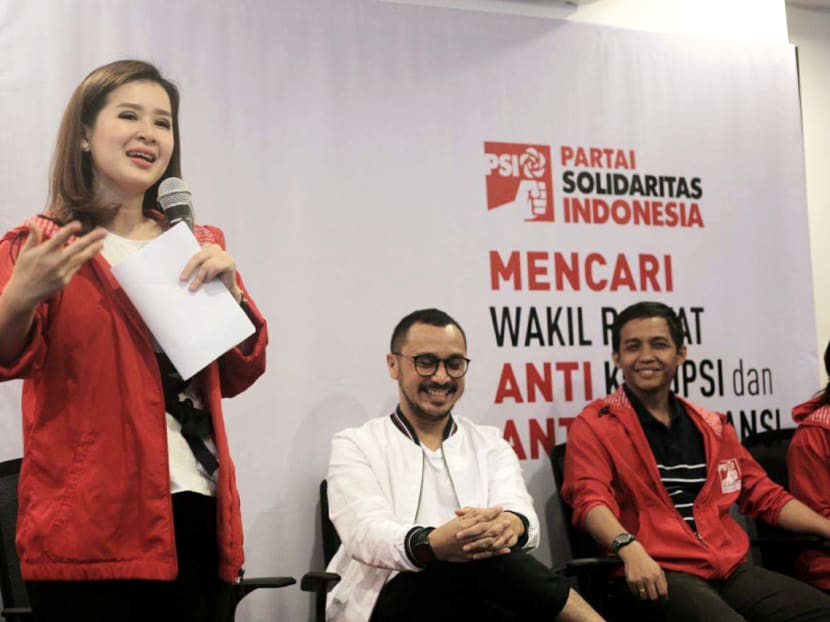 SINGAPORE — Amid fears of creeping Islamisation in Indonesia, a relatively new political party in Indonesia is positioning itself as a voice for diversity and 'clean' politics as it aims for a successful debut in the 2019 general elections.
Almost everything about the two-year-old Partai Solidaritas Indonesia (PSI) sets it apart from other political parties in South-east Asia's largest nation.
For starters, it claims to be a party by young people and for the young people – the maximum age for its officials is 45 and most of its members are aged 20 to 30.
It also claims to be crowd-funded, and in a move probably unheard of in Indonesia, it carried out an open recruitment of electoral candidates online last month, attracting over 600 applicants.
"Many of the applicants are professionals in their own respective fields. This is exactly why we build PSI in the first place, to gather as many competent, credible people to fill in legislative seats," said PSI chairwoman Grace Natalie, 35, in an interview with TODAY, adding that her party values people according to "their personal qualities, not by factors such as their religion or skin colour".
"We want to change the game in Indonesia," the ethnic Chinese former journalist and television presenter added.
"For decades, Indonesian politics has had a negative label on it due to the rampant corruption blighting it. PSI, on the other hand, practises meritocracy and participative politics."
A significant cross-section of Indonesia's electorate see political parties in the country as being corrupt, nepotistic and prone to transactional politics, protecting the interests of the elite at the expense of the welfare of the people.
A nationwide survey in 2015 conducted by Populi Center found that the House of Representatives – Indonesia's parliament – was perceived as the most corrupt state institution and that most respondents doubted its capacity to represent the people.
Against the backdrop, PSI wants to create a system where its candidates will be monitored and assessed by the public.
Ms Natalie said that her party is currently in the process of developing a system akin to the Qlue application launched by the Jakarta city government in 2014 that allow people to upload photos and report problems in their neighbourhood.
"The idea of this system is to let our officers to be under the public eye all the time. Meanwhile, we can also educate the people in participating in the political process," explained Ms Natalie.
Religion has dominated Indonesia's political discourse, with Islamist parties and hardline groups making inroads in recent years.
The 2014 parliamentary election saw the country's Islamist parties improve on their vote share as they received around 31 per cent of the votes – up 5 per cent from 2009.
Religious tolerance has been under scrutiny with a number of Islamist-led rallies late last year and earlier this year against former Jakarta governor Basuki Tjahaja Purnama, for his role in a controversial blasphemy case.
Purnama, an ethnic Chinese Christian, subsequently lost to former education minister Anies Baswedan in the 2017 Jakarta gubernatorial election, and experts believe that the blasphemy case swung the outcome.
Purnama was later convicted of blasphemy against Islam and sentenced to two years' imprisonment, heightening concerns about the growing influence of hardline Islamist groups in Indonesia who had threw their support behind Mr Baswedan.
Mr Baswedan had further caused controversy when he said in a speech hours after he was sworn in on Oct 16 that "pribumi" (native or indigenous Indonesians) should take back control of the country from "colonial" influences.
"We 'pribumi' people were oppressed and defeated. Now, after independence, it is time for us to be masters in our own country," Mr Baswedan said.
Mr Rian Ernest, an ethnic Chinese politician with PSI, strongly condemned Mr Baswedan's remarks.
"Baswedan is ripping the national fabric ... with the use of the word 'pribumi' … We strongly condemn Baswedan's statement, which does not reflect the spirit of leadership or 'unity in diversity' (Indonesia's national motto)," Mr Ernest said.
His comments echo what the party states on its website as its guiding principle.
"PSI seeks to reinforce the principle of diversity as a source of Indonesian power," the website said, adding that the acceptance of diversity could bridge inter-ethnic, inter-religious, and inter-lingual chasms.
Ms Natalie acknowledged that it will not be an easy task to change politics and people's mindset.
"What we're doing now is the antithesis of Indonesia's common political practices", she said.
"We need to educate the public that 'clean' political practices is not mission impossible," she added.
"To achieve this, we need to promote participatory politics – we need as many people as possible to join our movement, whether they be volunteers, fund-raisers, or even legislative candidates."
Going forward, PSI aims to secure 20 per cent of parliamentary seats come the 2019 legislative elections so that the party could field a candidate for the presidential election that year.
Indonesia experts whom TODAY interviewed said that this would be a tall order given the PSI's relatively obscurity in the country's political landscape.
"Most Indonesian voters are unlikely to be aware of the existence of PSI. The media is not likely to provide much coverage and as rank outsiders they will need to make some real noise to be heard," observed Mr Keith Loveard, an analyst at Jakarta-based Concord Consulting.
"Nevertheless, the PSI is aiming to represent the 'millennial' voter and they may attract some support from younger voters in urban areas, especially if they can mount an effective campaign on social media."
PSI is active on social media platforms such as Facebook, Twitter, Instagram, and YouTube.
While it has a decent following online – the party's Facebook page has about 1.63 million likes – this may count for little come polling day.
"There is so much dissatisfaction with the existing parties that the PSI may have a chance, but even so it is likely to struggle to reach the electoral threshold in order to win any seats in the parliament," Mr Loveard observed.
Echoing Mr Loveard's views, Mr Keoni Indrabayu Marzuki of the S Rajaratnam School of International Studies (RSIS) noted that securing 20 per cent of parliamentary seats would be "extremely difficult given the fierce competition between political parties, both new and old".
"Nevertheless, given PSI's progressive ideals, I believe that it will do well in urban centres where such ideals would gel very well with the population, as well as among the youth," added Mr Marzuki, a senior analyst at RSIS' Indonesia Programme.