Indonesia's forest fires take toll on wildlife, big and small
JAKARTA — A disoriented, pregnant orangutan, her treetop home in Indonesian Borneo reduced to charred wood, is rushed to a rehabilitation centre by conservationists, who dodged walls of fire and toxic smoke.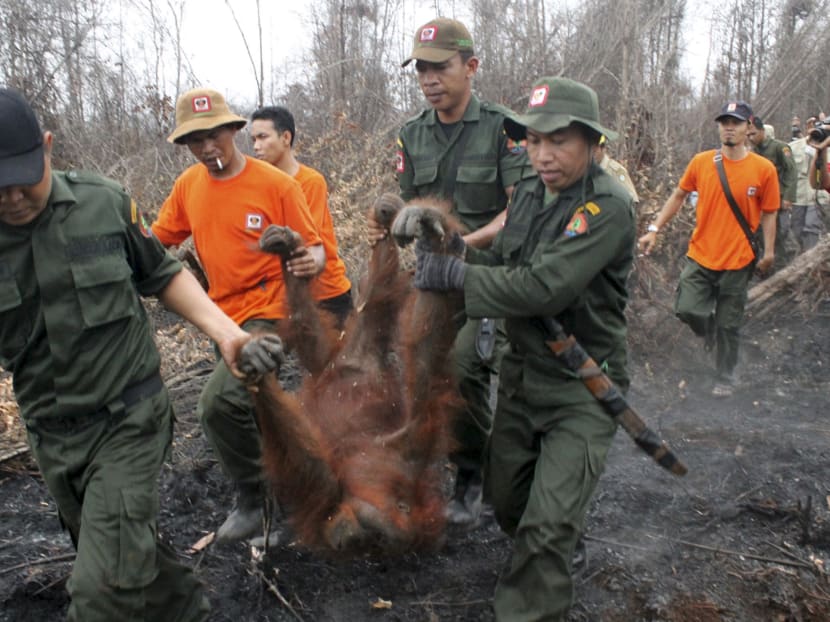 JAKARTA — A disoriented, pregnant orangutan, her treetop home in Indonesian Borneo reduced to charred wood, is rushed to a rehabilitation centre by conservationists, who dodged walls of fire and toxic smoke.
Veterinarians care for 16 abandoned baby orangutans already living at the centre. The babies had developed respiratory infections because of haze from the fire, delaying the conservationists' continuing attempts to teach them how to live on their own in the wild.
Long-awaited heavy rains this week in the Indonesian regions of Sumatra and Kalimantan appeared to be the beginning of the end of the mass forest fires that have raged since late August, Indonesia's worst such disaster in at least 20 years.
While plenty has been written about the economic costs of the fires and the human suffering they have caused — hundreds of thousands of people sickened by the haze in Indonesia and Southeast Asia, and a regional price tag that one expert estimated at more than US$14 billion (S$19.6 billion) — so far, scientists and environmentalists can only speculate about the extent of the damage to wildlife, including endangered species like the orangutan.
But the early signs are not good.
"We're still not sure how many might have gotten sick or died," said Ms Paulina Ela, a spokeswoman for the Borneo Orangutan Survival Foundation, which runs two rescue and rehabilitation centres in the region.
"The impact is not really visible now, but maybe in the next two or three months," she said.
In the Indonesian province of Central Kalimantan, which lies on Borneo, the organisation has rescued nine endangered orangutans whose habitats were destroyed by fires, Ela said. One was relocated to a safer area, and eight others, including three babies, the pregnant female and a male whose eyes were damaged by burning debris, were taken to the rehabilitation centre for treatment, she said.
The province includes Sebangau National Park, which is home to the world's largest population of wild orangutans, estimated around 7,000.
But orangutans are far from the only species suffering. Indonesia's fauna is among the world's most diverse, and a broad spectrum of wildlife — including elephants, birds, snakes and even insects — has been severely affected by the fires and choking haze, scientists say.
This month, Indonesia's Forestry Ministry announced that more than 4.2 million acres of forest and open land had been destroyed by the fires. Each year, fires are intentionally set to clear land cheaply — for palm oil plantations, for pulp and paper mill operations, and for other agricultural uses — but they grew out of control this year because of prolonged drought and the effects of El Nio, scientists say.
This week, scientific and conservation organisations reported that endangered species like orangutans, Sumatran tigers and Sumatran elephants, among other wildlife, had fled burning rain forests and moved toward areas settled by humans.
"There will be a huge impact on endangered species because they need a big habitat," said Mr Yuyun Indradi, a campaign team leader for Greenpeace Indonesia.
"And with this gone, there will be more human-animal conflicts" over land, he said. "Elephants and tigers especially."
That would worsen a longstanding problem in Indonesia. The western island of Sumatra has had many cases of rural farmers shooting wild elephant herds that moved onto plantations in search of food, or rampaged through farmlands and villages in what had once been their habitat.
Sumatran tigers have been trapped and killed after killing farmers and villagers while hunting at night. Orangutans have also been shot dead in their dwindling habitats in Sumatra and Kalimantan, or captured and sold as pets.
Even the tiniest creatures are being affected by the fires, and that could also have repercussions for people. During Indonesia's last severe forest fire crisis, in 1997, the haze significantly reduced bee populations, which took three years to recover, said Mr Erik Meijaard, coordinator of Borneo Futures, a conservation project.
That is likely to hurt agricultural production in Indonesia, he said, since bees are crucial to the pollination of apples, melons, onions, potatoes, tomatoes and other crops.
"Your common fruits and vegetables are bee-pollinated, so without them they won't grow," Mr Meijaard said.
Scientists and government officials are also waiting anxiously to see the fallout of the crisis on Indonesia's plant life, including its shrinking rain forests. NEW YORK TIMES